Ithaqa Graphic Novel Fundition Update 25 Steemit Exclusive Art Update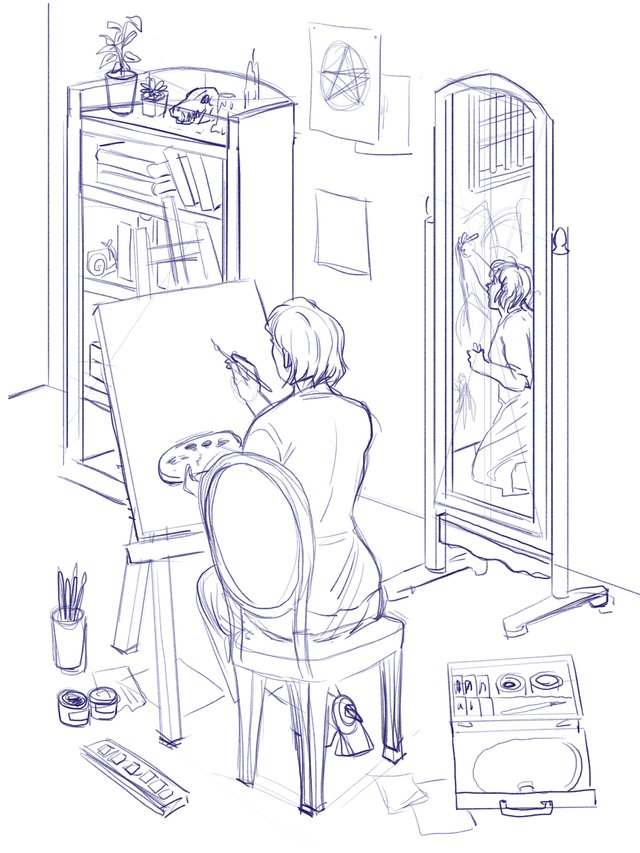 The art is starting to come together, and I think I won't add any more commentary in terms of what is being depicted. I gotta save some room for mystery and intrigue. It's probably time I start keeping some plot twists secret, otherwise why buy the comic, right?
It's looking fantastic, and I truly can not WAIT to see the final product.
So unfortunately, I'm probably not going to be able to post for a few days, I'm going on a road trip to Rhode Island, and I won't be able to bring my desktop with me, haha. I might try and squeeze my laptop into a bag, but it isn't looking like I'll be able to fit that easily...
I may go up to 5 days without posting, which is a huge bummer, but maybe I'll be able to login with my phone, like I did during my Italy trip...
Anyhoo, I'm speaking with my editor today, time to find out if the crazy changes I made to Issue 4 are a viable path forward, or just me flailing around in the dark.
Here is my daily reminder that you ran receive special rewards by backing different reward tiers (just like with Kickstarter) on our official fundition page: https://fundition.io/#!/@drwatson/t2b3d2ijh
And here are our Fundraising Rankings! When we get to $1,000 USD worth of steem, Theresa and I will be able to finish illustrating Issue 1, and release it to all our backers on steem! We're actually getting very close!
Most Votes Leader Board:
Most SBD Value Contributed - The Council Of Five:
Steemers who hold a position on the council will get to confer with Theresa and I on what the other bonus gifts to the steem community will be. If we decide to do bonus art, the council of 5 will get to have a say in what is depicted! When you back reward tiers in the campaign, that is added to your SBD ranking, so if you would like to be a part of the council of 5 putting 3-5SBD in would currently guarantee you a spot, while also netting you some exclusive rewards.
https://fundition.io/#!/@drwatson/t2b3d2ijh
We have raised in the vicinity of 820 SBD, which means we are 82 +% of the way to our goal! Once we hit 1000, it will guarantee that we release all of issue 1, for free to steemit! At 1,200 SBD, I will be able pay my letterist Lucas as well.
If you have any friends or family who might be interested in a Lovecraftian horror comic, please send them to our website to sign up for some free pages! https://www.ithaqacomic.com/contact-us/
Additionally, If you're new to this comic I strongly recommend you check out our instagram, as I'm currently uploading pages every day.
Instagram: https://www.instagram.com/ithaqacomic/
Theresa Chiechi's (The Artist @la-fumettista) website is here: http://www.theresachiechi.com/
Sign up to buy the comic on our website: https://www.ithaqacomic.com/
FB: https://www.facebook.com/pg/IthaqaComic/about/?ref=page_internal
Twitter: @IthaqaComic