"Ithaqa" Fundition Update #90 - Final Design + Press Release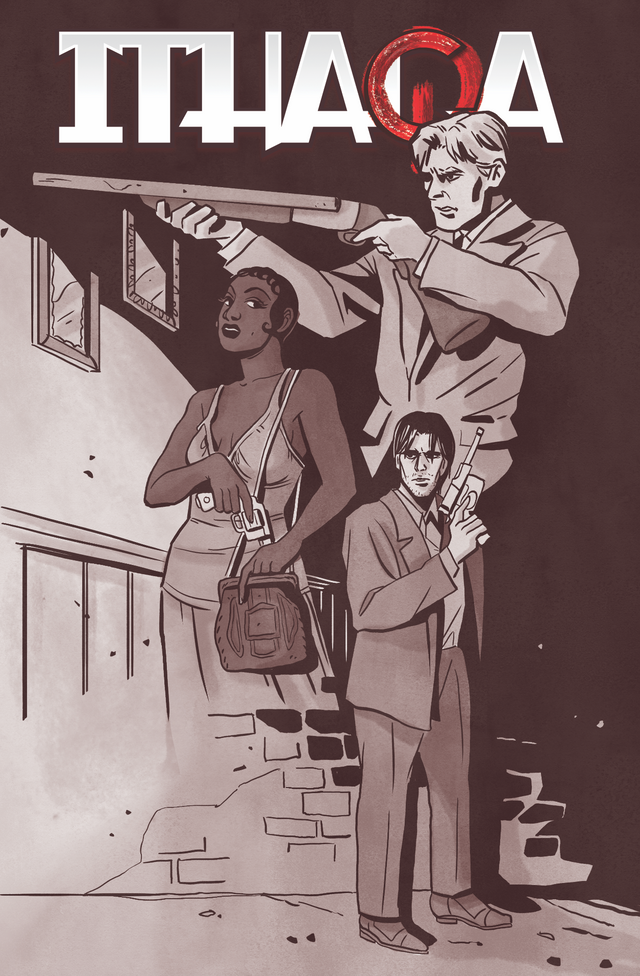 Here it is, in all it's culty-pulpy, glory! Also, for those of you who are interested in learning to do publicity for your own work, here is the press release I assembled for my Kickstarter/Book Tour. May it be useful to you in your attempts at breaking into the mainstream!
New Lovecraftian horror comic ITHAQA goes on tour to Ithaca, NY, from March 20 to March 28, 2020
For Immediate Release: February 6th, 2020
Contact: Michael Watson --- [email protected]
New Lovecraftian horror comic ITHAQA goes on tour to Ithaca, NY, from March 20 to March 28, 2020.
Tour coincides with second major Kickstarter campaign, which will begin on March 16, and raise funds to print new issues through April 6th.
Hoboken, NJ (February 6th, 2020) - Michael Watson, writer and creator of the new ITHAQA comic, is taking ITHAQA on tour to the city that shares its name, Ithaca, NY, as well as to neighboring cities, from March 20th through March 28th.
ITHAQA is a comedy-turned-Lovecraftian horror story that will appeal to readers who enjoyed HBO's "True Detective", but thought it would be copacetic if it had been set at the advent of the roaring 20s. In ITHAQA, filmmaker and conman, Mookie Smitts, stumbles upon the horrible Eldritch Truth of the cosmos, as a moving picture he is struggling to produce in the 1920's accidentally uncovers a plot to destroy the Spacetime Continuum.
In Ithaca, Watson's tour takes the comic to Buffalo Street Books on Friday, March 20th: Ithacon (the 45th year of this comic book convention!) on Saturday and Sunday March 21st and 22nd at Ithaca College; to Comics For Collectors on Wednesday, March 25th; and a comic book creation workshop for kids with the Wharton Studio Museum and The History Center taking place at the Tompkins Center for History & Culture the morning of Saturday, March 28th. More tour stops – possibly Elmira and Syracuse -- will be announced as they are confirmed.
Watson will kick-off the tour by signing copies of ITHAQA at Buffalo Street Books and doing a reading/FAQ on Friday, March 20, 2020 at 5pm. The first issue of ITHAQA, now available at Buffalo Street Books, has been flying off the shelves! Wharton Studio Museum is co-sponsoring this event.
Michael Watson is also bringing ITHAQA Issues 2 and 3 to Kickstarter, after a wildly successful campaign in 2019 that was fully funded in under 24 hours!
Watson conceived I THAQA while studying film at Ithaca College in 2013. After having a nightmare that involved a witch in the woods of Ithaca buried in black strings, Michael awoke with the desire to write a story involving said ominous black strings. After spending years workshopping the idea as both a short story and a screenplay, Watson eventually realized that his vision could only be realized if it was told through the comic book medium. He set out to bring together a team of fellow horror fans and was incredibly lucky to find kindred spirits in Theresa Chiechi, an illustrator from the School of Visual Arts, NYC; Lucas Gattoni, a passionate letterer living in Argentina; and Lisa Villamil, an actress, playwright and fellow alumnus of Ithaca College as his editor.
A successful Kickstarter in 2019 allowed the team to print ITHAQA's first issue and expand their audience, and they hope to catch lightning in a bottle a second time as they set out to fund a physical print run of Issues 2 and 3. People who pledge to fund the comic will not only receive physical copies, but will also be able to receive bonus rewards that range from art prints, to even being drawn into future issues.
"The Kickstarter and Steemit communities have been incredibly supportive of this comic for years, but I'm so excited that it's finally time to bring Ithaqa out into the physical world as we tour upstate New York," says Watson. "The comic has sold out multiple times at Little City Books and Buffalo Street Books, so clearly it's resonating with readers. I can't wait to get out there and meet our fans face to face!"
If successfully funded on Kickstarter, Ithaqa, Issues 2 and 3, will be 72 pages long and continue the 12 issue story arc that kicked off last year.
In order to give potential backers a taste of what they're backing, Watson provides free digital copies of the comic to those who subscribe on the website for information.
"If I was in a comic shop, I wouldn't buy a book without picking it up and flipping through the pages," says Watson. "I needed to give potential backers a way to preview the story and decide if Ithaqa is for them."
To read the the first two issues of the comic online for free, subscribe for updates at: https://www.ithaqacomic.com/contact-us
For more information about ITHAQA, you can check out the preview for their Kickstarter campaign at: https://www.kickstarter.com/projects/494808041/677972492?ref=bfcmdd&token=53866f8a
Notes to Editors
About Michael Watson
Michael Watson is a writer and video editor who has worked for the Vsauce Network, History Channel, and DUST. He loves reading Sci-fi and playing Call of Cthulhu, so it's no surprise that his subconscious demanded he write Ithaqa!
About Theresa Chiechi
Theresa is an illustrator and cartoonist based in Manhattan graduated from the School of Visual Arts with a BFA in Cartooning.
With a fascination with history, Theresa loves finding inspiration in fairy tales stories, historical events, and looking to her Italian heritage when creating stories and illustrations. She often finds herself listening to way too many true crime podcasts.
https://www.theresachiechi.com/
About Lucas Gattoni
Lucas Gattoni is a seasoned graphic designer and typesetter, bringing over fifteen years of professionalism to comic book lettering. He's worked with many indie publishers and is lettering two yet-to-be-announced series for Action Lab Comics. He lives in Argentina with his husband and their four goldfish (wait, make that three now).
https://cargocollective.com/LG_Lettering
About Lisa Villamil
Lisa VillaMil is an English Major who spent many of her formative English-Majoring years in Ithaca, NY, before expatriating to Glasgow for a while to earn her Master's in Acting from the Royal Conservatoire of Scotland. Yeah, she's pretty eclectic. Now she moonlights as a freelance comic book editor between performing on stage and reading novels.
About Steemit.com
Steemit is a social media platform where everyone gets paid for creating and curating content. It leverages a robust digital points system (Steem) to distinguish works with merit, and dole out cryptocurrency-based rewards
Kickstarter Page: https://www.kickstarter.com/projects/494808041/677972492?ref=bfcmdd&token=53866f8a
Steemit Blog: https://steemit.com/art/@drwatson/ithaqa-comic-issue-1-part-1
To set up an interview or receive more information and visuals please contact me at [email protected]
---
March Tour Event Details:
https://www.facebook.com/events/975669766143814/
Steemit is still mentioned heavily in my press releases, and I have many interviews lined up, so hopefully, we can snag a few more steemers while I'm at it. I'm sure plenty of college students at an art school are gonna be excited to find out they can get PAID for their creativity :)
Buy the comic!
https://www.ithaqacomic.com/buy-the-comic
Please check out our Fundition page - you can score exclusive rewards by contributing steem!
https://fundition.io/#!/@drwatson/zim8j667e/backers
Issue 3 Leaderboard:
@Fundition Contribution: $ 293.55 + a $9.99 direct contribution
Council of Five:
@kommienezuspadt - $19.18
@ocdb - $8.13
@smjn - $7.32
@katharsisdrill - $6.48
@Veryspider - $0.17 +$4.50 direct contribution = $4.67
@bryan-imhoff - $4.61
We have currently raised $311.93 towards our goal of $2,000, which puts us at 15.60% of our goal. When we get to 25% of our goal, we will unveil our next prize!
You can read all of "Ithaqa" Issue 1 here on steemit!
https://steemit.com/art/@drwatson/full-issue-1-of-ithaqa-comic
If you have any friends or family who might be interested in a Lovecraftian horror comic, please send them to our website to sign up for some free pages! https://www.ithaqacomic.com/contact-us/
Additionally, If you're new to this comic I strongly recommend you check out our instagram, as I'm currently uploading pages every day.
Instagram: https://www.instagram.com/ithaqacomic/
Theresa Chiechi's (The Artist @la-fumettista) website is here: http://www.theresachiechi.com/
Lucas Gattoni's (The Letterer/Logo Designer) website is here: http://bit.ly/LG_Lettering
Sign up to buy the comic on our website: https://www.ithaqacomic.com/
FB: https://www.facebook.com/pg/IthaqaComic/about/?ref=page_internal
Twitter: @IthaqaComic