Flood Relief in South Indian state of Kerala - Update 11 - 01/Sep/2018
Dear Steemians,
This is the 11th update post for the Fundition.io project I have created with regards to the fundraising for flood relief activities in the form of the donations to the Chief Minister's Distress Relief Fund in the South Indian State of Kerala.
Here is a link to the Fundition.io project: https://fundition.io/#!/@coolguy123/9a52q7rmd
Updates for today:
As Kerala is struggling to get back to normal from the devastating floods, there are some good news as Alappuzha houseboats welcomed 10 student tourists from Turkey who enjoyed the houseboat cruise at backwaters of Alappuzha.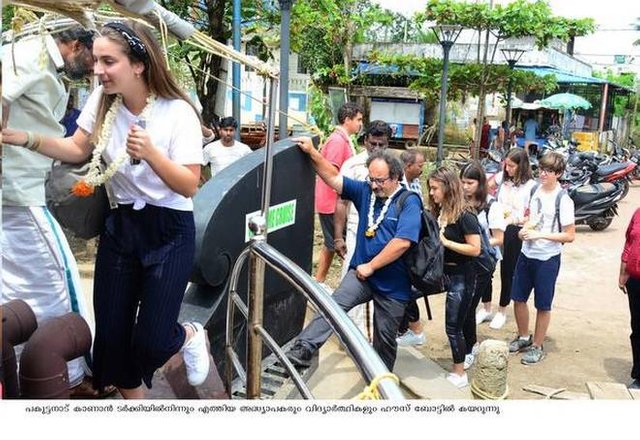 Source
As per the sources from Kerala government, they are confident of re-creating the bridge across Pampa river by 15th of this month so as to get the Shabarimala temple road cleared for pilgrims in time for the monthly Puja(worship).
Another big news that is around the corner is that, the Indian Meteorological Department(IMD) counter stated in response to Kerala Chief Minister's statement of delayed forecast of floods.
IMD responded in a statement that says that they has issued red alerts for 14th and 15th about heavy rains in Idukki, Thrissur, Malappuram, Kozikode, Palakkad, Wayanad, Kannur and Kasargod districts on 13th August itself.
There is a Public Interest Litigation case in Kerala High Court from a civil engineer telling that the flood was a man made disaster and he continued saying that it was a criminal negligence on the part of authorities in opening all the 22 dams at once on 15th August.
Update on donations for this project:
The combined amount of donations and upvote values increased to 310$ as we can see in below screenshot largely due to another big upvote from @fundition and few upvotes from other Steemians.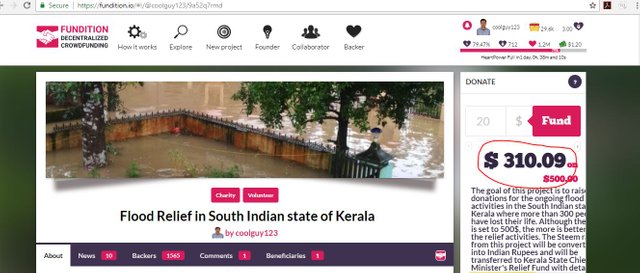 I am confident that, in the next 5 to 6 days, we will be reaching the first goal atleast in terms of total money and then I will give an update on the actual money realized based on the post payout values of the posts.

Thanking you all for umpteenth time for participating in this noble cause.