Build your brand with Fundition
Fundition team hopes that these educational posts are helping you to learn something and be better at you work. Your success is determined only by the limitations that you are setting for yourself. A project is as good as you make it to be. We have already covered how promoting your project on social media is beneficial for its success. Today, we will talk about how building your brand not only establishes recognition but ensures confidence in the quality of your work.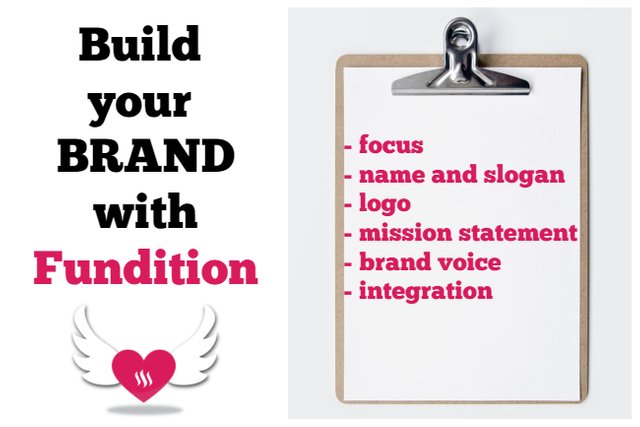 While building your own brand, it is important to distinguish yourself from others. People who you are trying to get to support you need to know what separates you from other projects they could support. It is important that a person gets a general idea about what the project is about and what it stands for when they hear about it. Building your brand has some steps you will need to follow. We will go over some of the crucial ones in this post but we encourage you to research this topic more and educate yourself daily on how to become even better in everything you do with the empowerment of your brand.


A good start in building your brand is knowing what you want to achieve. You cannot be everything to everyone and you probably never will be. Determining what your target audience is and what you have to offer it should be your first goal. Decide what the personality of your brand will be. Is it playful, strict, elegant? What is the reaction you want to provoke from your supporters? What do you want them to think of you and your project?
What if your brand was a person?
One of the good little exercises to do in order to better focus on the image of your brand is to imagine it was a person. Just wrote some adjectives and adverbs on a piece of paper, all that you can think of and cross of those that you do not see describing your brand. When you are left with only those words that you feel good with, try to align them in circles with those that only touch upon your brand in the outside circles. The stronger you feel towards the word, the closer to the middle it should go until you find those few that will be in the center and have the most of your focus.


When thinking about your name and slogan, keep it as simple as possible. Human brains are better at remembering catchy phrases and short names than longer ones. If you are going to create more projects, and we are sure you are, all of them will be a part of your brand meaning that every project will be a part of a brand family that carries one name and one slogan even though projects will have individual names. Even if you are interested in only one project creation, think of that project as your brand.
Focus on quality
Your name and slogan should be present (just like your logo) in every post about your projects. They can be a part of your signature. Think about what they represent. They represent you and your project and should portray quality. By using only a couple of words, your message needs to be clear, your motto needs to be clear. For example, Fundition uses the line Start building the Future Today and with it sends a powerful message about what it stands for and what our focus is. What is the message you want to send to others? What do you and your project stand for? Do not rush with this and take your time. Think and prepare those brand elements so they will one day work in your favor and represent you in the best possible light.


When creating your logo think about colors and fonts before you move on to using images. Those two should also correspond to the vibe that your brand has. Are they playful, elegant, funny or do they provoke thinking? When you decide on those, stick to them and be persistent in their usage. Use them in every part of your work.
The simpler the better
Your logo is a visual representation of your project and it does represent your project but it is a symbol, not a complicated picture. It should contain only a couple of elements and be easy to understand and use. When you create one, be sure to make it in a couple of sizes since you will be using it in different places and for different purposes. When people see your logo somewhere, it will be what draws them in towards you but only if they recognize it so be sure to remember that your logo is your first attractor to funds. It needs to have a magnet-like purpose when it comes to investors.


Your brand should be always visible in everything that people can see, read, and hear. In your posts about your projects and in the news. When you are reporting about your project on any social network, people should recognize what you are talking about right away. Remember that the brand building process never stops, it is an ongoing continuous process that you should always have in mind. Your content should always have the same personality and portray the same message. The identity of your brand should always be the same and ensure consistency when it comes to quality. We at Fundition, wish you much success with your creation and integration of your brand and hope your projects will receive the funds you intended them too.

Build your brand and create your project on:

Join a community with heart based giving at its core