$MART FUND: Assists in Blockchain Investment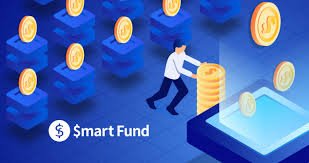 For you to be successful in any business, adequate strategy must be put in place. There is ovation that cryptocurrency is the real gold of the 21st century that can turn people to be wealthy within a short period of time; but is it true? The cryptocurrency space opens different opportunity for people to make investments but it seems the outcome is not encouraging. Though at an early stage as of 2017, investing in an initial coin offering (ICO) was the best means of making an investment in crypto project, but towards mid 2018, everything faded away. From Q2 of 2018, most ICO project usually turn scam at the end, thereby leaving investors stranded as their case look like someone fetching water into a porous basket. Around Q4 to early stage of 2019, initial exchange offering (IEO) surface and it seems investors has found a new means of making investment, but the outcome is also not really encouraging. With the current market volatility and price instability in the crypto market, trading cryptocurrency is more like a gamble these days. Why are all these are happening? I must tell you it happen because none of them have a strategic or a profits model.
A platform called $MARTFUNDS has device a means of making profits while investing in crypto related project. The team took their time to study those challenges and finally discovered that ruining an investment through a smart contracts and decentralized application is the only measure that can yield profits to the investor because it has a strategic and sound profits model. So the team went ahead to develop such platform in order to regain smiles to the investors faces.
WHAT $MART FUND IS ALL ABOUT?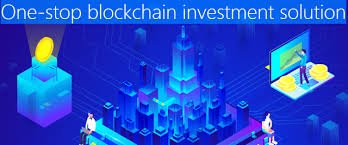 $mart Fund is simply an investment platform that runs on DAPP. Furthermore, $mart Fund is a digital financial firm that opens room for investment which was built on ethereum public chain and DAPP. The $mart Fund platform specialize on DAPP projects which has a direct and smooth investment plan and strategic profit model. This platform is quite different from other investment platform that runs their activities like a pure centralized system, it is also different from other crypto investment platform that has no business plan nor profits model.
FEATURES OF $MART FUND PLATFORM
-$mart Fund is running on a decentralized ethereum public chain which means that no central authority that might be controlling the affairs of the platform. The platform will be totally transparent and individuals will be able to manage their accounts.
-$mart Fund investment platform only accommodate DAPP projects which have a plan and strategic profits model. So therefore, there will be no lost for any investor through this platform.
-$mart Fund offer dividends to the investors. This is done to inform of investors that is part of the stakeholders of the platform, i.e someone that hold their token ($F)
-The $mart Fund gives room for people to launch their ICO project through the platform, but strategically DAPP based project. The project host will be able to raise the required funds for the development of their project
-The $mart Fund platform supports arbitrage mode of trading in order for investors to do check and balance and choose the price that is suitable for them.
There are still many other features but I will plead with you go through their official website which I will attach to the end of this article to know more.
$MART FUND TOKEN ($F)
$F is like the fuel driving the $mart Fund investment platform. It is a utility token built on ethereum chain i.e ERC-20 standard. All investment will be done through with $F token which can be stored in any ethereum compatible wallet. The $F token will be used to enjoy all the services of $mart Fund platform. Using $F as a means of payment attracts many benefits and lastly, all holders of $F are to enjoy some dividends.
ROAD MAP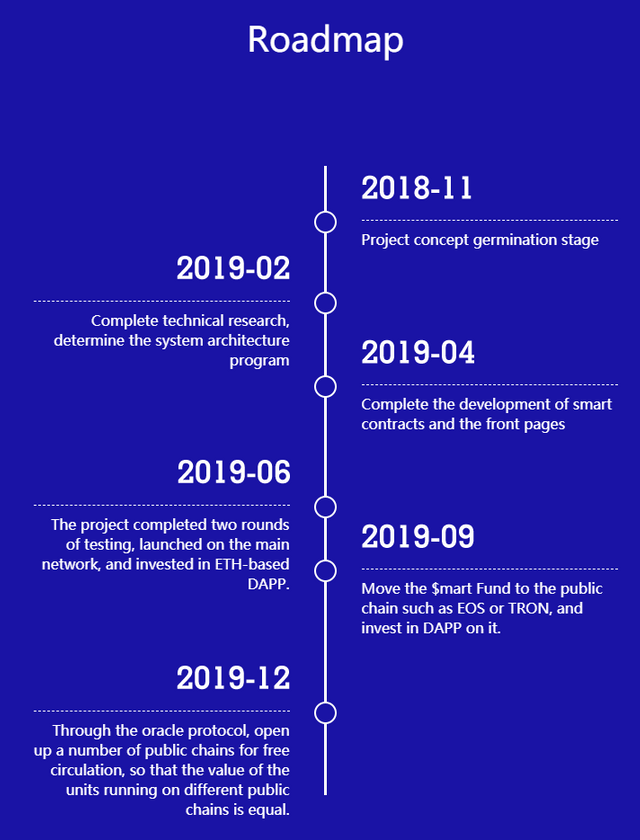 CONCLUSION
$mart Fund is just what any investor that want to make a good profit in the crypto Space needs. $mart Fund is the only platform you can find a project that will yield you the kind of profits that put smiles on your face. This kind of investment platform is open for all categories of people in the crypto space. Are you an amateur trader, an expertise or project developer, the game changer has arrived. Let's exploit $mart Fund platform and begin to enjoy a tangible profits as we all desire.
There are still lots of Information about $mart Fund, get more of it here:
Website: http://1smart.fund/
Whitepaper: http://www.1smart.fund/static/$mart_Investment_Ecology.pdf
Twitter: https://twitter.com/fund_smart
Facebook: https://www.facebook.com/onesmartfund/
Telegram: https://t.me/onesmartfund
Medium : https://medium.com/@1smartfund
Reddit : https://www.reddit.com/user/1Smartfund
Writer's Information
Bitcointalk Username: Nwaka20
Bitcointalk Profile Link: https://bitcointalk.org/index.php?action=profile;u=2537452
ETHEREUM WALLET ADDRESS : 0x1DFF104B8e6ab4e94C1AB3B821e4e7bADab563B7