Pro Futsal Round Four Re-Cap
Hi Steemians,
---
Photo : Courtesy profutsal.com.au
---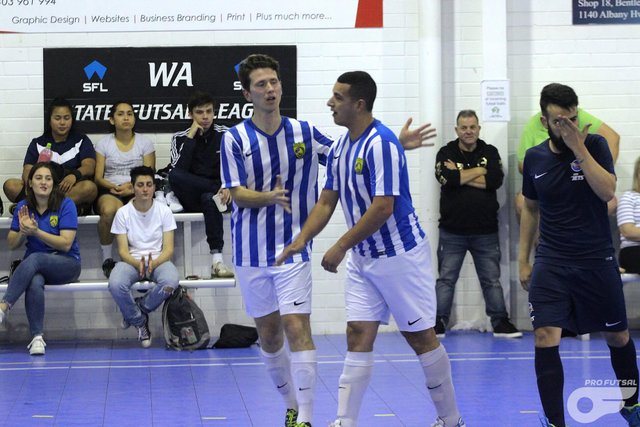 ---
Round 4 of the Pro Futsal WA State Futsal League kicked off in fine style with the early season domination by Stirling Braza Ginga on show for all as they took out the Joondalup ECU Jets 7-3. Former Murdoch man Lucas Mello made his comeback to the SFL and was on the scoresheet, and will no doubt be a fan favorite during the season with his incredible ball control and goal scoring ability.
The Spearwood Lions got their first point of the season in a low scoring 2-2 draw with Perth AFC, while Perth Longobarda FC showed they could be the real deal this season with a big 4-1 win over Rockingham Cambio Cumbre, and cap off a wonderful turnaround since abandoning Pro Futsal just a year ago following the well publicised Championship promotion
controversy.
The Murdoch Warriors looked brilliant in their 5-0 win over South Perth, in match marred by a final whistle melee involving Italian hot head Roberto Boi (South Perth) and Englishman Jamie Dunn (Murdoch), who were both shown red by referee Gabriel Merlacco, while Cockburn EWA kept top spot on the Pro Futsal WA State Futsal League handing Fremantle their first defeat of the 2018/19 season.
Curtin Footbalista kept their winning form going with a solid 5-2 win over Balga FC, to push themselves into the top four after four rounds of SFL
action.
Next match :
South Perth vs Fremantle FC
Kick Off : 7.50PM, Friday November 2nd
Pro Futsal Centre,
25-27 Port Pirie Street
Bibra Lake
---
Regards,