Galaxy Digital submits Bitcoin ETF application to SEC
Mike Novogratz's investment institution Galaxy Digital has submitted a Bitcoin exchange-traded fund (ETF) application to the U.S. Securities and Exchange Commission (SEC) on April 12.
If approved, it will be traded on the New York Stock Exchange High Growth Market (NYSE Arca), and its share price will be based on the Bloomberg Galaxy Bitcoin Index.
According to the application documents, "Galaxy Bitcoin ETF is an exchange-traded fund that issues ordinary shares of beneficiary rights and will be traded on NYSE Arca. The investment objective of the trust is to reflect the Bloomberg Galaxy Bitcoin Index (minus the trust's fees and other liabilities). ) Performance. In order to achieve its investment goals, the trust will hold Bitcoin and evaluate its share daily based on the price of the index, which is based on data from the Bitcoin pricing source selected by Bloomberg Index Services Ltd. Calculated."
This application document lists potential risk factors related to ETFs, such as Internet outages, Bitcoin network improvement plans, permanent forks, and extreme volatility of cryptocurrencies.
The common stocks of Mike Novogratz's commercial bank Galaxy Digital Holdings began trading on the TSX Venture Exchange in August 2018, and then transferred to the TSX main board for trading in July 2020. The stock code is still GLXY.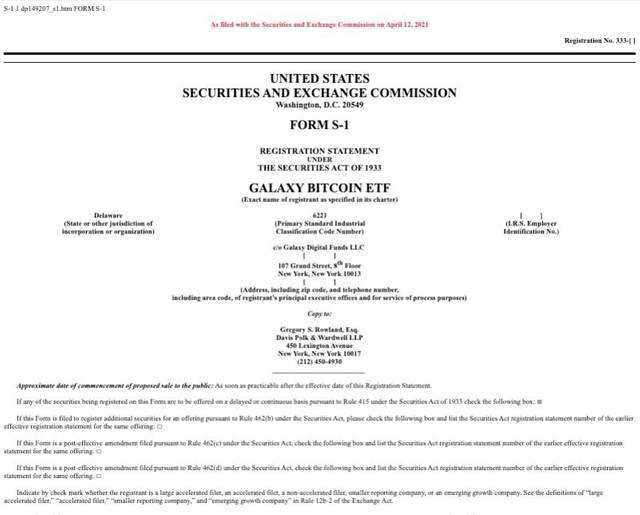 Bitcoin ETF queues up for SEC approval
Earlier this year, many major participants submitted Bitcoin ETF applications to the SEC. This ever-changing waiting list includes Anthony Scaramucci's hedge fund SkyBridge Capital, Fidelity subsidiary FD Funds Management (product name is Wise Origin Bitcoin Trust), NYDIG, WisdomTree and VanEck. Currently, nine ETF applications are awaiting approval by the US SEC.
Regulators have already begun reviewing the applications of WisdomTree and VanEck. According to previous reports, the initial comment period for the VanEck Bitcoin ETF application ended last week with only 5 comments. The regulator is expected to make a preliminary decision next month on whether to approve or continue to evaluate VanEck's application. If the SEC decides to extend the review period, the deadline for the review response of the VanEck ETF application will be November 10.
According to U.Today, the cryptocurrency management company Grayscale recently confirmed that it is seeking approval from the SEC to convert its flagship product, the Bitcoin Trust Fund (GBTC), into an ETF.
In February of this year, the world's first Bitcoin exchange-traded fund Purpose Bitcoin ETF was launched in Canada. Its large-scale listing and unprecedented capital inflows are driving more companies to seek ETF approval in the United States.
In a recent interview with "Forbes", "Crypto Mom" ​​and US SEC Commissioner Hester Peirce reiterated that the United States should have approved this product long ago: "My point is that we should have approved one of them (ETF application) long ago. "