Project Avalanche - Day 2
Original thread here
Yesterday's post here
A good start to the project. Let's keep rolling! More picks will be added to this post as we go along so that we do not create redundant posts. 
Starting bank: $228.06
Sports to bet on: MLB
Boston Red Sox team total over 5.0 (2.5 units)
St. Louis Cardinals ML (1 .5 units)
Toronto Blue Jays ML (1 unit)
Cincinnati Reds Castillo -0.5 first 5 innings (1 unit)
Sports to bet on: Tennis
ATP Newport - QF- Matthew Ebden -1 (1 unit)
ATP Umag - R16- Andrey Rublev -2 (1 unit)
Sports to bet on: WNBA
Chicago Sky +12 (2 units)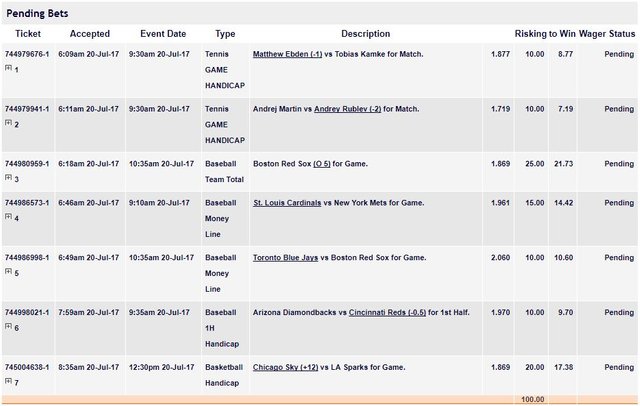 Update:
Additional 6 bets were played and graded.
Tennis:
ATP Gstaad - QF: Kiki Bertens (-1.5) (2 units)
ATP Bastad - QF: Karen Khachanov To Win Set 2 (1 unit)
ATP Bastad - QF: Fernando Verdasco (1.5 units)
Soccer:
Bulleen Lions Women vs Senior NTC Women O 6.5 (1 unit)
Oakleigh Cannons vs Melbourne Knights U 1.5/2 (2 units)
Lithuania Women U-19 vs Estonia Women U-19 O 4.5 (2 units)

9W-3L-1P for a net profit of $79.63
Closing bank: $307.69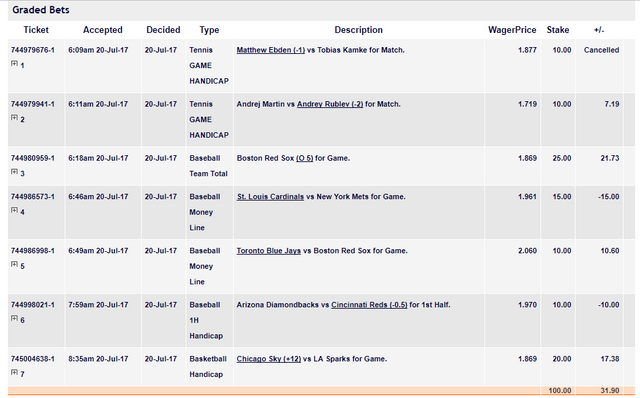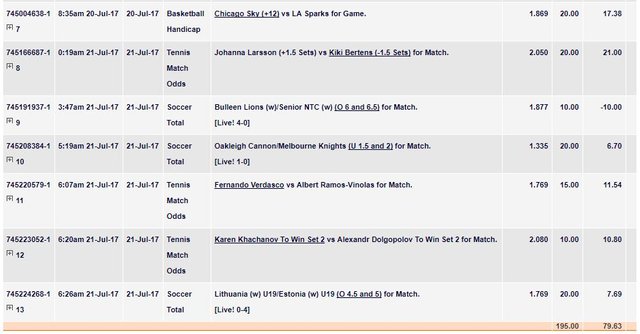 P.S: This is not an advertisement nor endorsement. Feel free to follow and wager at your own risks!