Get Paid with Divs as you wager- The ACEWINS initiative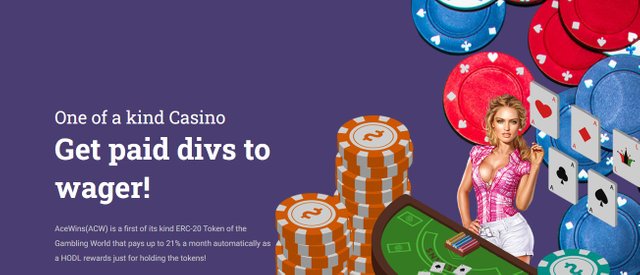 Gaming and gambling have developed overtime to become a very interesting sector. Advancements in technology made it even better. People do play games and also gamble all the time and on any device they feel comfortable with. The other reality about gambling is that it is a high-revenue business. According to Business Insider, the US Gambling Industry alone is worth more than $240 Billion and also employs over 1.7 million people. This figure is just for the USA and it was a 2013 study. Imagine how grown the industry has become now after so many years.
Blockchain and Cryptocurrencies have also opened the gateways to things we never knew of. There are various platforms that have implemented blockchain and crypto innovations in a number of ways across a variety of sectors to create a better digital experience. That is why ACEWINS has come to create a better casino platform using blockchain and crypto.
ACEWINS is to begin with, the first of its kind. There is no other platform that functions in the exclusive way the ACEWIN works and that makes it stand out among peers. ACEWIN seeks to develop a platform that shall reward casino players for doing what they do every day. All you have to do earn is simply HODL ACE tokens and then you earn a dividend with proportion to what you are holding.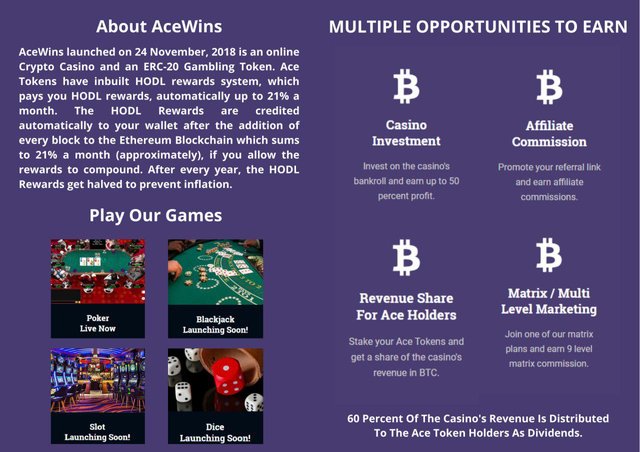 There are some interesting factors about ACEWINS that have made investors interested in this awesome project:
ACEWINS has an initially capped number of tokens of just 12.5 Million tokens to help create a healthy balance between supply and demand and hence maintain a good trading market sentiment for the native token.

HODLers get rewarded in BTC. With ACEWINS, 60% of the proceeds from the casino platform are shared in proportion to the amount of tokens held and the payments are made in Bitcoins.

ACEWINS is hosted on the Ethereum Blockchain. This is also another factor that makes ACEWINS interesting for users because it is faster and easy to monitor activities and the smart contract deployment is easier when done with Ethereum.

The ACW tokens are already being traded. This is another amazing thing that should gain your attention. A token gets its value from being traded. That is why ACEWINS has got its token being traded at Saturn Exchange and is planning on getting other exchange listings to help improve token liquidity.

ACEWINS is also going to be a platform that shall support various forms of casino games. Currently some of the games are available and plans are being made to make other games available so that users can have the opportunity to play a variety of games and earn from them. Currently the Poker game is live and Blackjack, Dice and Slot are yet to be launched.

Acewins is one of its kind and the first of its kind. Thid amazingly unique platform makes you play and earn. The various ways to earn include winning chips worth money, getting a share of the profits generated from the platform, HODL rewards, a high value generation potential for the tokens due to the value in casino economy, affiliate and multi-level or matrix marketing and many more.
You can follow up on the ACEWINS project various developments that have been achieved so far and also ask questions in ajy of the following;
Website: https://www.acewins.io/
Whitepaper: https://www.acewins.io/WhitePaper.pdf
Telegram: https://t.me/AceWinsCasino
Facebook: https://www.facebook.com/Acewins.io/
Twitter: https://www.twitter.com/ace_wins
Author Bitcoin Username: Housestark
Ethereum Address: 0x376398f80805ca7666bc8d0da46096e6e1cdc9f6