WorldCup2018-Players To Watch Out For | Luis Suarez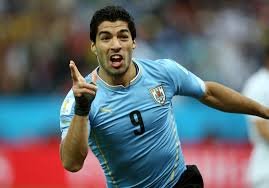 Luis Suarez is a Uruguayan professional footballer who plays as striker for the Spanish club Barcelona and the Uruguay national team. He is also regarded as one of the best player in the world. Suarez has won 16 trophis in his career, including five league titles and UEFA Champions League title at club level, and Copa America with Uruguay.
Luis Suarez is the star striker of the Uruguayan national soccer team who went on to play for Ajax and Liverpool before he joined the Spanish giants FC Barcelona. He came into prominence for all the wrong reasons including biting Italian defender, Giorgio Chiellini, during a world cup match in 2014. However, he is still considered to be one of the best strikers in the world and has been the European Top Scorer and winner of the 'Golden Boot' award twice. His aggressive nature on the field has been attributed to his harsh upbringing, ridden with poverty, and a broken family where his father walked out leaving his mother to bring up seven siblings. His childhood sweetheart, whom he eventually married, has been his saving grace that had a positive bearing on his life and put him back on track. Today he is one of the highest paid footballers in the world.
Luis Suarez Net Worth is $51 million USD and earns an annual income of $12 million dollars. Luis Suarez Resides in Montevideo , Uruguay. He bought this Luxury Home in 2014. Estimated Value of this Real Estate Property around $3.2 Million. The Car collection of Luis Suarez is quite large. He owns few of the best luxury cars in the world. The Car brands owned by Luis Suarez include Range Rover, BMW, Ferrari and Mercedes Benz.
Luis Suarez was born on 24 January 1987 in Salto, Uruguay, to Rodolfo and Sandra Suarez. His father was a porter from a poor mixed background having African ancestors. His family moved to Montevideo for work when Luis was seven years old. Suarez met Sofia Balbi when they were 15 years old. Sofia's family moved to Spain soon after they were together, they reunite in Europe and married in 2009. Luis and Sofia are parents of two kids, one boy and one girl. Daughter Defina was born in August 2010 soon after the couples were married, and Benjamin was welcomed into the world in 2013.
Uruguay booked their place in the World Cup knockout stage along with Russia on Wednesday, as Luis Suarez scored the winner on his 100th international appearance in a 1-0 victory over Saudi Arabia in Rostov-on-Don. The South Americans take on the hosts in their final Group A match on June 25 with the top spot on the line, while Egypt and Saudi Arabia have been eliminated after both suffered back-to-back defeats. Russia and Uruguay will face one of the top two from Group B in the last 16 -- Portugal, Spain or Iran. The 31-year-old Suarez, whose previous two World Cups both ended in bans after his infamous 2010 handball against Ghana and bite on Italy's after scoring in his 100th game for his country to secure World Cup progression, the Barca star revealed his wife is pregnant for the third time.