We want the "Pay with Steem/SBD" Button
Steemit inc. wanted to draw attention to the importance of video games to the blockchain ecosystem with its most recent publication: 100 DAYS OF STEEM : Day 9 - Gaming on Steem - a Community Challenge. Again, the new governance of our beloved platform surprises us with its interest in helping the community grow and develop their projects together, through these "round tables".
The number of video games over Steem continues to grow thanks to the tools that the blockchain itself offers, mainly the speed of transactions at very low cost (RC only), but some things may still be improved to attract game developers and to facilitate the day-to-day life of the gaming community in general.
Steemit.inc has left that question on the table precisely:
What can we do to help the gaming community grow?
There are certainly many things still to be done and that many of them depend on the will of Steemit inc. but not all of them.
Gaming communities are very important for players to stay in touch, and fortunately, we can already enjoy that feature for a few months now.
Other issues that are still pending and that game developers must resolve on our own and outside of Steemit are Wikis or Forums.
I'm currently creating a Wiki about cards, events and everything related to Rada Quest in the form of posts on Steemit but, frankly, the Markdown language supported by Steemit is really poor! And this affects not only the gaming world, but any content creator.
When I entered Steemit, I soon realized these shortcomings. I did not understand as a social network that is based on the creation of QUALITY content that will be rewarded had such a rudimentary text editor.
As a software developer my first idea was a project that offered a much richer content creation environment with more ease for creativity. Ideas saturated my mind because I realized everything was to be done!
What happened to that project? Steempress happened. I'm sure many of you know the Steempress plugin that allows you to duplicate your WordPress posts on your Steemit blog. When I realized that they had a delegation that went over 1 million SPs, I realized that my project had failed before it was born. I could never compete with Steempress. And I couldn't understand why if I made a post on my WordPress blog and then repeated it on Steemit, Cheetha would warn my readers of possible plagiarism, but if I duplicated it with Steempress nothing happened... Curious.
But let's not get out of the main topic. That project was stored in a drawer and now I'm working on the Rada Quest game project. And it is from this new perspective that I want to appeal to Steem inc.
We want the button "Pay with Steem/SBD"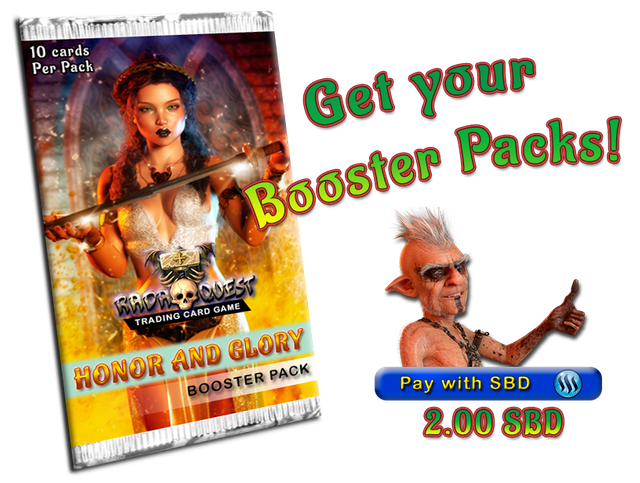 Most of the video games we find on a blockchain include the economy in their roadmap. These are games that sell items to players (cards, upgrades, items, etc.). They may also distribute benefits or prizes among players.
But in the first case, as is the case with Rada Quest, the game will try to finance itself through the sale of items, such as card packs. At the moment all the games that we want to use this form of payment must create our own websites to offer those services. And this affects not only games. Consider an artist who wants to sell copies of his illustrations or photos. Or a writer who wants to sell copies of his book.
If the Steemit platform allowed a button similar to PayPal buttons to be inserted into publications to pay in Steem or SBD, Steem's economy would grow a lot, I'm sure.
I can imagine the option to activate the button next to the option to decide if you want the post reward at 50% Steem – 50% SP, 100% SP or reject it. Right there. Using a form the owner could specify the amount in Steem or SBD to receive, for a purchase or for a voluntary donation, and an option to include a downloadable file, an SMT transaction (SMT could be used to identify the game booster packs), etc.
I'm exciting to the opening the Steemit Discord server so I can talk about all these ideas and many more ideas I have. To ask me for ideas is to open Pandora's box.