Parsec Frontiers Ship Marketplace is now open!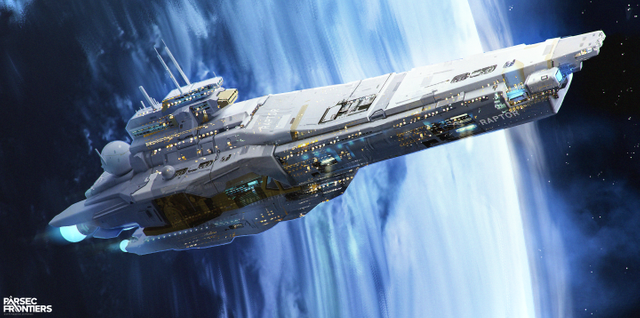 The Ship Marketplace is now trading!
Parsec Frontiers have started to see some action on their Ship Marketplace! You may ask me what does that mean? Well, I will tell you. As I have said in previous articles parsec frontiers have started their ship auction about a week ago. And so far, 15 ships have been sold! Prices have been between 3 and 23 ETH! So, until the game is released you can't do anything with those ships, right? WRONG! You can freely trade your ships on the marketplace! That means even if you missed the specific ship type on the auction you will be able to buy it from other players! For example, if you want to get one of the first limited ARK Ships you can simply buy them from other players that want to sell their ships! This is really good news for people that joined the auction late!

Do you need an expensive ship to play the game?
Some people asked me this question in my last post about Parsec Frontiers. I have talked with one of the developers on discord and he stated that they want to make the game accessible for the masses, that means for people that do not have any previous knowledge about the crypto space. that means there will be something available for everybody at an entry level, however, the specifics are not clear and he could not comment further.

Community designed backstory #2
The Backstory community design is still going on! this means you can cast your vote in shaping Parsec Frontiers backstory! by interacting with their twitter polls you can get your say in how the universe came to be in Parsec Frontiers! so far it says.
August 2243. The virus is contained in Antarctica for now. But after 11 years of war, soldiers and civilians are desperate to get home. Anger rises day after day; desertions and riots could spark at any moment... How can we avoid the crisis and a potential outbreak?
the poll closed and the winner is: Focus on virus study with 43% of the votes!

What is Parsec Frontiers?
ParsecFrontiers is a space MMO that focus on space exploration, mining and Player driven economy. ParsecFrontiers will be supported by a blockchain, that means everything you gather trade or fight to achieve will be your property. If you wanted to travel to a faraway galaxy to get some rare and unique materials and then trade them in for parsec credits and use those credits to buy bitcoin or ethereum you are free to do so. This is a very ambitious project and I am happy that I have followed it from the start, if you have ever played EVE-Online and want to try an upcoming game that let you own all your assets you grind for ParsecFrontiers is differently something to look out for.
Ingame Fotage!

Ship Auction!
Parsec Frontiers have officially entered their Crowdsale Phase! This is great news for any gamers that are interested in an MMO built on the blockchain! And if you donate today you will get 30% as a bonus! This is a great opportunity for any investors that are interested in the Ship Auction that is also running!
If you want to take part of the Crowdsale or the Ship Auction I would appreciate if you used my referral links!

Follow Parsec Frontiers here!
Twitter: https://twitter.com/parsecfrontiers
Facebook: https://facebook.com/parsecfrontiers
Website: https://parsecfrontiers.com
Discord: https://discord.gg/wpWQgUP
Whitepaper: https://wp.parsecfrontiers.com/whitepaper.pdf