Steemit Entertainment Headquarters
Your steemian pit stop for #anime and #gaming. Earn for writing for us, earn by visiting us!
---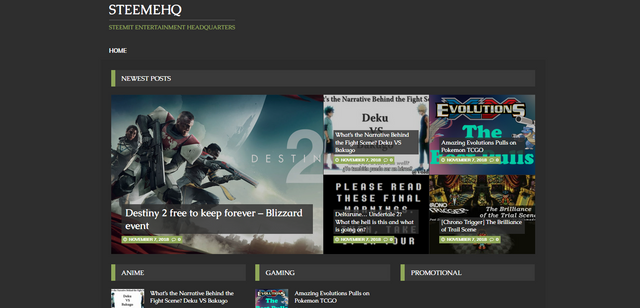 SteemEHQ
Combining steemit rewards with non-steemit monetization is essential in the long run. Content from https://steemehq.club/ comes from the steem blockchain. Authors are guild members. Find us on our Discord server.
As an author, you are upvoted by the @steemehq account.
As a reader, your daily visit earns you credits to trade in for games or small sbd prizes / sp delegations.
Income from ads are used to boost @steemehq's Steem Power by power ups and delegations, which raises steemit's overall economy by extension, so please disable your adblocker! There are no pop ups. Website design is still getting refined but it's mostly done.