Spring Cleaning: How many of your Steam games have you never played?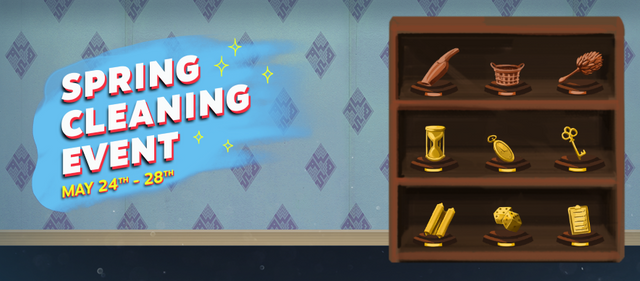 The Steam Spring Cleaning Event started today and gives users the opportunity to earn a free Steam Badge just by playing their already owned games.
For each of the 4 days of the event, Daily Tasks can be completed to earn and upgrade the even trophies. As well as this, 6 trophies can be earned at any time during the event by completing Projects.
Daily Tasks
---

Steam Spring Cleaning Event Daily Tasks. Source: Steam
SPEED CLEAN
This trophy can be completed daily by playing one of the free to play games featured during the event. Each of the four days will offer different games from the selection to earn the trophy. The free to play games during the weekend event include:
Dead by Daylight, Cities Skylines, Don't Starve Together, DiRT4, Left 4 Dead 2, Tyranny, Borderlands 2, Shadow of Mordor and Castle Crashers.
SPIN CYCLE
---
A random selection from your own Steam library will determine the games to choose from for this trophy. These will change each day, giving you more opportunities to play some of your own games.
CLEAR THE BACKLOG
---
There are always going to be those games in our library that we bought and never played. Or maybe we got a free deal on a copy and never launched it. This trophy will select games each day that you own but have never played before.

Projects
---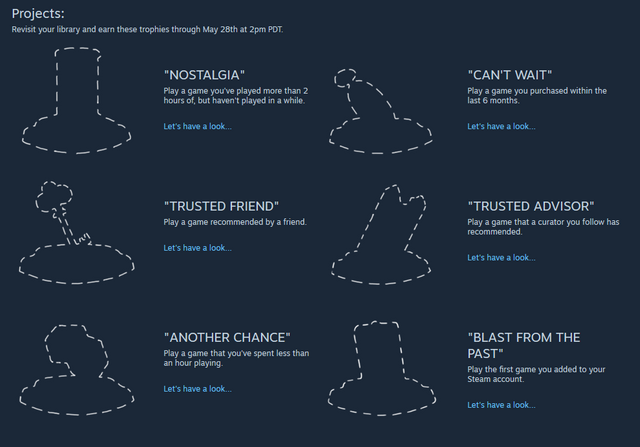 Steam Spring Cleaning Event Projects. Source: Steam
NOSTALGIA
---
For games that we have played before but it's been a while. They also need to have more than 2 hours played to qualify for this trophy.
CAN'T WAIT
---
This can be earned by playing a game you have bought in the last 6 months. This one doesn't matter if you have played it before or not.
TRUSTED FRIEND
---
Play a game that has been recommended by a friend to earn this trophy.
TRUSTED ADVISOR
---
Follow any curators? Play a game they have recommended and you will get this trophy.
ANOTHER CHANCE
---
You only played these games for less than an hour before giving up? Give them another chance.
BLAST FROM THE PAST
---
Do you remember what the first ever game you added to your Steam account was? Play that one.
Completing 5 tasks will earn you the level one bronze Spring Cleaning Badge. Earn 9 of those trophies and you'll upgrade to the level two silver badge. Complete at least 17 out the 18 trophies after the four days and you'll get the level three gold badge.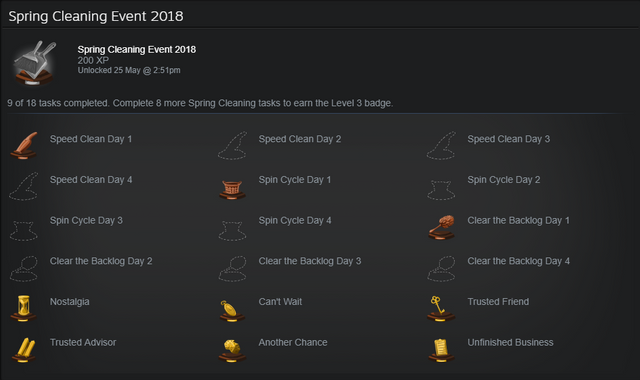 Spring Steam Cleaning Event Badge. Source: Steam
The event runs until 2 pm PDT on the 28th of May which will be until 7 am AEST on the 29th for us in Australia.
---
Sarah Thomas @kaida
---

---