LET,S GO CRAZY WITH CRAZY BIKE ATTACK RACING GAME- AN ANDROID GAME
---
---
---
Still going gaga about this game, remember we going crazy on a game called CRAZY BIKE ATTACK GAME lol. This game is dope and it portrays some realness.
Initially, i came across this game through my friend and i pick up my phone haven played it from his phone for some hours and i feel in love with it and that is how i rushed down to the android market and download it. Ever since then, i have been playing the game and it seems cool, so i decide to update my game pals about this it.
Crazy bike attack game is that game that allows you to perform cool and amazing stunt with an amazing physical controls. As you control the game along, you can increase it sleep and slow it down and at same time, fight against other racers trying to hit you down. Mind you, you have a task and that task is the reason for the journey so you must get it achieved while racing. With your speed you will get coins, timers, scorers, hammers etc.
in this game you have to prove how fast you are by applying all necessary smart moves. Make sure you watch out for obstacles as you will start afresh if you hit yourself on those hurdles ahead.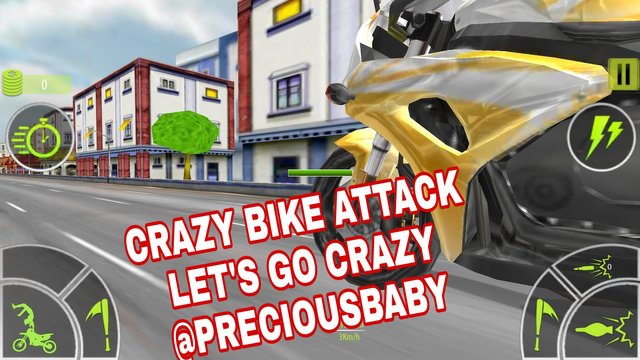 ---
---
---
---
They are need feature to this game and this new feature has helped to include some key aspect like the:
1. ENHANCE GAME PLAY
2. MADE MORE SMOOTH
3. MORE ACCURACY IN TERMS OF GAME RUNNING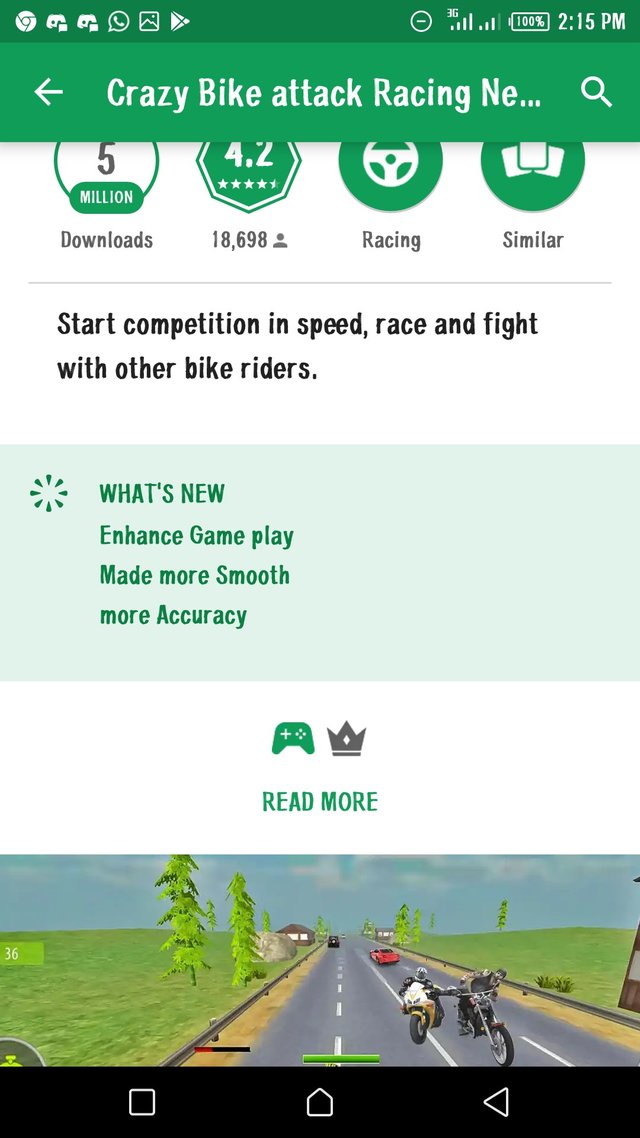 The necessary ads to the game makes it more cooler but they should try and work on the ads like i mentioned earlier, it is top much and i am not enjoying it.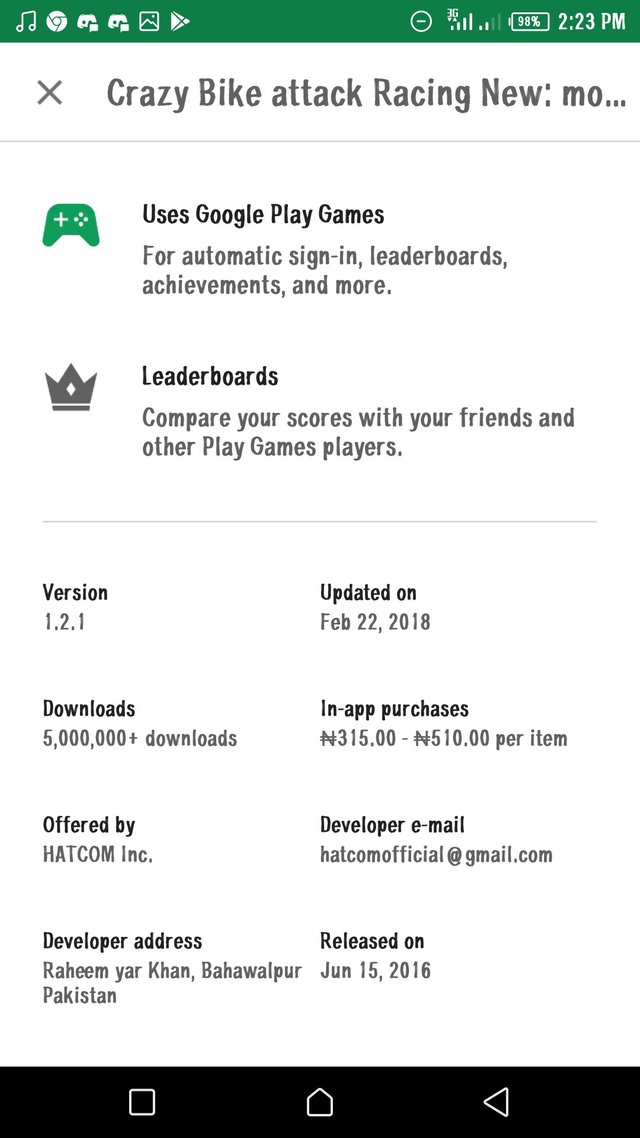 In case you are a portrait lover, you will be bored with this game as this game is fully a landscape game.
---
---
---
LET ME SHOW YOU HOW T0 DOWNLOAD THE GAME FM THE ANDROID PLAYSTORE MARKET
The first thing here is to make sure you located playstore in your phone menu (remember, all phones got their menu settings and arramgement).
Now, Go to your Android phone,
Search for play store (through the menu of the phone)
Now when you locate playstore,
open it
At the top of the app,
Search for the name of the game you looking for (CRAZY BIKE ATTACK) then press enter, it will bring out the name of the game and other related game to be precise, click on the one you looking for.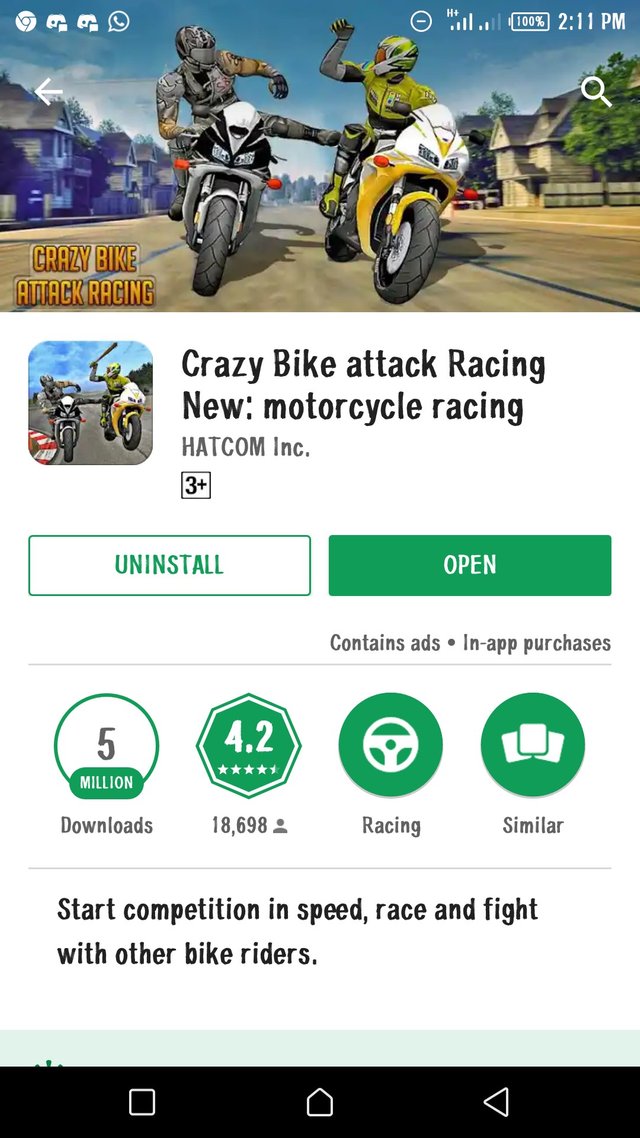 ---
---
---
BRIEF INFO ABOUT THE GAME
If you read my 3rd paragraph, you should be familiar With what the game really entails. This is one racing in the android os market that you guys will surly love to the fullest.
Just from the name, you got to go crazy by performing some amazing stunt as you battle to the get your quest achieved. One thing is for sure you must make sure you dont get carried away with stunt, you must make sure you meet up with the necessary task and at same time
You should learn the necessary ways by making sure you drift when necessary and also your stunt and make sure you hit foes when necessary and have your heart set on achieving greatness as you battle to glory.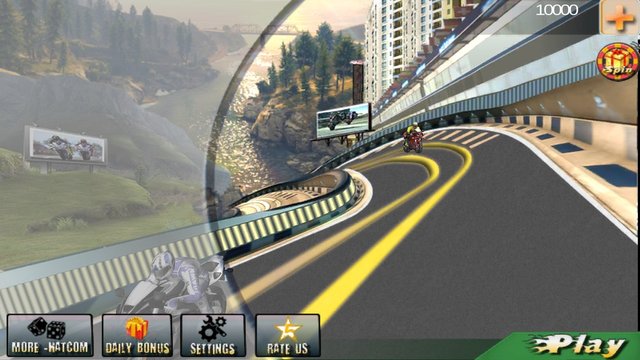 STEP BY STEP GUIDE ON HOW TO GET THE GAME RUNNING
NOW CLICK ON IT AND LUNCH THE GAME, YOU WILL COME ACROSS THE DEFAULT SCREEN STARRING MORE-HATCOIN, PLAY, DAILY BONUS, RATE US ETC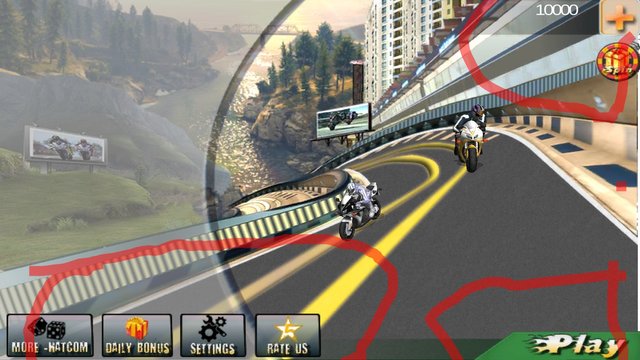 BELOW IS THE FUNCTIONS OF SOME OF THE LISTED ICON.
1. MORE HAT-COIN
This option is so negative, i am still wondering while it was added. When you click on it, it will take you to playstore where you can download the game.
2. DAILY BONUS
OOPS I LOVE THIS ASPECT AS IT ALLOWS YOU TO MEET UP AND COLLECT SOME AMAZING SOME DAILY REWARDS.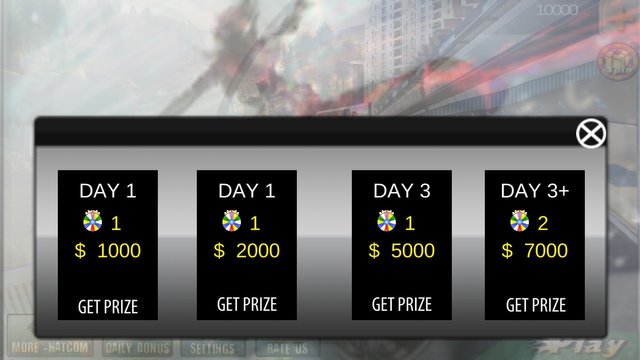 3. SETTINGS
When you click this menu, you come across this three (3) icons which include the game sound, game music an help.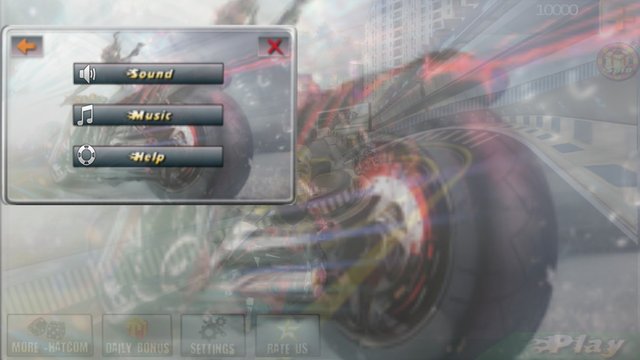 WHAT DO THIS THREE SUB MENU HAVE FOR US?
From the sub menu, you can click on the sound and the music and it will just mute it totally and that has shown that you cant reduce the sound gradually. Watch the screenshot gradually, you will noticed some sign close to the music and sound.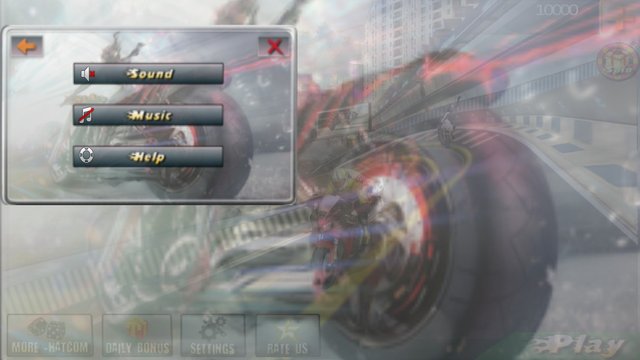 4. HELP
THIS MENU IS ONE OF THE BEST. IT EXPLAINS WHAT AND WHAT YOU NEED TO KNOW ABOUT THIS GAME IN A NUT SHELL. IT USES PICTURES TO EXPLAIN THE GAME CONTROL FUNCTIONS.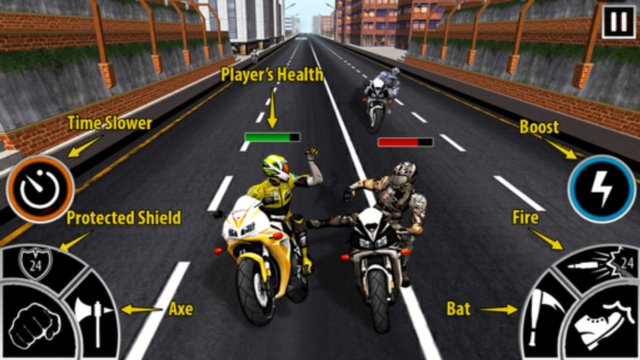 From the above, we can see that the pictures explain all the keys functions like the FIRE, BOOST, PLAYER'S HEALTH BOOST. BAT, PROTECTED SHIELD, AXE, TIME SLOWER.
5. RATE US
THIS IS AN OPTION THAT HELPS YOU TO RATE THE SERVICE OF THE GAME DEVELOPERS. WITH THIS THEY CAN KNOW HOW SATISFACTORY THE GAME IS.
THE PLUS SIGN AT THE TOP
WHAT DOES THIS SIGN DOES? IT GIVES YOU AN OPTION WHERE YOU CAN PAY SOME MONEY IF YOU GETTING IRRITATED BY THE GAME ADS.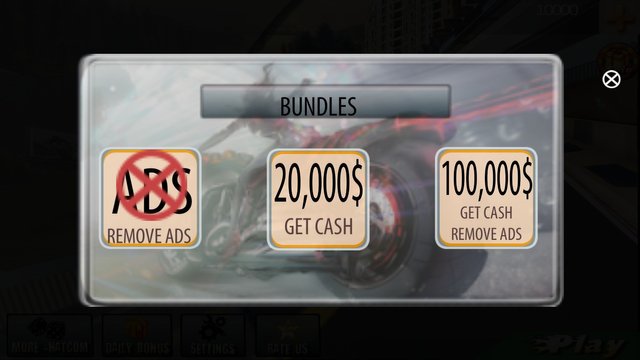 7. SPIN
THIS TO ME DOES NOT HAVE A BIG FUNCTION ALL IT DOES IS FOR YOU TO SPIN THE GAME MENU YOU WANT TO EMBARK ON.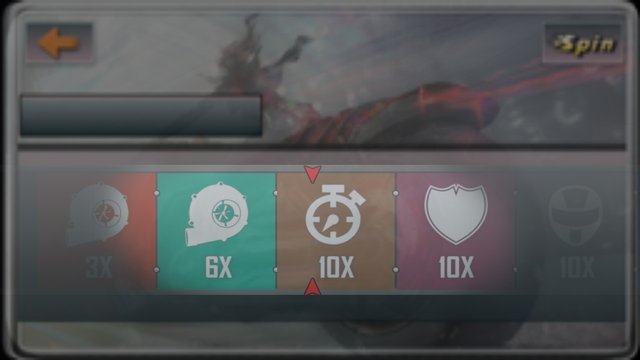 8. PLAY
When you clicked on the play, it takes you to a sub menu that you will come across your bile, where to customised it and after you done, the other play is for you to get into the battle field.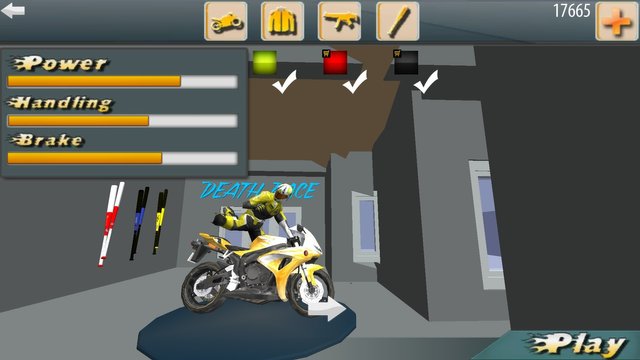 After starting the game, it will load level 1, telling you let us embark on a smashing bike ride, and below you will see something like this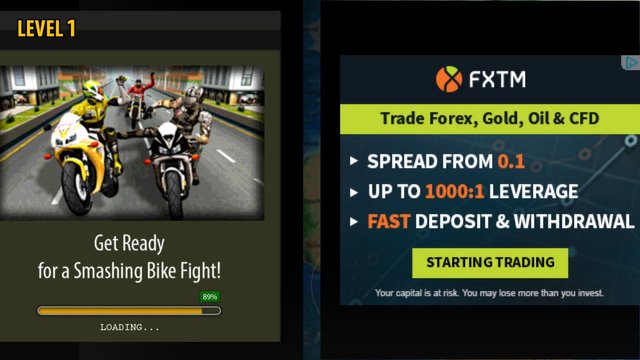 And finally, the game will start, now you can now make use of those help control functions.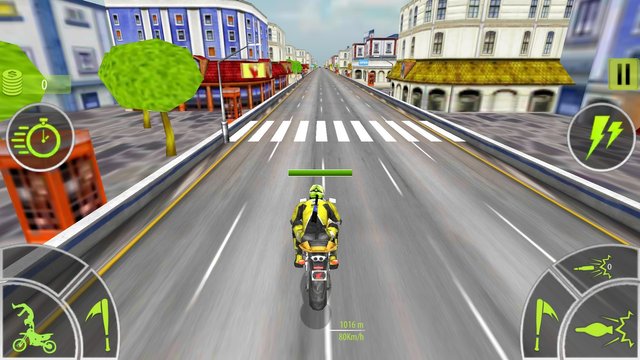 9. COIN AND MAGNET
THIS TWO ITEMS WILL BE GIVEN AS YOU KEEP PROGRESSING IN THIS GAME. WHEN YOU GOT HOLD OF THE MAGNET, YOU DONT NEED TO KEEP THINKING OF HOW TO SWING LEFT AND RIGHT TO COLLECT COIN, THEY WILL MOVE AUTOMATICALLY TO YOUR SIDE.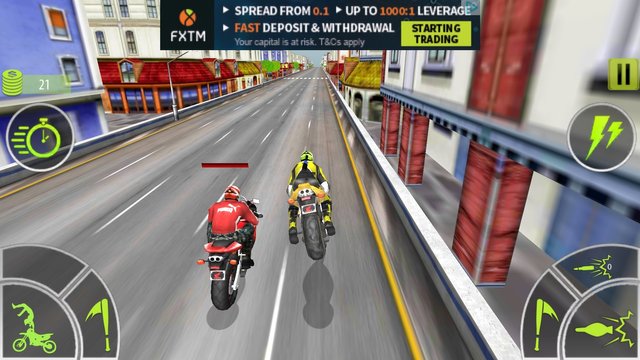 ---
---
---
Below are some additional info about this game.
| Game | Review |
| --- | --- |
| * SERIES | * CRAZY BIKE ATTACK |
| * UPDATED | * 22ND FEBRUARY, 2018 |
| * DOWNLOAD | * 500,000 PLUS ANDROID |
| * DEVELOPER | * HATCOM GAMES |
| * PUBLISHER | * HATCOM GAMES |
| * VERSION | * 1.2.1 |
| * Rating | * 4.5 |
| * Graphic | * 8/10 |
| * Sound | * 9/10 |
| *controls | * 9/10 |
| * gameplay rating | * 9/10 |
| * size | *112 MB AND 1GB RAM plus Android 4.5 AND above |
| * Developers country | * PAKISTAN |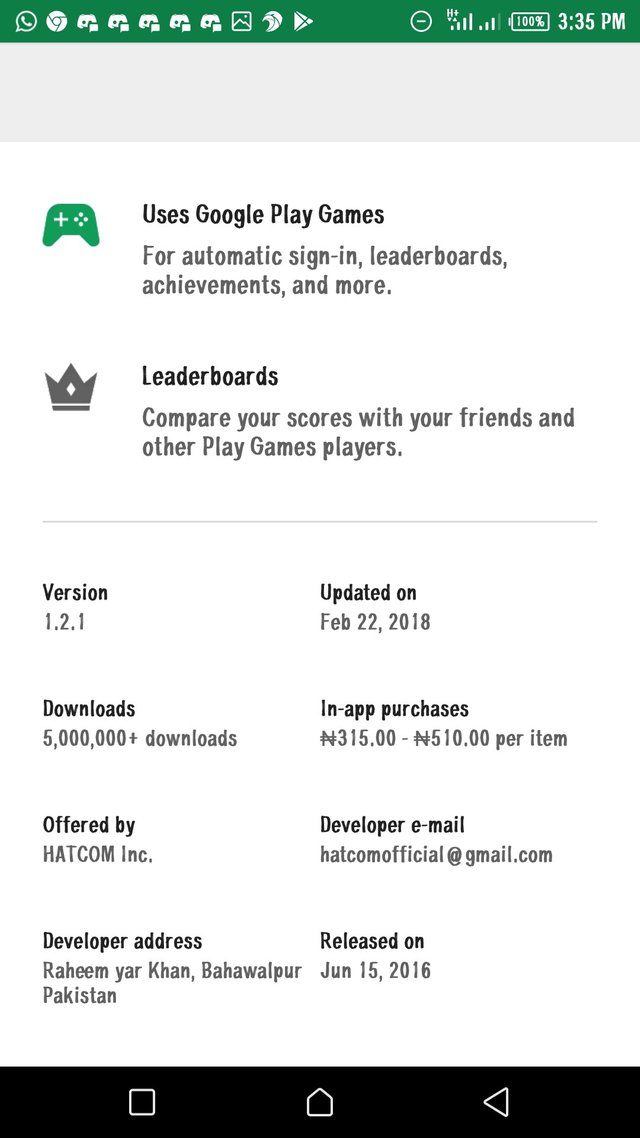 ---
---
---
Game played with my infinix zero 5
GRAPHIC
The graphic is cool And i dont think i have any issue with that. The graphic and it texture is really dope and it is really pronounce for you to be able to observe/spot what is ahead.
CONTROL
NEARLY ALL CONTROLS ARE DISPLAYED ON THE SCREEN UNLESS THE ASPECT WHERE YOU HAVE TO BEND THE PHONE SIDE WAY, SO THAT THE BIKE CAN MOVE TOWARDS THE REQUIRED SIDE..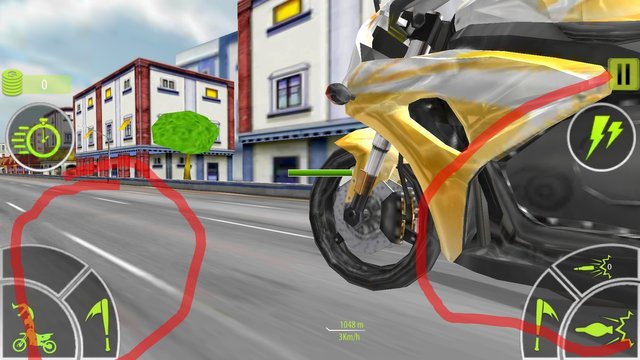 SOUND
IT JUST HOUSE THE USUAL SOUND AND THERE IS NOTHING SPECTACULAR ABOUT IT. I ENJOYED THE SOUND, ESPECIALLY THE IN HOUSE SOUND THAT GETS ME GOING WHEN AM PLAYING THE GAME.
DISLIKE
THERE IS JUST TOO MUCH ADS PLAYING THIS GAME, IT IS REAL MAKES THE GAME A LITTLE BIT CONFUSING AND I DON'T THINK THE ADS IS EVEN NECESSARY AT ALL. AT LEAST IT SHOULD BE AFTER THE GAME NOT DURING THE GAME PROCESS.
LIKE
THE GAME HOUSE A NEW UPDATE, BUT I WILL STILL ADVICE FOR A LOT OF ERRORS IN THIS GAME TO BE CORRECTED. I LOVE THE CUSTOMER CARE SERVICE AS THEY ARE JUST TOO COOL AND THE BEST.
APPRECIATION
AS USUAL ALL MY APPRECIATION GOES TO THE GAME DEVELOPER (HATCOM STUDIO GAMES) PUBLISHER AND IF POSSIBLE, ALL THOSE WHO SHALL IN ONE WAY OR THE OTHER READ THIS.
All pictures SNAPPED WITH MY INFINIX ZERO 5 PHONE
KINDLY
UPVOTE
COMMENT
RESTEEM
---
---
---
---