Game review: 60 Seconds! (Nintendo Switch)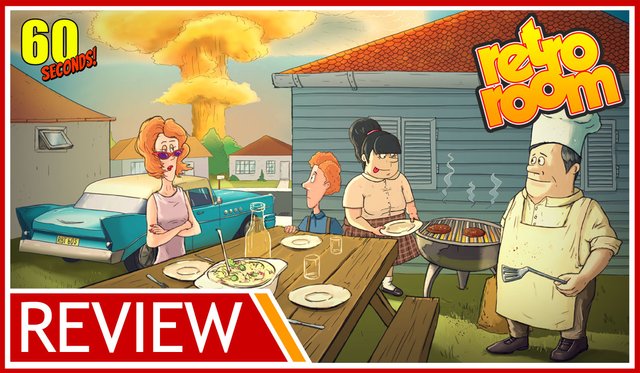 Post-apocalyptic stories have always fascinated me, where our safe and comfortable society is ripped away and we are forced to live in bunkers or figure out how to survive outside with dangers around every corner.
A little game called 60 Seconds! popped up recently on the Nintendo eShop and it caught my eye. The game is set during the cold war and tasks you with keeping your family alive as long as possible during a nuclear attack. You're given 60 seconds to collect your family and survival items from your home before descending into your bomb shelter.
Does 60 Seconds! deliver on its premise or is it a bomb?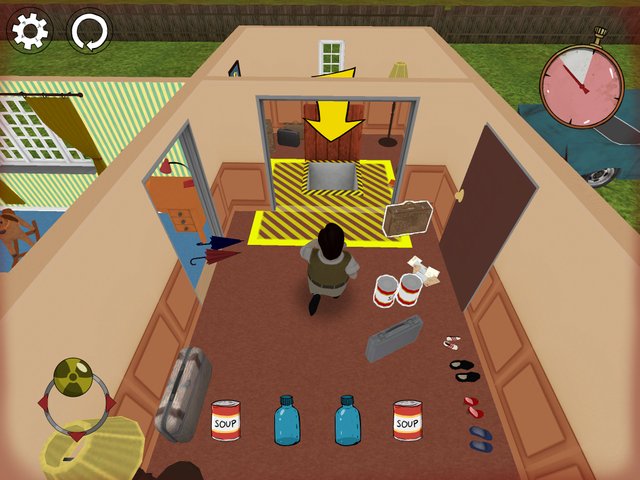 Image:

60 Seconds! begins with you choosing which mode you want to tackle. The first mode is a basic tutorial to teach you how to play. The other modes are apocalypse (the normal game) and two challenge modes -- survival and scavenge which let you tackle either the 60 second dash to collect survival items or the survival part inside your bunker.

As I've mentioned, the game is broken into two sections. The first puts you in control of the father who has 60 seconds to scrounge through his home to gather both his family and as many survival supplies from inside the house as he can within 60 seconds.

After a 10 second window to see where everything is deposited within your home, the countdown clock begins. Every time you play, the placement of the items is randomized, so planning what you want to try to grab is vital to surviving as long as you can.

You have four 'inventory' slots when picking up items. Larger items might take up 2 or 3 slots, so once your hands are full you have to go to the bunker entrance to drop off those items. This includes your family members, so your wife and son each take up 2 slots while your daughter uses 3.

The most important thing to scavenge for is water, followed by food. One bottle of water and can of food will feed your family for one day. If anyone goes more than a few days without water, they will perish inside the bunker and the lack of food will make them sick and too weak to go outside looking for supplies.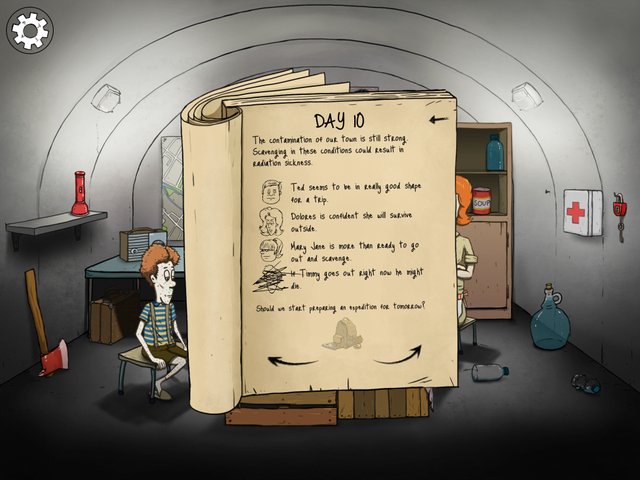 Image:

Other handy items to hunt for inside the house are a gas mask, axe, rifle and rifle ammo, radio and first aid kit. There are a lot of different things you can hunt for, so you have a good deal of flexibility when it comes to what you think you'll need to survive.

While the 60 second dash is the main draw of the game, at least on the Nintendo Switch it controlled horribly. The dad controls like a tank, as he turns and moves slowly until he has momentum. However, you'll spend a lot of your 60 seconds making turns into rooms, around furniture and towards the stuff you want to pick up. I'm not sure if the controls are intentional, but they're frustrating. Add that when turning, the screen jitters and jumps around, making things even harder. I was turned off of this mode within the first few seconds due to the terrible controls and janky camera movement.

If you fail to reach the bunker entrance by the time the 60 seconds is up, the dad will die in the explosion though as long as one parent makes it into the bunker the game will continue to the second mode where you use what you scavenged to survive as long as possible.

The second half of the game is the survival mode, which is essentially a static screen of your family and the items you managed to scavenge inside your bunker. You interact through a diary that tells you what is going on inside the bunker, the state of each family member and if you hear anything going on outside.

What you spend most of this mode doing is deciding who gets a food or water ration that day and if its safe to go outside to scavenge for supplies. You'll also be confronted with challenges like dealing with spiders in the bunker, opening the hatch for another survivor outside to trade with or help and keeping your family entertained.

While this is the bulk of the game, it gets boring quite quickly. It also feels hopeless. You can't start to hunt for supplies until the radiation levels decrease outside, which starts around the fourth day when you've already used up roughly half of your rations. The longest I've lasted has been about 20 days.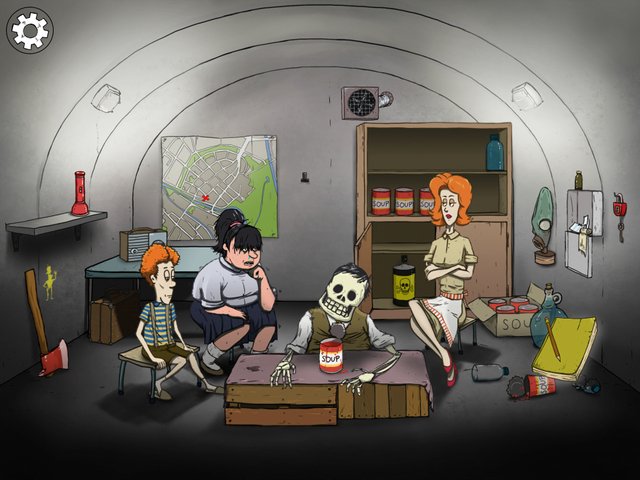 Image:

The same diary text repeats itself pretty frequently and it quickly becomes obvious that most of this game is simply text menus laid over a static illustration of your family.

While the game is an interesting premise, the bulk of the game is a bare-bones series of text screens that give you very little to actually interact with other than deciding who to feed and a few yes no questions about using items or if you should open the hatch to see if the person knocking is the military or someone trying to steal your supplies.

The first hour was fun, but after that it quickly became obvious that there really isn't that much game here to actually play after that first 60 seconds.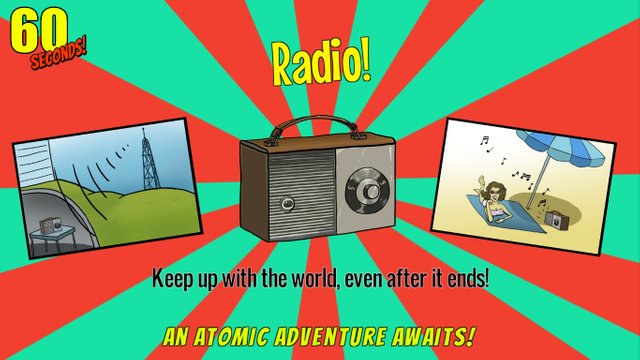 Image:

Visually, 60 Seconds! gets the job done, while music and sounds are adequate yet completely forgettable. The scavenging part is an overhead 3D presentation of the family's home, where the camera is fixed and rotates as the Dad turns. The visuals are clean, but hardly impressive, and as I mentioned the screen does not turn smoothly when your character turns. Apparently the PC version rotates smoothly, so it may be an issue with just the Switch port.

After the scavenging section, you'll spend most of the game in the survival section looking at either a mostly static rendering of your family, which changes depending on their status along with representations of the items you brought with you, and the diary where all of your choices are made and the events are presented to the player. Overall, its very bland and would have been improved with animated characters and a better way to present the survival mode.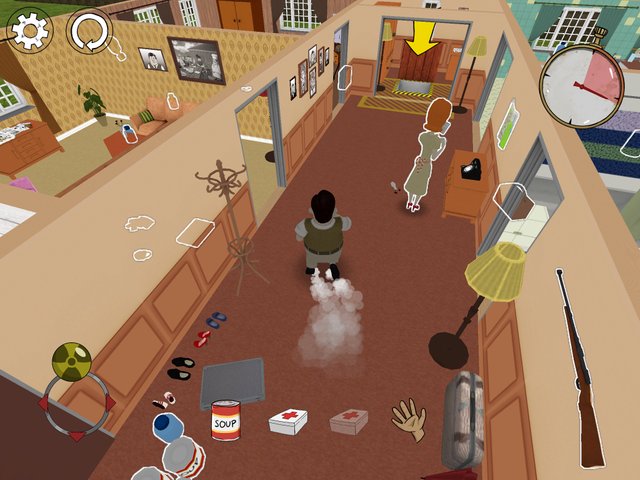 Image:

I was initially excited to play 60 Seconds! due to its interesting premise and duck-and-cover-era presentation. I was willing to overlook the problems with the poor controls and performance of the scavenge section, but the survival section's limited interactivity and the sense of being mostly helpless dragged it down quickly.

While the game was entertaining for the first hour, it quickly became repetitive and its glaring flaws became more pronounced. Maybe pick it up if the theme and gameplay interest you and it's on sale, otherwise I advise you pass on this one.


Thanks for reading. As always, upvotes, resteems and comments are appreciated!