Game Review: 88 Heroes - 98 Heroes Edition (Nintendo Switch)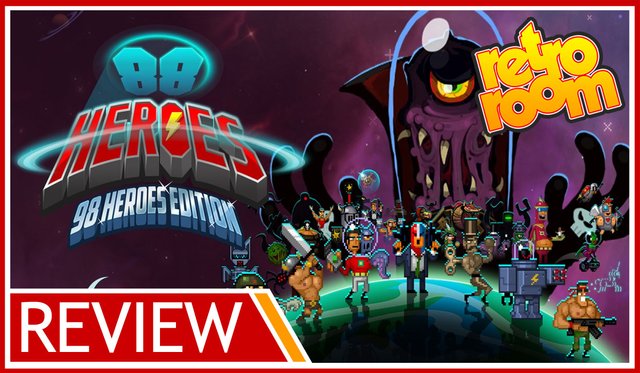 When Super Mario Bros 2 was introduced in 1988, the idea of having four separate characters to choose from was a fresh and creative idea. Over the years, many platformers followed that model and gave you multiple playable characters to pick from.
So what happens when you take that idea to the extreme? That's where 88 Heroes comes in, which gives you (unsurprisingly) 88 separate playable characters to take through this adventure, each with a unique look, abilities and control nuances.
So does this game add up to more than its gimmick?

The premise of 88 Heroes is that an alien warlord is going to destroy the world in 88 minutes, so the Earth decided to send their best heroes to defeat him. With them all being busy, they assembled a group of 88 other 'heroes' to fill the void.
The number 88 is a motif used repeatedly throughout the game. You have 88 expendable heroes, the game must be completed in 88 minutes, each stage has an 88 second time limit, you need to collect 88 coins to resurrect a fallen hero, etc. Though for how frequently the 88 gag is used in this game, I can't believe I haven't stumbled across any Back to the Future references yet.
The game is broken down into small stages that must be completed within 88 seconds. The levels themselves are basic platforming fare -- ledge jumping, moving platforms, coins to collect and different types of traps and enemies. Being spoiled by the randomly generated maps of games like Dead Cells, the static stage design of 88 Seconds does start to get dull rather quickly. Add that the game is split into just four separate 22-stage sections, each that shares a theme (office building, sewer, etc.) and the game becomes repetitive.
The real star of the show is the 88 'heroes' you have to at your disposal. When you begin each stage, the game will randomly assign one of the 88 heroes for you to take control of. You're given a brief description of them, plus their controls. At most, a character has an attack and a jump, so controls and abilities are kept very basic.
The variety of characters is really where this game shines. There's a huge variety, with some being extremely useful and other being borderline useless, and each has their own personality and quirks that make them unique. For example, there's a giant hamster in a hamster ball that can crush enemies, a machine gun-toting Schwarzenegger clone, a flying bat robot named BatBot, a husky female luchadore who can pick up and throw background items, a gunslinger whose actions are all delayed a fraction of a second, a giant basketball player, Rusty from the Steamworld series and even a parody of Rick Astley. The roster is massive, diverse and easily the best part of the game.
Every character you have access to will die with a single hit. Some will die from falling too far, they might self-destruct or get caught in explosions they created and one even flips a coin as their sole ability -- heads warps them to the stage exit, while tails kills them.
When you die, you're taken back to the stage entrance with another randomly selected hero from your remaining stock. Completing a level without dying awards you a star, while losing heroes piles them up in a means to shame you for failing. Collect 88 coins and you can resurrect one of your fallen heroes, but it picks three dead ones at random and allows you to pick from just those three. Sometimes you end up with three terrible choices after fighting to collect all those coins.
The version of the game that I picked up is the physical Switch version, which includes 10 additional characters, and is known as the "98 Heroes Edition", though I haven't been able to discern which 10 heroes are new to this version.
Sadly, once you've seen all of the characters, the shine is off the apple and the game sinks to being an uninspired game. With so many amazing retro-inspired 2D platformers being released these days, playing something so uninspired seems like a lost opportunity. What would have been pretty solid platforming in 1990 isn't up to snuff by today's standards. The bar has been raised and we expect more. Sadly, this game doesn't deliver in that regard.

Visually, 88 Heroes is not going to knock anyone's socks off. The graphics are retro-inspired pixel art and while some are nicely drawn and animated, the visuals as whole are pretty bland.
The most interesting part of the presentation is how the game is framed inside a monitor that the alien warlord is watching the progress of the heroes through, and you can see his reactions and other events take place just outside of view. This area also keeps track of your total gameplay time, which ticks down from 88 minutes at the start of level 1.
Sound and music is as bland as the visuals, with the same tune playing on each stage of each 22 stage section and it gets old. Sound effects are a highlight though, with many characters expressing their personalities through their voices. The Conan-inspired "Gonan" make me smile each time you take control and he uses a terrible Schwarzenegger impression to utter his catchphrase, "I am Gonan!"

88 Heroes was a game I couldn't wait to try. The novelty of having this massive roster of heroes to play as was just too enticing to ignore. However, the limited and basic gameplay really drags this game down. What could have been a unique and classic game is ultimately just a unique game. That brought me to think about the new Smash Bros game, which features over 70 playable fighters, each with their own wide array of attacks, moves and abilities. Granted, Nintendo has vastly more resources than an indie developer, but compared to Smash, the heroes of this game seem extremely one-dimensional after you get a chuckle upon their first appearance.
Once the gimmick wears thin, there's not a whole lot in this game to bring you back. The huge roster of unique and creative characters saves this game from falling into the below average category, so I'd ultimately say that the game is truly just average.


Thanks for reading. As always, upvotes, resteems and comments are appreciated!