Game Review: Battle Group 2 (Nintendo Switch)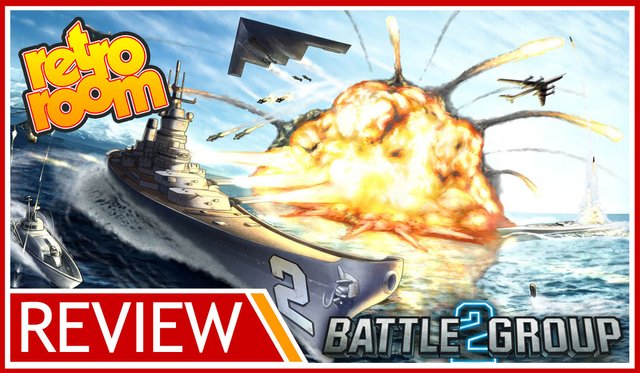 Occasionally I'll browse the Nintendo eShop looking for something cheap and quick to add to my Switch. I've found some amazing games this way, like the fantastic Blood 2 and with many games available for under $2, its easy to take a risk on these low-priced entries.
Recently I stumbled across the military-themed Battle Group 2 and picked it up for free using my stockpiled reward points. The screenshots sold me on the game, so how does this blind buy stack up?

Battle Group 2 is obviously a port of a mobile game, with an interface and control method that screams iOS or Android (touch control is supported in handheld mode). You begin the game in control of a warship and the game involves controlling the cannons and weapons to shoot down incoming threats. Your missiles are a bit slow, so you have to 'lead' your shots so that your enemies fly into the path of your shots. If I had to compare this game to anything, it would be the arcade classic Missile Command.
You have no control over the actual ships, just the cannons. Your warships can only fire about 6-7 shots at a time, which will reload over time. As you progress, you'll earn upgrades to purchase bigger ships or upgrade your existing ones. These upgrades are vital to progression, as later waves throw way too many enemies at you to handle with weaker ships and the single cannon you have control over. In addition, you can purchase one-shot special abilities that do things like slow down time allowing you to take precision shots when the action gets too crazy.
So is the game fun? In the first few stages, I was enjoying myself quite a bit. However, after I passed stage 20 the game became a chore to play. I have several issues with this game, so let's go through them.
The first major issue is that the game quickly becomes very repetitive. Once you learn the basics, it just becomes a matter of upgrading your ships to handle the heavier waves of enemies that come in later levels. Every level played the same, with an occasional 'protect the civilian airplane' mission, which should have been a refreshing change of pace but is more chore than a welcome break.
After you get through the first dozen or so stages, your cannons seem almost worthless since you might have several enemy ships on screen at once and six shots -- not only do jets and helicopters take 2 to 3 shots to bring down, you also have to target incoming missiles. As the game progresses, it becomes a matter of cycling through your automatic cannons, which target anything in range, but have to reload after firing too many rounds. Since the jets often move in unpredictable patterns, making each shot hit is vital -- when combined with the fact that you have to lead your shots, this becomes extremely difficult in later levels.
By the time I reached the early 20th stage, it became apparent that the only way to progress was to upgrade your ships to more powerful ones. The problem is that resources to upgrade your ships are handed out extremely slowly, which means you have to grind the earlier levels to earn enough cash to buy the next ship. With gameplay that had already become stale by level 10, this becomes extremely monotonous and more of a chore than a fun game. And if you lose a stage, you lose any cash you earned in that level. It might take 8-10 stages to earn enough money to upgrade a ship to the next model.
The monotony, unfair gameplay and grind made took the shine off the apple really quickly with Battle Group 2. I legitimately enjoyed the first half hour I spent with it, but by the one hour mark it was getting stale. In under two hours, I was done with it.

The presentation of the game, while deeply rooted in its mobile game trappings, are very nice. The graphics of the ships are highly detailed and effects are nicely rendered. The visuals are extremely limited though, with 90% of what you'll see being more and more of the same thing. The story is presented through portrait-based cutscenes, which are repeated every time you grind through a previously completed level.
Audio and music is passable. Nothing impressive, nor is there anything grating or annoying.

Battle Group 2 looked like a fun distraction that was worth taking a $2 chance on (especially since it was on sale, and full price is $9.99). The concept of the game is good, but the execution really falls flat. With more variety, less dependency on upgrades and automatic cannons and less grinding, the game would have been vastly improved.
As it is, I just can't recommend it unless you want something to put on your Switch that's super cheap and offers a quick 5 minute distraction. It does fit that bill, but there are far better pick up and play games on the Switch to pick from.


Thanks for reading. As always, upvotes, resteems and comments are appreciated!