Game Review: Shantae 1/2 Genie Hero Ultimate Edition (Nintendo Switch)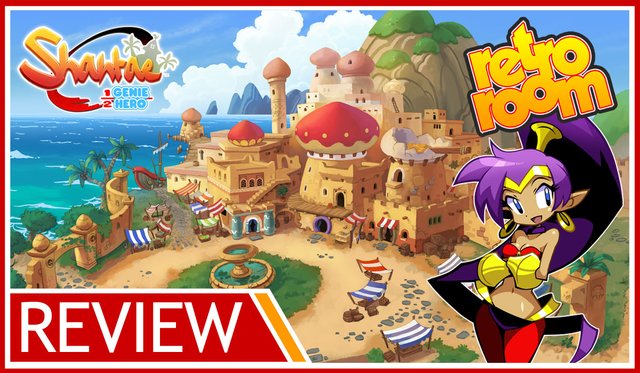 The Shantae franchise began on the humble Game Boy Color, as a high-quality game that really pushed that hardware to its limits. However, poor sales left the series future in doubt. After the GBC game started gaining notoriety during the retro game collecting craze (currently selling for over $500!), the series made a comeback with three titles over the past decade.
The most recent entry in the series is Shantae 1/2 Genie Hero, released on most major platforms. I naturally picked it up on the Switch (my only current gen-platform) and recently finished the main campaign. The previous games in the series are fantastic platformers (I played through Shantae and the Pirate's Curse on Wii U), so does this newest entry continue the franchise's tradition of excellence?
I'm finally back, after a long hiatus due to a long planned and much needed vacation, so without further ado lets get into the review!

The games in the Shantae series aren't known for their plot, with fairly shallow reasons to send the titular character on yet another adventure. This time, Shantae has been asked to help track down parts to help build a machine her uncle is building to provide free electricity to their port town. This sends Shantae from area to area in search of these parts so he can complete his invention.
However, there are some twists and turns in the story and familiar faces from her previous adventures make encore appearances. Its great seeing these characters come back and continue to help or hinder Shantae in her tasks.
Shantae's primary attack is her hair whip, which is a basic melee attack and can only be fired forwards or when crouching. As you explore the game, you'll gain and purchase powerups that give her attack more damage and speed, in addition to magic abilities that can shoot fireballs, create protective shields, replenish her health or summon swirling scimitars. She can also refill her health and magic using consumable items that can be found or purchased.
The game only features about 6 stages, which you'll return to several times as you scour each stage for collectibles and new abilities. On later returns to these stages, minor things may have changed like new enemies showing up. You'll need to revisit these areas to gain all the abilities you'll need to reach the final battle.
The main gimmick of this entry in the series is Shantae's ability to 'dance', letting her transform into a number of animals that give her a much wider array of movement and attack abilities. Some of these are the monkey that can cling to walls, an elephant who can stomp or smash through barriers, a mouse that can traverse tiny gaps and a harpie who has unlimited flight (but is hard to control).
Unlocking these transformations allow Shantae to return to other stages and access areas she previously had no way to get to and find more abilities and collectibles. The world map shows how many undiscovered items there are in each stage, so you know what you still haven't found in each area.
Enemies are pretty straightforward, with new posing any significant threat. Bosses are huge and do require a little trial and error to figure out, but I was able to beat most of them on my first attempt.
Platforming is a much bigger challenge than the enemies, though its nowhere nearly as demanding as it was in Pirate's Curse. Only one section really tested me, which took about 20 tries to get through a particularly nasty gauntlet of spikes and enemies.
The game is a solid length, which took me about 7 hours to complete at 100%. However, without returning to the small number of levels repeatedly, the game could probably be beaten in 4-5 hours your first attempt.
Once you've finished the game, there's a lot more to look forward to. The Ultimate Edition packs several additional game modes to let you play using alternate versions of Shantae or other characters. These modes include pajama mode, beach mode, officer mode and hardcore mode for Shantae, plus extra modes where you can play as her rival Risky Boots and even another where you take control of her friends. Most of these modes are the main stages from the game that you run through as alternate character builds, but they each have their own style to them, such as beach mode requiring Shantae to constantly collect suntan lotion to avoid getting sunburned and taking consistent damage.
For hardcore fans, these additional modes are more than enough to make up for the small number of stages the game offers.

While the previous games in the series each used a pixel art graphical style, 1/2 Genie Hero changes things up and instead goes with a razor sharp cartoony look. I'm torn as to which art style I like better, but my main issue with the new look is that some graphics in the game tend to have that mobile game or "Flash" feel to them. Its a minor complaint, obviously.
Beyond that quibble, the visuals are incredibly crisp, animations are highly detailed and the images leap from the screen with vibrant color. Bosses are huge, backgrounds are filled with detail and visual effects are a treat to behold.
Shantae's Music is really great, with really bouncy and peppy tracks so good that I found myself listening to them on my daily commute. I do wish there was more of it though. Sound effects get the job done, nothing stands out good or bad. Voice acting in the game is top notch, though again I wish there was more of it. Major lines are occasionally spoken, but they're few and far between. I'm not sure why they were so stingy with the voice acting, since what's here turned out so good.

Shantae 1/2 Genie Hero is a good entry in the series. While not as well-rounded as Shantae and the Pirate's Curse, its still a very good. Overall, it has the feeling of being slightly dumbed-down to be more accessible to a wider audience, though I think that is a misstep, since the core audience of the game is more hardcore and used to the challenge of games from the 8 and 16-bit era.
That being said, I highly recommend the game for sidescroller fans.


Thanks for reading. As always, upvotes, resteems and comments are appreciated!