Game review: South Park - The Fractured But Whole (Nintendo Switch)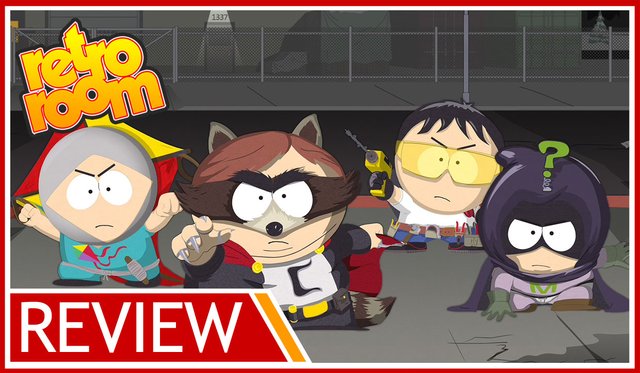 South Park is now a 20-year-old franchise with just under 300 episodes under its belt. While the show has waxed and waned in quality, its remained one of the most beloved adult cartoons of all time. They go where nobody else is willing to go and isn't afraid to take on anyone. They're an equal opportunity offender and chances are they've poked fun at something close to you at least a few times.
When it first became popular in the late 90's, naturally there were video games there to capitalize on the craze. The Nintendo 64 and other consoles received a handful of South Park games, including a first-person shooter, a kart racer and a trivia game. Creators Matt Stone and Trey Parker were greatly disappointed with these games and wanted to only do a South Park game if it met their expectations.
Fast forward to the modern era and technology finally caught up with Matt and Trey's vision for what a South Park game should be. The Xbox360 and PS3 saw the release of South Park: The Stick of Truth, an RPG that used turn-based combat on a grid to great effect. The technology finally caught up with their vision and the game looked and sounded exactly like the TV show.
The success of Stick of Truth naturally led to a sequel that landed on current generation consoles, including my go-to console the Switch. While the previous game used the kids' fantasy personas, The Fractured But Whole instead puts them in their "Coon and Friends" superhero alter-egos.
After spending many hours with the game, I'm ready to give my overview.

The Fractured But Whole (hehehe) puts you in control of a nameless new kid (known as simply 'the new kid') who creates their own superhero persona and joins up with Coon and Friends. The plot revolves around the boys trying to find a missing cat so they can use the cash reward to get their superhero franchise off the ground. What starts as a simple 'find the cat' quest eventually spirals into a huge story involving police corruption, warring superhero factions and Lovecraft-inspired horror.
It is South Park, after all.
You begin by picking a class for your hero, which determines what combat techniques you have access to. The game starts with some basic classes like fighter and speedster, but gradually expands and allows you to add more classes so you can refine your character with the skills you want. Each class has three combat techniques and a super move, and as you add more classes you can swap techniques in and out as you see fit (including your super move).
Combat techniques can deliver damage, heal or protect teammates or deliver status effects on enemies like confusion, bleeding, gross out, slow and more. Each technique also has a range and pattern, so an attack might effect the grid square in front of you, in an 'X' shape, or take other configurations Positioning your characters so their attacks can hit with maximum effectiveness is something you'll be doing throughout the game and its hugely satisfying.
Through your adventure, you'll piss off various groups of people, who you'll fight either in encounters on the map or story events. These groups include the Raisins girls, sixth-graders, rednecks, police, ninjas, crab people and the goons who work for Professor Chaos. But enemies aren't restricted to just those groups, you'll fight strippers, chefs, priests, bums, drunk Randy Marsh. There is a ton of variety in who you fight and it keeps the game fresh throughout.
Your abilities are also augmented through badges that add perks to your strength and techniques and DNA which does the same, as well as adding new abilities. Throughout the game, you'll be swapping out old badges in favor of more powerful ones as you come across them.
Outside of combat, you'll explore the town of South Park in a side scrolling representation of the town. Most of South Park's most notable locations are here -- the school, the police station, Jimbo's Guns, City Wok and even ShiPaTown. If you're a die-hard fan of the series, there is an insane number of references to past episodes. You'll pick up items that reference specific episodes, you'll run into a wide cast of characters from recent ones like PC Principal to classics like Kyle's whiny cousin, Big Gay Al and Dr. Mephesto. The only character I never ran into was Mr. Garrison.
Your character actually does have a real superpower. The power of farts. Yes, your character can harness the power of flatulence to pause time, rewind time and more. This allows you to get advantages in combat and solve puzzles in the town. As you play, you'll unlock more and more characters that you can swap into your team. Some characters give you additional abilities that when paired with your gas is able to solve puzzles and bypass hazards in the town, from Kyle's Human Kite giving you the flying power of "fartkour" to fueling diabetes-powered Scott Malkinson's hulk-like rage.
Throughout the game, you'll get many chances to customize your character. Meetings with counselor Mr. Mackie, Priest Maxi and PC Principal let you gradually change your race, gender, religion, orientation, etc. The Coon lets you add new classes to your character. And costumes are found all over town that let you customize your look with a ton of different themes.
The game simply has a ton of content and even South Park fans will probably miss some of the references and jokes simply because its so packed full of items, places, people and events from the show. The adventure is a good length, but for those who want more there are DLC expansions as well.

The Fractured But Whole looks exactly like South Park, which is the highest compliment I can pay it. While its not pushing the hardware to the limit, it doesn't need to. The game looks and sounds exactly like the show. If someone were to walk in on you playing, the cutscenes look indistinguishable from an actual episode. All of the original voice actors are here and there is a ton of dialog. While its not a technical marvel, throughout the game I found myself constantly impressed by the presentation -- it felt like I was playing an actual episode of South Park. Honestly, there's enough fully produced content here to qualify as an entire season of the show.
As far as the presentation goes, it simply could not be done any better.

The Fractured But Whole is everything a South Park fan could want in a game. It's crude, offensive, funny and sometimes topical touching on hot button topics like police brutality and restrictive political correctness. Just like the show.
The game itself is fantastic and works perfectly as a turn-based RPG. If you're a South Park fan, you owe it to yourself to play this game. It's even convinced me to go back and play the original The Stick of Truth.


Thanks for reading. As always, upvotes, resteems and comments are appreciated!