Game Review: The Way - Remastered (Nintendo Switch)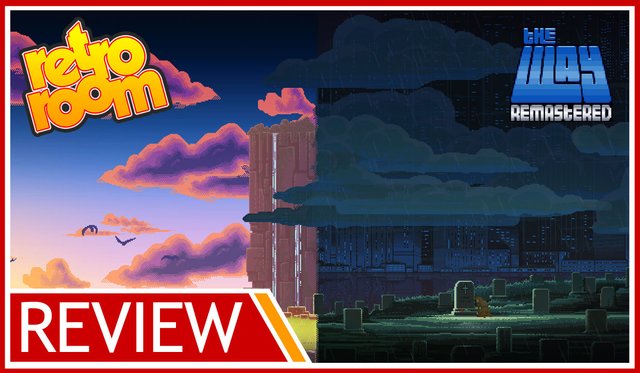 Out of this World, or Another World as its known in some countries, was a remarkable game that practically carved out its own niche for French developer Delphine Software in the early 90's. Its follow-up Flashback was also highly popular and appeared on a huge number of systems. Both games were even re-released on modern systems like the Switch and PS4.
These two titles established a unique style of puzzle platformer that put you into alien worlds with very few resources to aid you. Fluid animation and amazing cutscenes that didn't seem like they were possible on consoles, paired with creative and unique gameplay to create some of the most iconic games of the era. Though as the industry moved into the 3D realm, these games quickly died out and the developer hung on by creating mostly racing games until they finally folded 15 years ago.
On a whim, I decided to give The Way Remastered a chance when I saw it on sale in the Nintendo eShop and as soon as I fired it up, it gave me flashbacks (no pun intended) to playing those games for the first time 25 years ago. The game is essentially a spiritual successor to the popular Delphine titles, but does it live up to its predecessors?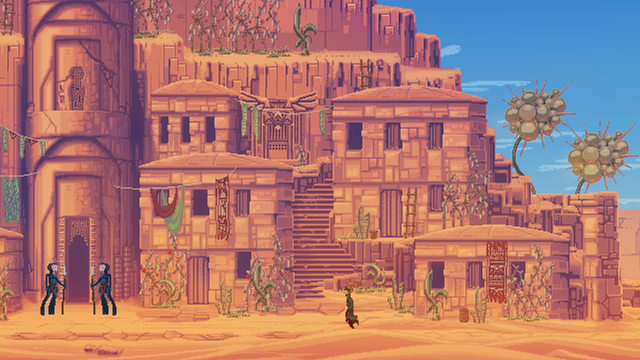 Image:The Way Remastered - press pak
The Way Remastered begins with you standing over a grave, where you have exhumed a body and proceed to carry it home. It turns out that this is your wife's body, who you've taken back home and placed it in some sort of suspension chamber. As the game reveals itself, you learn that you and your wife were part of expeditions to alien worlds and on one of them there is supposedly the power of eternal life. You take control of the husband, who must hijack a spaceship from your employer and travel to this world in hopes of discovering a way to bring you wife back from the dead.
The game is designed as a puzzle platformer, with long sections of terrain separating more concentrated puzzle areas. The first task at hand is figuring out how to get your wife's body into your employer's headquarters and steal a spaceship. The puzzles are fairly clever, though I never really had to consult a guide to complete any of them. Many involve manipulating switches, figuring out how to distract or circumvent a threat or completing basic pattern-based challenges. After you manage to hijack a spaceship, you rocket away to the strange alien world where hopefully the cure to saving your wife can be found.
After landing on this new world, you have alien bugs and plants to contend with as well as a much larger map to explore. You learn more about you and your wife thorough 'memories', which are cutscenes you can trigger by finding them.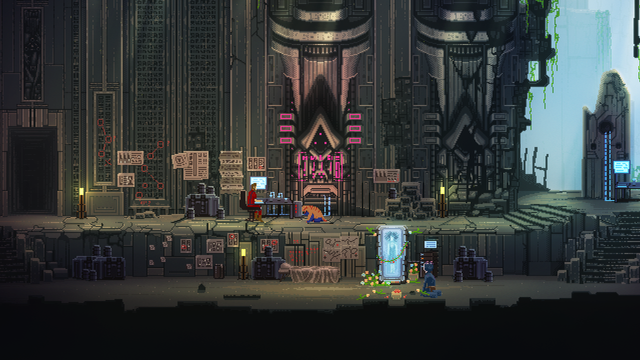 Image:The Way Remastered - press pak
As you explore this new world, you'll find temples where artifacts are discovered that bring you one step closer to unlocking the secret to eternal life. Indigenous people will initially try to thwart you, but eventually you gain their trust. You even manage to gain a companion creature that's like a cross between a tiger and a bull, who will aid you in various ways.
I was really enjoying the game, its atmosphere, the puzzles and the obvious callbacks to Out of this World, but my fun hit a wall when I encountered a game-breaking bug. Your companion is required to get through many parts of the game, but if you go one way and need to backtrack, the creature gets stuck on a platform! I reset the game, which took me back about an hour (and I had to complete an insanely frustrating puzzle for the second time).
After managing to get back to where I was, I realized that I had to try to backtrack again, so reluctantly I went the same way and sure enough, the creature got stuck in the same place! At that point I threw up my hands and gave up. I didn't want to do that frustrating puzzle a third time, so I turned off the game and haven't tried again since.
So at roughly 1/4 to 1/3 of the way through the game, I got stuck and could not proceed. A shame, since I was really enjoying the game up to that point.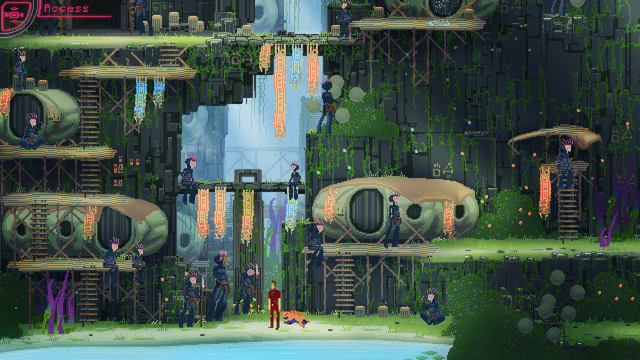 Image:The Way Remastered - press pak
The Way Remastered features a retro, pixel art style that's so popular these days with indie developers. Even with the limited visuals, they managed to create an imaginative world with lots details, from the cold, futuristic look of the corporate headquarters to the lush green alien world he sets out to explore. Animations are nicely done, though some are a bit awkward, particularly the jumping animation of your creature companion.
Sound and music is excellent, with appropriate themes that play for each stage. The alien world in particular had a pipe instrument sound that strongly reminded me of the score to Karate Kid II, which took place in rural Japan.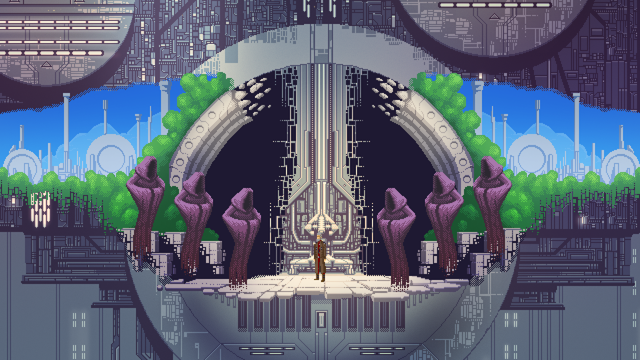 Image:The Way Remastered - press pak
While I enjoyed what I did manage to play, the game-breaking bug ultimately ruined the experience for me. Perhaps other people haven't encountered this bug, but based on my experience I have to assume other players would be effected by it as well.
If the game is patched, I'd definitely recommend it to fans of the classic titles that inspired it or puzzle platformers in general. Without being to complete the game, I'll also have to suspend giving it a rating, which seems inappropriate to give a game I wasn't able to complete.

Thanks for reading. As always, upvotes, resteems and comments are appreciated!
Cover Image: The Way Remastered - press pak