Microsoft is releasing the XBox One SAD (S All-Digital)? Its like they want to lose.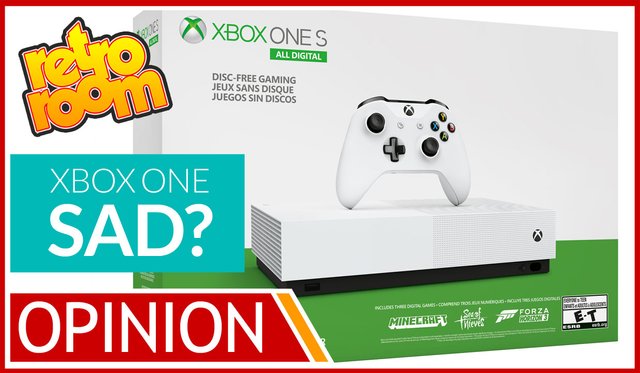 You read that right, the upcoming discless, digital-only version of the Xbox One will be called the XBox One S All Digtal, or the Xbox SAD for short. This truly is a sad announcement, but one that I'm not surprised to see them make. It will retail for $249, the same price as the standard S model which includes a 4k Blu-ray drive. It has the same size hard drive, but locks you out of the ability to buy new or used physical games for your console. What benefit is there to this machine if its priced at the same level as the one that includes the disc drive that lets you buy used games and watch 4k movies? Why isn't it at least $50 less expensive than the existing S model?
Let's rewind
---
When the Xbox One was originally announced, it received tremendous backlash from consumers before it even hit store shelves due to their anti-consumer proposals that would render used games unplayable without paying a "ransom" to unlock a game that was previously loaded on another console. This was Microsoft testing the waters to see how receptive we would be to moving to an all digital console where all games are downloaded and discs are rendered a thing of the past.
This move hurt Microsoft tremendously and gave Sony a massive launch out of the gates to kick off this generation. At this point, Sony has outsold Microsoft by more than 2:1 even after massive promotions, bundles and price cuts. People were ticked off and gravitated towards the PS4 and handily gave Sony the first place trophy. The Nintendo Switch is quickly catching up to worldwide sales of the XBox One, even though the Xbox had a four year head start on the Switch.
Fast forward to now, where Sony and Microsoft are now teasing their new hardware, the PS5 and next generation Xbox. Just before Microsoft announced the SAD, which is again them testing the waters to see how receptive we would be to a console that lacks a physical media drive, Sony drops some details about their upcoming Playstation 5 -- not only will it support 8k resolutions, but will indeed have a physical disc drive and...backwards compatibility with the Playstation 4!
Boom...headshot
---
Unless its priced aggressively, the next Xbox is dead in the water. Its basically a Steam box for your living room, without the Steem pricing. Meanwhile, the PS5 will be powerful, allow you to continue buying, owning, trading, renting physical games on discs, watch 4k blu-rays, and will also let you play your existing library of Playstation 4 games. In addition, Sony will trounce Microsoft in brick and mortar retail stores since they'll have a far bigger presence at retail, while the Xbox section will consist of consoles, accessories and game download cards.
This means that with a PS5 and original backwards-compatible PS3, those two consoles would be capable of playing every single Playstation game spanning 5 generations of hardware! As someone who has yet to pick up a PS4, I couldn't be more excited for this news!
Physical forever
---
As a video game collector, I'm very passionate about preserving games on a physical format. Once we go all digital, games will live and die based on their availability and support through online stores and servers. Every game that was exclusive to WiiWare is now impossible to purchase legally, since the system has been retired. This problem will only get worse as we move closer to killing off discs and carts.
I'm thrilled to see Sony announce that at least one more generation will get to have the freedom and ownership that physical media provides. I know that someday every console will ditch the disc, but putting it off for one more generation is a welcome development.

Thanks for reading. As always, upvotes, resteems and comments are appreciated!