Nintendo has announced a portable-only version of the Nintendo Switch!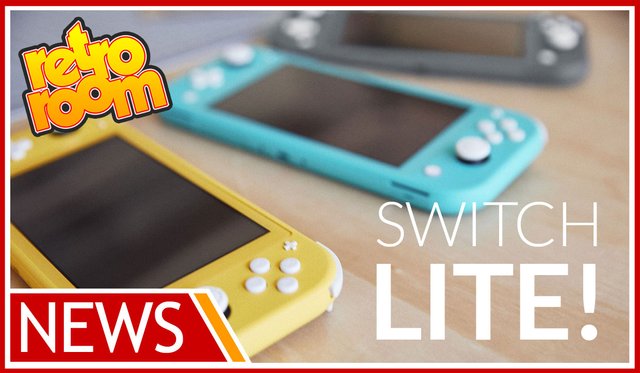 After months of trying to hide the worst-kept secret in gaming, the Nintendo Switch Lite was finally announced yesterday. Nintendo loves their hardware revisions, so its only natural that the massively successful Switch would get an overhaul. After 2 years on the market, we'll be getting a handheld-only version of the Switch. Let's go over the pros and cons of this new system.
PROS
---
The biggest positive with the Lite is the price point. By cutting out several features, Nintendo was able to get the price down to $199.99. This might be an appealing move to lure in people who were interested in the Switch, but already have dedicated home consoles and don't see themselves playing Switch games at home. Though for people who were interested in it as a device to keep them entertained on commutes, during lunch breaks and lying in bed, the lower entry price might be the push they needed to pick one up.
Other than the lower price, the only other pros are the fun colors. It will be available in turquoise, yellow and gray, which I'll eventually have to pick up a decade from now when I start my Switch Lite collection to compliment my Game Boy Color and DS collections. Too many colors and revision, but they're fun to collect!
CONS
---
To get the price down to the $200 level, some sacrifices to the Switch had to be made. The first is that the joycons are now permanently attached to the device. This removes the ability to play 2 player games in handheld mode by popping off the joycons and handing one to a friend for an impromptu game of Smash Bros. This is strictly a one player device.
Since there are no joycons on this version, some features were removed. First is HD rumble, which is mostly used as a gimmick and rarely implemented as a vital part of gameplay. Secondly is the removal of the IR cameras. Not much of a loss there, as I can't think of a single game I own that uses that feature.
And the biggest con with the Lite is that it cannot connect to a TV like the original Switch, but then again that's the whole point of this version. Its a pure handheld, not a handheld/console hybrid like its big brother.
Final Thoughts
---
The Lite seems like a natural next step for the Switch. The death of the 3DS left a void in the dedicated handheld market, so for people who want a portable console but weren't willing to drop $300 to get a full-featured Switch, the Lite is now an attractive option at 2/3 the price.
The Switch Lite hits stores on September 20th.

Thanks for reading. As always, upvotes, resteems and comments are appreciated!