The Playstation 2 is going to be the next big retro game collecting market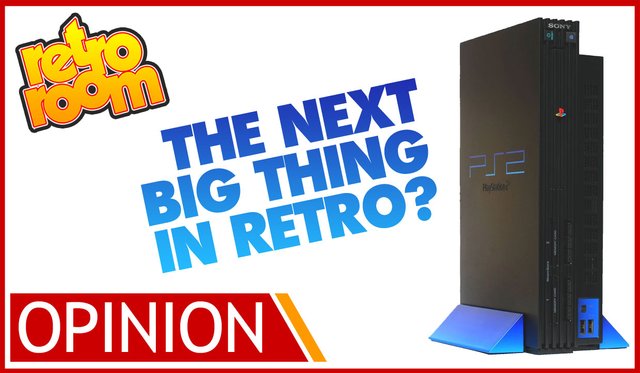 As the video game collecting craze kicked into gear about ten years ago, the most popular console to collect for was undoubtably the NES. It landed in what I consider to be the retro 'sweet spot'; old enough to have a lot of nostalgia, but new enough that most of the games hold up well. There was a massive jump in graphics, sound and gameplay between the Atari 2600 and the NES, so they're the oldest games that many people consider to still be worth playing today.
The Playstation 1 truly kicked off the 3D gaming era, with titles like Jumping Flash, Ridge Racer and Battle Arena Toshinden. Those games have aged more like milk than like wine, as has most of the Playstation 1 library. However, the games on the PS2 are far more advanced and are much more palatable to the modern gamer.
I believe that in the coming years, the PS2 is going to be the next big platform that game collectors are drawn to. It mimics the conditions that made the NES a big collector's market -- lots of nostalgia and old enough to be retro, but not so old that the games look and play poorly.
#1 Its cheap to get into
---
One of the best ways to assure your platform is going to be a draw for collectors is a large library of quality games at great prices. Hundreds of games can be had in the $5 range, and many of the must-own games on the system are under ten bucks.
Here's just a few a few must-have games you can pick up for under $10 complete:
Grand Theft Auto III/Vice City/San Andreas
Kingdom Hearts I/II
God of War I/II
Devil May Cry 1/2/3
Final Fantasy X/X-2/XII
Jak and Daxter 1/2/3
Metal Gear Solid 2/3
And that's just scratching the surface.
#2 There are some great rare titles
---
In addition to the cheap, yet fun and popular games I mentioned there are quite a few rare and highly sought after games on the console. Collectors often come into a console focusing either on picking up a large library of cheap standards or aim for the rarest and most expensive games and work their way down. There's a good number of rare games to collect, but only two games have breached the $200 point and only seven are more than $100.
The PS2 $100+ club includes (complete prices)
Rule of Rose ($242.50)
Kuon ($210.00)
Blood Will Tell($134.08)
.hack Quarantine($128.17)
.hack Rebirth Special Edition($115.00)
Haunting Ground($105.97)
Final Fantasy XII Online Beta ($105.12)
That's a small number of high-priced games for a console with a library of over 1,800 titles!
#3 The library is HUGE
---
With over 1,800 games released on the PS2 in North America, there is a ton of games to hunt down for anyone crazy enough to be a completionist. What's crazier is that when you include Japanese releases, the number swells to nearly 4,000 games!
Someone could easily be a dedicated Playstation 2 collector and never touch another console (though knowing Japanese would be helpful if you plan to go down that road). I was able to get well over the 100 game mark before I even started focusing on picking up PS2 games. They're just plentiful and cheap.
With such a big library, you can get into franchise or genre collecting, like picking up all the Final Fantasy or Ratchet & Clank games or building a library of strategy RPGS, survival horror or arcade racing games.
#4 Consoles are easy to find
---
As the highest-selling game console of all time, finding PS2 consoles is no problem at all. For anyone interesting in finding a console to collect for, the PS2 sets a really low bar of entry. Most of the games are really cheap and the consoles are easy to find (and pretty cheap at around $40/$50 for solid systems and I've picked them up at garage sales for as low as $5 before). While it wasn't always the most reliable machine, anyone with a bit of patience and technical know-how can get a buggy system up and running without too much effort.
At one point, I had like 5 for 6 PS2 consoles because I kept finding them dirt cheap or in bundles where the seller just wanted to get rid of everything. So even if you do end up with a broken console, finding another one or getting a machine for parts is a snap (in fact, I have two parts PS2 consoles boxed up to sell right now.)
---
These factors give me faith that as the cartridge-based collecting market starts to cool down, burned-out older collectors and fresh new ones will focus on the Playstation 2 as the new 'hot' console to collect for.
If you have any interest in PS2, its my belief that prices will start to increase steadily starting in about 3-5 years and I believe we'll see prices increase by 50% or more in the next decade. If you want to get in on PS2 collecting, now is a great time to get started.

Thanks for reading. As always, upvotes, resteems and comments are appreciated!