Top 5 Epic Gaming Fails of 2018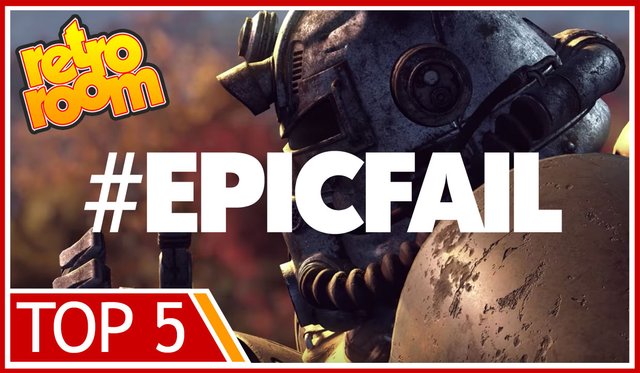 2018 was a great year for gaming in a lot of ways. It also had a lot of big disappointments. From simply overpromising on a product to being abusive towards your fans, there was a lot of drama and failure to go around.
Without further ado, here's my list of the top 5 gaming fails of 2018.
#5 Playstation Classic
---
Jumping on the "tiny version of a popular console with built in games" trend, Sony announced the Playstation Classic a few months ago and teased some great games. After the full list of games was announced, excitement started to drop. Iconic series were overlooked, like Spyro, Crash Bandicoot, Silent Hill and Parappa The Rapper. Before launch, more problems were leaked like a dull and lifeless menu system, one save state per game and no filters or borders. The biggest offender is the fact that nearly half of the games on the console are the PAL versions, which run noticeably slower than what people are accustomed to.
After a short time on market, some retailers are already marketing this thing down by 25%. Compare that to the NES/SNES Classics which would sell out as soon as a shipment hit the floor.
#4 Soulja Boy's "SouljaGame" console
---
Flash-in-the-pan hip hop star Soulja Boy has decided to get into the game industry with this own handheld gaming console, branded the SouljaGame. It turns out that his console is simply a rebranded emulator system that you can buy right now off AliExpress. Not only is this insanely cheap and lazy, but it could possibly bring the legal hammer of Nintendo down on his head.
#3 Battlefield V mocks its fans
---
The trailer for Battlefield V was controversial due to how it played loosely with WWII history, where you have a female soldier with a bionic arm and others carrying swords heavily featured. Gamers were irritated by what was perceived as shoving identity politics into a game where it had no reason to exist. If the game is supposed to be an alternate history take on WWII, present it that way rather than as a true WWII game.
The lead developers answer? If you don't like it, don't buy it. And they didn't. Sales for the game are down drastically from the previous installment and it was on sale for half off shortly after release. To pour gas on the fire, footage of the launch party was released where gamers who were upset about the game's fast and loose handling of WWII were mocked on a giant display behind the words "#EVERYONESBATTLEFIELD.
#2 Diablo Immortal disrespects its core audience
---
What better way to piss off the dedicated base of Diablo fans than announcing at Blizzcon that the next game in the series will be...a mobile game. This announcement brought forth boos from the audience of fans who drove or flew to this convention to get a slap in the face. Blizzard's reaction? This above fan has gained his own "immortal" status by asking the devs if this was an early April Fool's joke. Their response was "don't you guys have phones?"
That would be like announcing Avengers Endgame at Comic Con to an audience of hardcore fans, but stating that it will skip theaters and be available exclusively through an Android/iOs app to be enjoyed on a 5 inch screen.
#1 Fallout 76 is a letdown and even scammed hardcore fans
---
What happens when you have one of the most highly anticipated games of 2018 and its a buggy, low effort mess even after a 45GB day 1 patch that's bigger than the actual game? This game is a failure on multiple levels, from absolutely horrible bugs, to server issues that crash your game, to a bunch of reused assets from Fallout 4. Add the bungled $200 Collector's Edition that promised a quality canvas bag as part of the goodies, but they delivered a cheap vinyl bag instead -- they claimed they couldn't source enough canvas. Really?
Rather than make things right, they gave these gamers a $5 in game credit, which was enough to buy an in-game knickknack to furnishing for your base in a broken and buggy game.
Fallout76 was another big game that was on sale for half off right after release.
So what do you think are the biggest gaming fails of 2018? Let's discuss!

Thanks for reading. As always, upvotes, resteems and comments are appreciated!