stem73 NEWS: Ranking of the best TRON blockchain-based games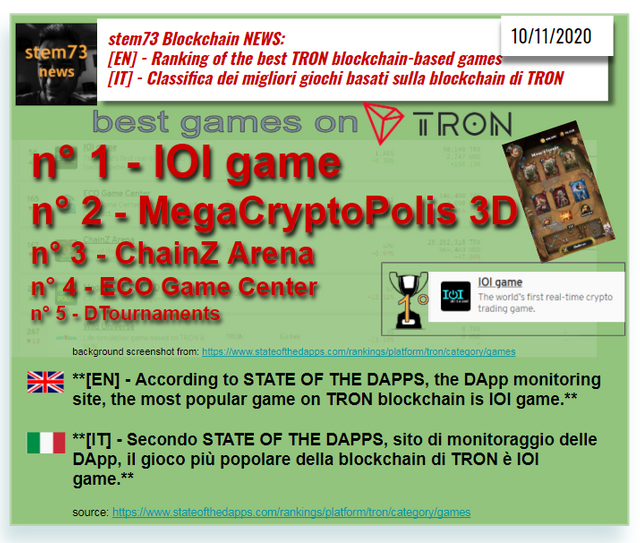 background screenshot from: https://www.stateofthedapps.com/rankings/platform/tron/category/games
[EN] - According to STATE OF THE DAPPS, the DApp monitoring site, the most popular game on TRON blockchain is IOI game.
[IT] - Secondo STATE OF THE DAPPS, sito di monitoraggio delle DApp, il gioco più popolare della blockchain di TRON è IOI game.
source: https://www.stateofthedapps.com/rankings/platform/tron/category/games
[EN] - My opinion
IOI game and ChainZ Arena maintain their positions, respectively first and third place. The second position was conquered by MegaCryptoPolis 3D forcing ECO game center to drop to fourth position. DTournaments wins fifth place and enters the top 5.
[IT] - Considerazioni personali
IOI game e ChainZ Arena mantengono le loro posizioni, rispettivamente il primo e il terzo posto. La seconda posizione è stata conquistata da MegaCryptoPolis 3D costringendo a ECO game center a scendere in quarta posizione. DTournaments conquista il quinto posto ed entra nella top 5.