BROsino Update : New European Roulette Features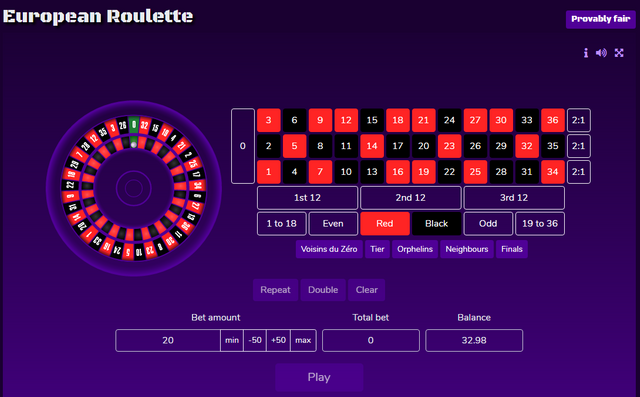 Updates
Yesterday the #1 Free Steem Faucet The BROsino introduced some new features on our European Roulette game that I think everyone will enjoy. The following new Announced Bet types were added ...
Voisins du Zéro
One chip on 4/7, 12/15, 18/21, 19/22, 32/35. Two chips on 0, 2, 3. Two chips on 25, 26, 28, 29. The max bet per single number / combination may limit the size of bet you can place.
Tier
One Chip is bet on the following splits 5/8, 10/11, 13/16, 23/24, 27/30 and 33/36. The numbers covered by this bet are 5, 8, 10, 11, 13, 16, 23, 24, 27, 30, 33 and 36.
Orphelins
One Chip is bet on the following splits 6/9, 14/17, 17/20 and 31/34. The numbers covered by this bet are 6, 9, 14, 17, 20, 31 and 34. This bet covers numbers not covered by Voisins du Zéro and Tiers.
Neighbours
A 5 number bet that covers the number you pick and 2 numbers on each side. For instance if you choose the number 13, the neighbors 6, 27, 36 and 11 will also be covered. After clicking the "Neighbours" button select your number on the Roulette Wheel itself.
Finals
This bet lets you pick the last digit of the winning number. For instance if you choose 6, your bet will cover 6, 16, 26 and 36.




Daily Raffle
Also don't forget about our Daily Raffle where everyone that plays has a shot at winning 5 STEEM or 50,000 Credits to play with on the site. As always it's Free to play!



Partners
We've also partnered with Buff.bet recently, so if you enjoy betting on eSports, Live Sports or playing Casino games you can get up to a 100€ Bonus in BTC/LTC/ETH on your deposit by using our affiliate link above.