Ether Legends Cards For Trade With Some Giveaways
Offering to trade Ether Legends cards with others, ELET, Steem, ETH, Droids, Steem Monsters, and more.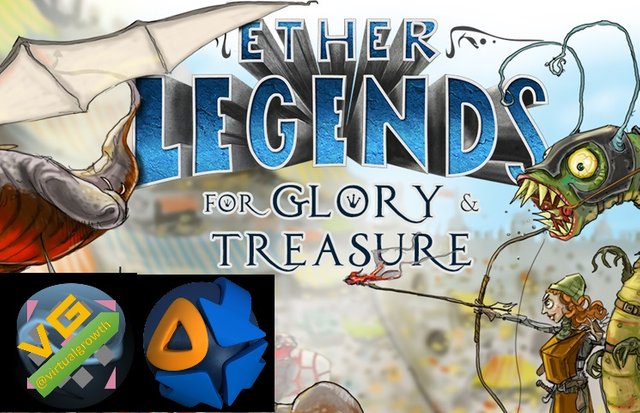 Check out Ether Legends
Ether Legends is a ground breaking collectible trading card game utilizing Blockchain technology for its fast, safe and reliable transactions while providing digital content ownership for all players!
Officially founded in 2017, Elementeum Games is focused on improving the user experience for gamers that want to own digital content of what they earn, while playing a game they love! The team saw an opportunity to introduce Ether Legends and its gaming platform, utilizing in-game loot and digital currency ecosystems, facilitated by Blockchain technologies. This provides players secure, tangible ownership of their digital content and collectibles.
Recently completed the 13th complete set. Completing a set by August 30th gets rewarded 15,000 ELET.
ELET contract address: 0x6c37bf4f042712c978a73e3fd56d1f5738dd7c43
ELET Current Price $0.017154
Start Collecting Now!
Why collect now? Early adopters get the best loot! Ether Legends collectibles being offerred are limited in the early phases of our project. All Physical Trading Cards, Digital Trading Cards (ERC721 tokens/NFT's) obtained are the actual assets that will be integrated into the Ether Legends game upon release. Ether Legends first set 'Men and Beasts' is now available for digital purchase using the Ether Legends App! Visit our online store to purchase our featured, limited edition trading cards and other goodies!
Ether Legends Cards
Name
droids
eth
elet
steem
Addled And The Wasathang
bid
1700
Awful' Arman Borntregger
bid
400
Baboo And The Flurry
bid
1500
Baboo' The Rolliker Beast
ask
0.02
34
3.4
Babs' The Wingling Dragon
bid
400
Beatrice' The Enghett Angul
ask
0.005
25
2.5
Berserk' Bern Nicklebock
bid
250
Bjorn 'Mooskles' Norski
ask
0.005
10
1
Brailey Lo Neilious 'The Furious'
bid
open
open
open
Brunhilda Magilda 'The Beheadress'
ask
0.003
10
1
Buterin 'The Ethereal Mystic'
bid
300
Camou 'Stump' Flage
ask
open
open
open
Clarise 'Lil Red' O'Flanny
ask
0.003
10
1
Clifford 'The Addled' Kadaddle
ask
44
4.4
Clover' The Wasathang
ask
0.01
25
2.5
Cravus 'The Pede' Longbody
ask
0.007
25
2.5
Dirk 'The Daring' Fortunato
ask
0.0085
10
1
Dirk And Ipslip
bid
750
Felix 'The Fearless' Gerble
ask
open
open
open
Forost and Dirk
ask
2
25000
2500
Gargonn' The Ipslip Dragon
ask
0.012
25
2.5
Golden Arm And Beatrice
bid
1700
Gulp And The Beheadress
bid
750
Gulp' The Manatalupa
ask
0.009
20
2
Harry 'Golden Arm' Hearstashuzen
ask
0.007
75
7.5
Hobart Hunslinger
ask
0.02
50
5
Hoshi 'The Flurry' Mogoshi
ask
0.005
20
2
Lil' Red and Raggle Stomp
bid
625
Louie And Olaf
ask
0.2
2000
200
Louie' The Goldenback
ask
0.022
20
2
Mala Mala Tina 'The Strong'
bid
1250
Marti 'The Grappler' Coogle
bid
100
Milo 'The Invincible'
bid
200
Olaf 'The Silent Assassin' Berjhoff
ask
0.0075
10
1
Pig' The Coyfoot Klawfer
ask
open
open
open
Raggle Stomp
ask
0.01
25
2.5
'Saint of the Sea' Baumgardner Dragon
bid
2250
Scruff' The Trajik Dragon
bid
200
Sculk' The Obscural Obfuscate
bid
open
William 'Willie B' Bodilly
ask
0.005
25
2.5
Willie B And The Pede
bid
1000
Yuni And Bjorn
ask
open
open
open
Yuni' The Hassleback
ask
0.0065
25
2.5
Note: Prices are (rough) potential offers that may be changed or incorrect. (Most are accurate and will be updated.) Possibly open to negotiation of donations and trades. Taken from OpenSea as some price info is older and some cards lack price data during this early phase. (Please feel free to reach out to help fine tune prices.)
Open to potentially trading CryptoKitties, CryptoPunks, Enjin, Ether Legends, Steem Monsters to name a few, and many others!
Potential discount for multiple cards traded with Steem / Steem Monsters.
Leave ETH address below for chance at giveaway which may include a Dirk ('The Daring' Fortunato), Olaf 'The Silent Assassin' Berjhoff, and/or others. Or just a comment for potential Steem Monster cards.
Have fun trading and collecting!