The WolfGuard Chronicles - diarised adventures (3)
The Guild of WolfGuards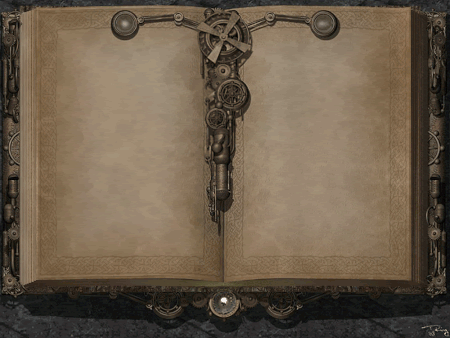 image source
These are their SPN adventures, as chronicled faithfully by their scribe
Oliver Barnabas Bede III, esq.
---
Sunday

Urgent Mission: to save the one remaining Sherwood Forest Oak tree.
Apparently it came to the UltimaCorp council's recent attention that some overly-enthusiastic players had raided this historic forest and chopped down almost all of the trees someone called Robin Hood used to hang out it. History books tell us he was rather famous, which makes the forest famous by default.
So these players got rather carried away because they were so desperate to build storage rooms for their collected inventory that no one else wanted (and had been caught dumping on random front lawns around the city - big penalties!) that they decided to speed things along by finding alternative timber supplies.
Certainly not so good for the forest.
On this mission we are taking a descendant of Robin Hood's wife, Marion - our very own player Marion A. Slothicorn, who will supervise the collection, transportation and storage of the genetic data of this last tree.
Fortuitously - or strangely - one of the council members who used to be a lumberjack in his youth but later reversed roles and trained as an arborist, will be responsible for the actual collection of whatever is necessary to preserve the Sherwood tree. Funnily enough, his nickname of Lumberjack Hen has stuck with him over the years.
Let us hope the tree does not mind.
We will have to be careful on this mission, as there are many who would dearly love to get their hands on such a supply of wood for themselves, but the Captain is confident her crew is well up to the task.

Monday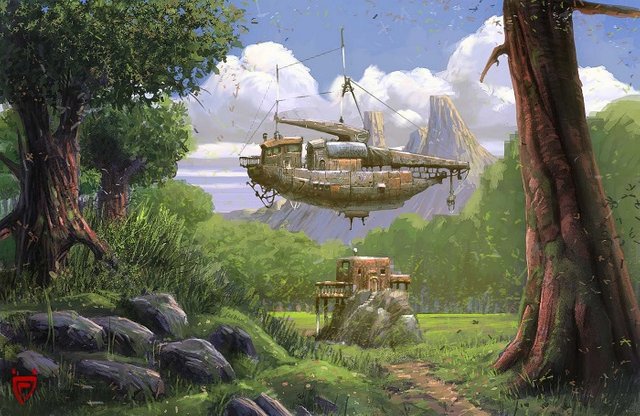 image source
Well, we landed in Nottinghamshire without incident and managed to retrieve the necessary bio-data to take home and store safely.
But on the way home eagle-eyed Cadet K3lda spotted a rebel airship and so the Captain employed several tactical moves to outmanoeuver and then lose them but we began to run low on fuel so had to quickly look for a place to land which also had a docking station for the airship.
Luckily, Lumberjack Hen knew of another forest area which would have what we needed and we were able to get there without further incident and replenish our fuel supply.
Lieutenant Oendertuerk thought the area so lovely he spent his time painting a scene from which to remember it by. The now-framed picture has pride of place on our airship's library wall.
Luckily, we saw no evidence that any of the trees in this forest had been harvested by players for their inventories.
Yet.
Faithfully,


---
The
Guild of WolfGuards
invites you to join them in the game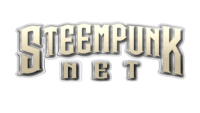 Source
an awesome MMORPG blockchain game you can play simply by doing the things you normally do on Steemit; and it doesn't matter what your rep level is, everyone has an equal chance of winning battles and collecting loot.
So if you want to know more about the project and maybe joining a Guild for extra fun and support, enter the

server, follow the welcome guides, and get your game on.
You can battle your friends, or find new opponents to annihilate in the Clockwork Arena.