Welcome to My Garden #13 – Fruit Trees
When we first moved into our house the backyard was like thousands of other backyards, a lumpy green lawn and nothing else. The people who lived here before had three young boys and a dog, so a plain backyard was a good choice.
But for me, I had plans and ambitions! First I had the lawn removed down to bare dirt. Then I built raised beds and started planting! I intended to grow only things we could eat or that I could sell at my herb shop. I planted rows of lavender and a variety of flowers to be dried for wreaths and bouquets; roses and scented geraniums for potpourri. A lemon verbena and a bay tree, and lots of other herbs for cooking, and I still had room left!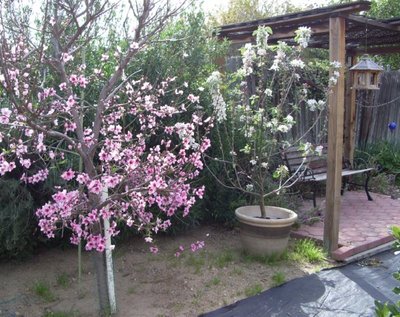 They're blooming!
Saturn Peach (left) Anna Apple (right, in the pot)
Fruit trees were next. Fruit trees are an investment, they often don't bear fruit for several years, so the time to plant them is right now, if not yesterday. The first trees I planted didn't all survive, but I replaced them and bought more. I chose dwarf varieties to save on space and to make it easier to pick the fruit without climbing a ladder.
The other day @cicisaja challenged me to show her my fruit trees – to prove I wasn't hoaxing her! I went out the next day to take photos but was sorry to see how much they had suffered from the blistering summer heat. They were not ready to have their pictures taken! So I turned to my photo files to find some prettier ones to share. They were all taken by me in my very own backyard, just not today.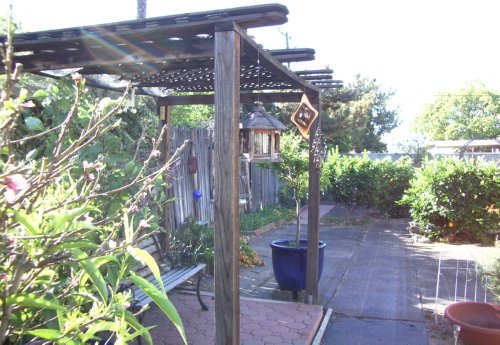 Looking from the peach tree across the yard to the Meyer Lemon tree.
In the blue pot is the Ana's Pride dwarf peach.
I am now growing a Meyer Lemon (it is more of a bush than a tree and the fruit is sweeter than other lemons), two kinds of limes – Bearss (seedless) and a 'Mexican' or 'Key' Lime (smaller, sweeter, fruit). I chose a thornless variety because my parents grew one with wicked big thorns, a danger when picking the fruit! I also have a Tangerine with too many seeds. I should have chosen a Clementine. But they have a good flavor. A tree I treasure is my Saturn Peach. It is the only one I have that is not a dwarf variety. The fruit is hard to find in stores and very expensive if you do find them because they don't travel well. Later I added two more trees to plant in large pots – a micro-mini Anna Apple and a dwarf Ana's Pride Peach.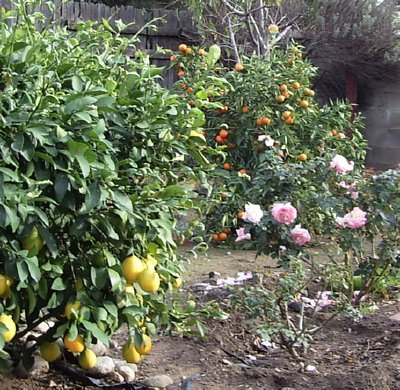 Behind the Meyer Lemon are some roses and the tangerine tree behind them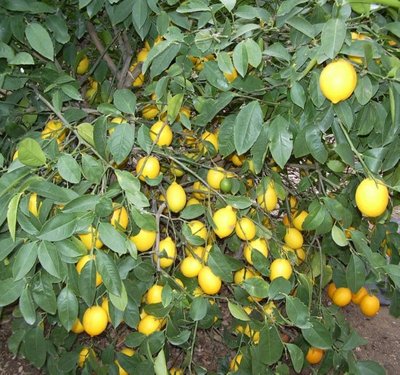 A small tree but lots of lemons!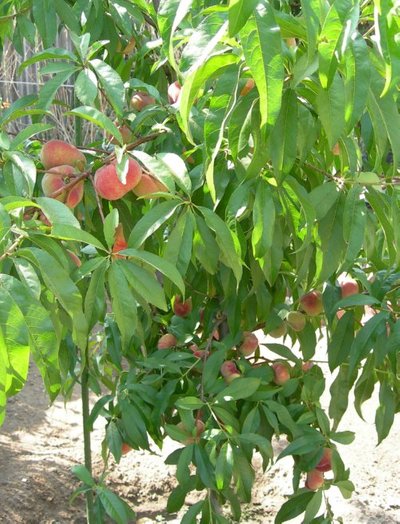 The Saturn Peaches are ripe!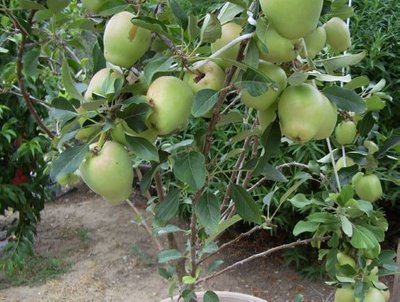 The apple tree is a micro-mini but has full-size fruit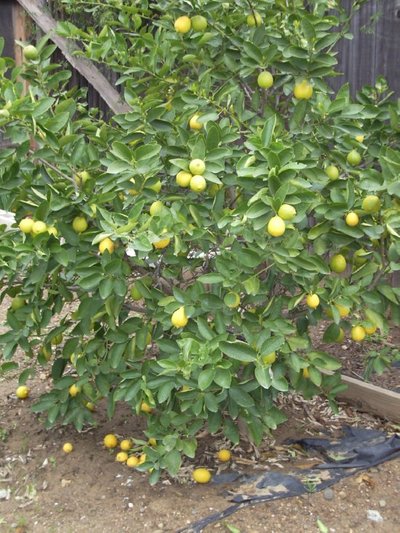 Can't forget my little Bearss Lime!
The fruit turns yellow when it is ripe.

So there you have it, my little fruit orchard!

I am a member of #ccc by @freedomshift
This is an Invitation to join #ccc for Guaranteed 👍 Daily Income 💵 and Payout 💸 for Newbies (2.0) 🐟 🐜 🐛 in #ccc 👣 and Follow 👣 the Honor Code 🏅 - the Creed (Conditions and Limits Inside)
AND
the latest update <<< please click to read.