January in the garden and some Peanut for his fans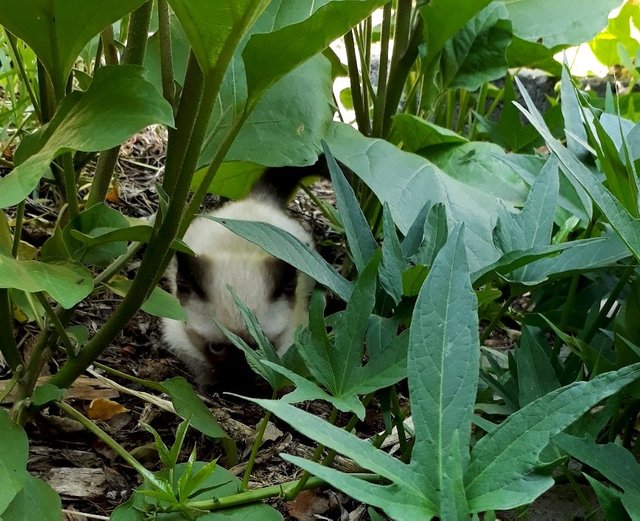 Peanut learning about the great outdoors. He's allowed outside because although he's still a little scared, he comes if called. Today he chased butterflies
Brinjal (Eggplant) on the left, sweet potato on the right. I grow sweet potato for the leaves, not the tubers - the leaves are tasty stir-fried vegetables.
Today, disaster struck although it's also normal to get a hail storm or two every season with my climate and altitude. The stones were large, 10-15mm in diameter so the vegetables were shredded: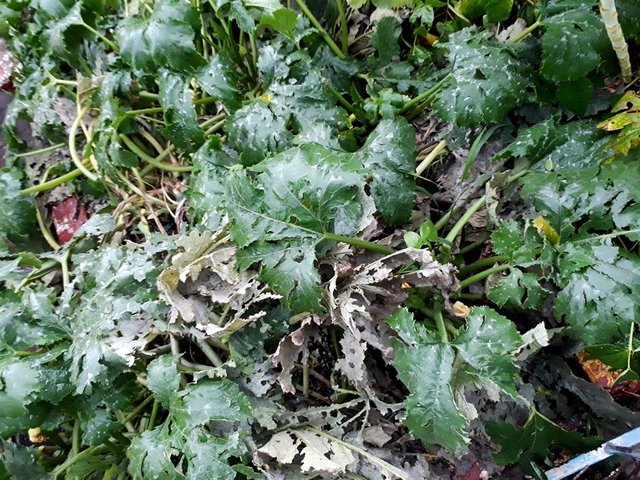 baby marrows ruined. It was suffering from mildew and the marrows not maturing so I will take the plant out and turn it into green manure
I harvested and cooked the damaged kale and the sweetcorn was already harvested and the beans are reaching end stage so I am not concerned about the damage there. It's mainly the brinjals that took a pounding.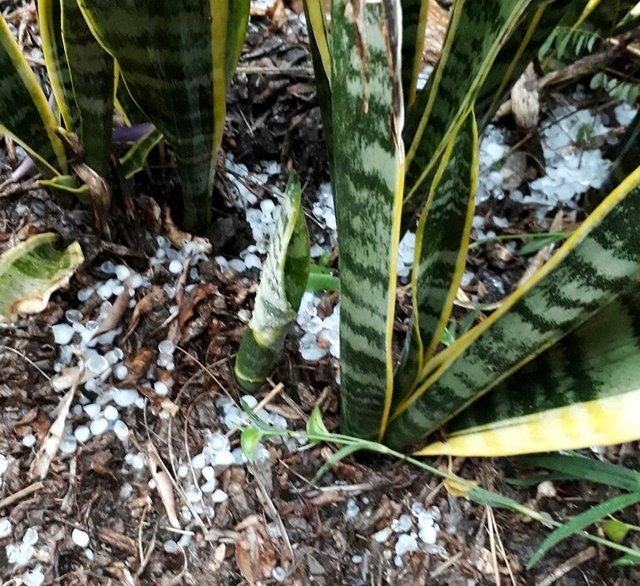 Sanseveria are of course tough-leaved but I took this picture of the hailstones after the storm had passed. Some of the other succulents like echeveria are bruised but they will be ok.
That's enough vegetables, on to the succulents: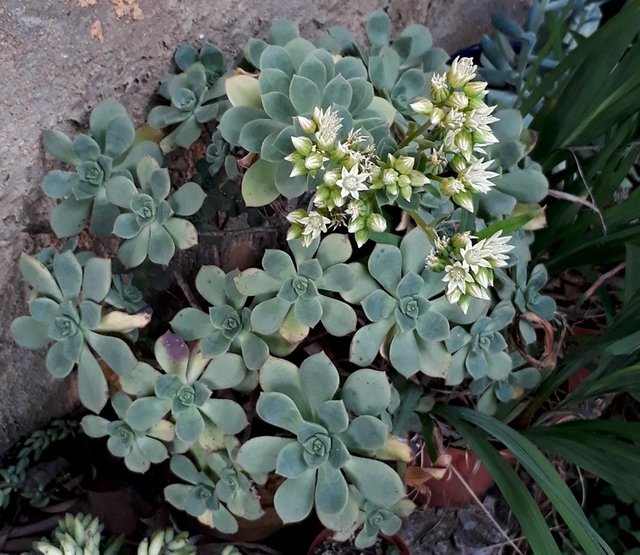 These aeoniums are flowering but that means it's time for them to die. Many aeoniums are monocarpic, meaning that they flower only once in their lifetime
Many succulents are flowering right now but, counter-intuitive as it sounds, many flowering succulents should not be watered, as they are resting from active growth and damp soil will often cause them to rot.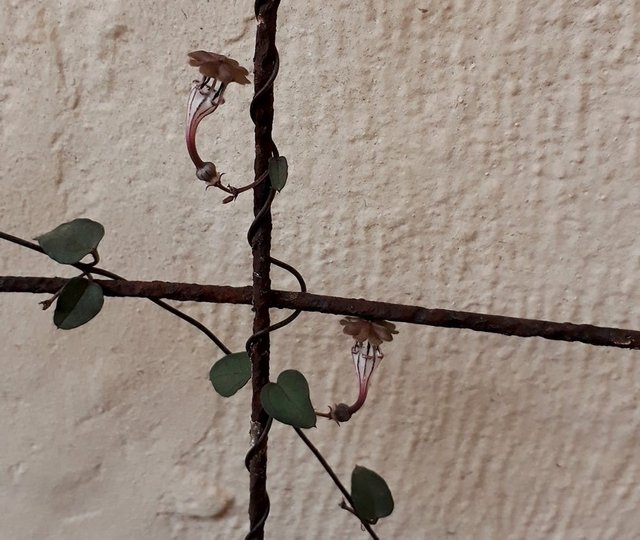 Ceropegia rendalli likes being watered in summer but not too much. As a plant that grows under bushes as a creeper in nature, it also appreciates cool, shady conditions
This Euphorbia isn't being watered at all, because it is a cutting and hasn't made roots yet. Perhaps next spring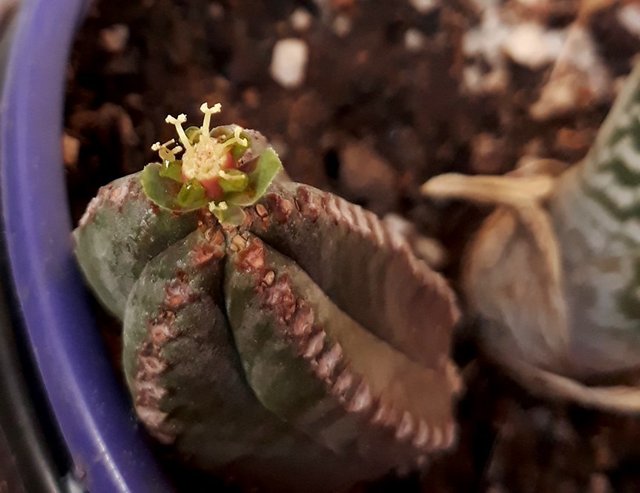 Crassula elegans is another plant that rests during the hottest months but will only flower at the beginning of winter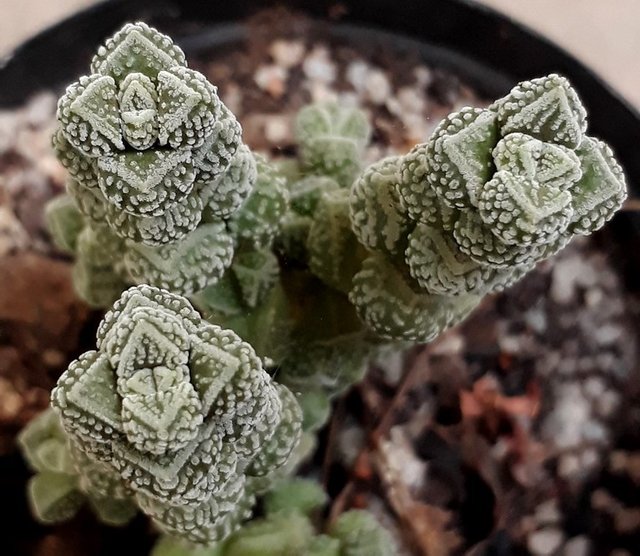 Finally, some Adromischus: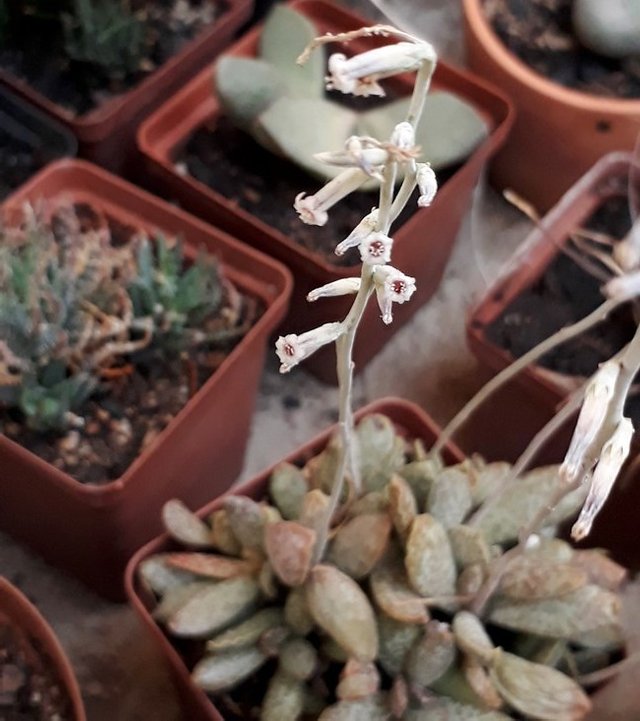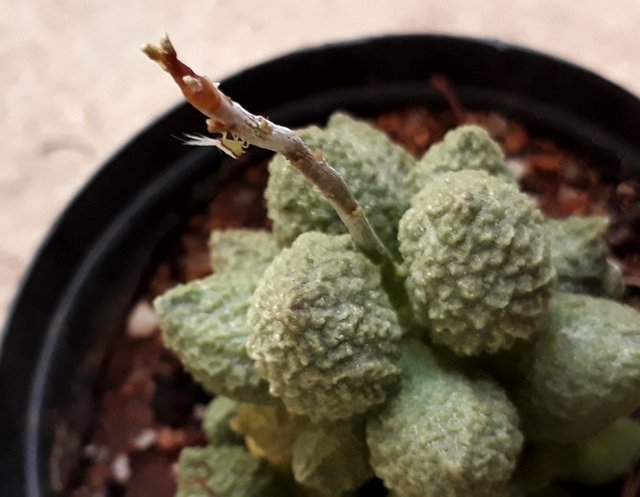 Adromischus marianae The odd little insect on the flower stem is a sap-sucking planthopper.
Succulents can be difficult to keep alive if you are unaware of their growing and resting phases. Contrary to popular opinion, many types are also not fans of extreme amounts of sunlight so it can seem tricky to grow them successfully. I like growing the rarer more odd-looking succulents and I find it's crucial to find out what the unique needs are for a particular species. Many of the succulents above are native to my part of the world, which makes it easier but it still takes a bit of practice to grow these beautiful plants.
Posted for @simplymike's Garden Challenge. Details here: https://steemit.com/hive-177682/@simplymike/steemit-community-garden-journal-challenge-january-with-steem-bounty