My Delicious Garden [Sept 2018]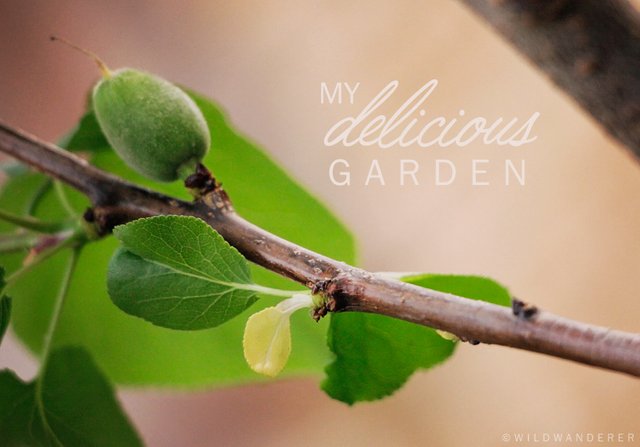 Spring time! Time to plant plant plant in the Southern Hemisphere. My in-laws gave me the most exquisite birthday gift - a voucher to Garden World to buy seedlings for my garden - best present ever!
---
SHOPPING TIME!

Left: All the plants I bought with my voucher, Right: All the plants left over after a full day of planting
I may have gone a bit overboard shopping at the nursery but I do still have hanging baskets to fill and I really want to plant some edible plants in the flower beds between the other plants.
---
Time to get PLANTING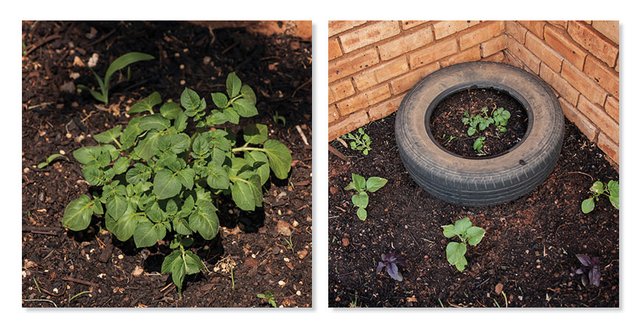 I started by trying to plan which plants will get planted in which beds and I found this potato plant growing.. I have these tyres I meant to turn into a potato planter - there is no better time than the present right? So the peppers and eggplants along with some relocated self-seeded marigolds were put into this bed, as well as a relocated pea plant that my kids planted in another bed which needed a support.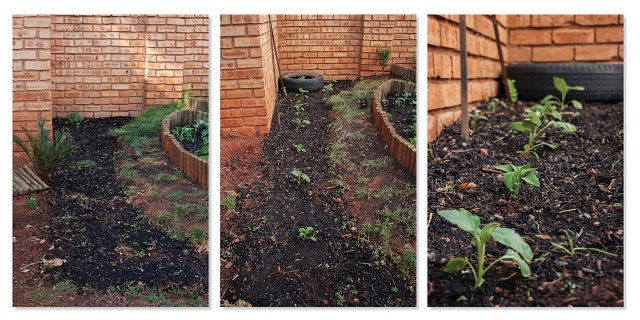 Left: Before planting, Middle and Right: After Planting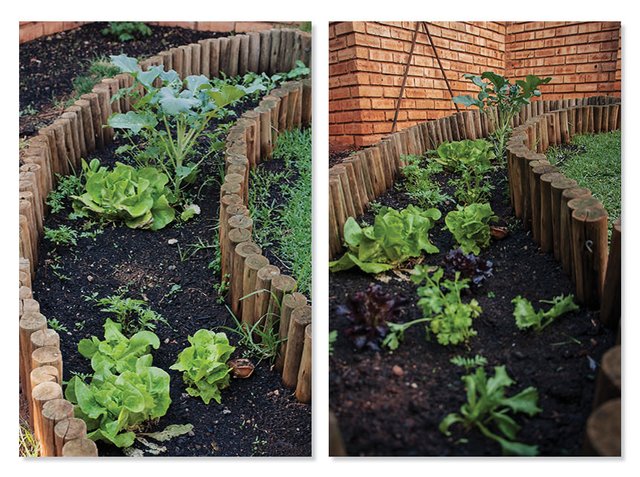 Left: Before - some self seeded broccoli and butter lettuce plants, Right: After - More lettuce and celery seedlings added  



Left: Before planting, Middle: Self-seeded broccoli plants to be relocated, After planting: Relocated broccoli plants, new lettuce, celery and parsley
---
Wall Mounted Kitchen Herbs


Before and After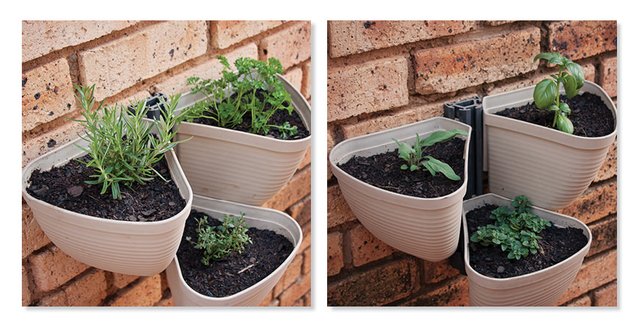 I have these wonderful wall mounted pots that my mom got for me as a gift a few years ago that I have mounted right outside my kitchen (back) door - convenient herbs for cooking: YUM! Last season I had to remove them as those herbs' time was up so I'm excited to have some delicious fresh herbs on hand again! (I've already used some parsley!)
---
New Apricot Tree
I've been dying to plant a fruit tree that will also provide some nice shade in my garden but have been so indecisive as to which tree to get and where to place it, as the low boundary wall between the neighbours and us could become a problem for roots as well as when the tree drops it's leaves. I'm sure they wont mind when I share my delicious apricots with them! Anyone else been held back in their planting because of neighbours?


My darling husband was put to work again digging a hole and planting the tree for me. He had a little audience of the neighbour's kid and my kids cheering him on to find treasure! I decided to put them to better use to help me mix the compost and phosphate to fill the hole with. (The guy at the nursery suggested bone meel at first but said that if I had a dog -which I do- she will dig up the tree so he gave me the phosphate instead).


Treasure!! Or another man's trash at least! Our hole had to be moved a foot closer to the wall because we discovered that the builders that built the house used the garden as a dumping ground for their trash!!! So infuriating!! There is so much plastic down there!


And finally done! My beautiful Apricot tree with some penny-royal planted at the base to keep the bugs at bay: A little trick I read in one of my gardening books.. When my hubby has recovered from digging that aggravating hole of trash, I'll get him to round out the grass around it to look a bit prettier. And look! There is already a little apricot growing! (Any fruit tree growing tips welcome in the comments!)
---
Update on my Fig Tree


Left: Last month, Middle and Right: Growth since last month
I'm going to have to plant this baby in a different pot soon - the hail last year smashed the pot.. I think next time I will get a decently large pot to still contain the invasive roots but make a slightly bigger tree.
---
Strawberry Pot!


I have wanted a strawberry pot for so long but have always been put off by the price. I found this awesome pot while shopping for a birthday gift for my mom - I found it at a wholesale pot place for a very reasonable price so BAM! One for mom and one for me! I painted it from its original concrete colour but I'm not sure I like the glazed look.. I placed it on our patio to add some colour and interest to our most boring patio - we'll have to see if it's a happy spot for it. I read that strawberries need full sun all day but I'm not sure they will survive that way in a pot in our already crazy hot (up to 33C) days unless maybe I water it twice a day.
I also read that you should have 7-10 strawberry plants per person if you want your full supply of strawberries to come from your garden - that will mean that for our family of 4 we will need 4 pots - WOW seems like a lot.. Just subsidizing our grocery bill for now is perfect for me.
---
Next Month
My plan for the next month is to get those hanging baskets up and my mom has found a wholesale berry plant nursery so hopefully they can advise us on how to be successful with blueberries and for my mom's larger property, some blackberries and raspberries also!
I love berries so much that I'd plant them all over my garden if I could!
P.S: This post was drawn up for @simplymike's #gardeningjournal2018 monthly challenge but I was too late for it - time just escaped me this past week.. Be sure to join the challenge next month! Hopefully I will have my content ready before the challenge post this time ;) I really enjoy documenting the progress in my garden and connecting with others doing the same - it is most encouraging!
Have a wonderful gardening month all!
---