GistCoin: The Crypto Token for Monetizing Audio Conversations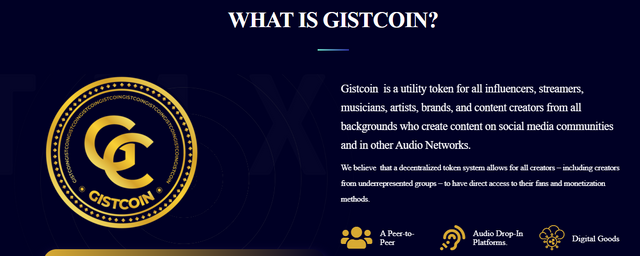 Image source
Clubhouse came up with a unique business model; a business model that many social media users loved. The business model was the development of an online interactive community that is primarily based on audio conversations.
Clubhouse gained popularity and built a brand around it, attracting the elites and social media users who have the money to spend.
One mistake Clubhouse made was not including a monetization tool so that the content creators, influencers, or conversation starters could earn passive income for the content they share.
This loophole triggered the quest for solutions. Today, we have one of the ideal solutions for monetizing social media audio content and the name is GistCoin and this is a review of the project.
What is GistCoin?
GistCoin is a cryptocurrency project seeking to create unlimited sources of passive income for social media users.
The project focuses on the audio communication or drop-in audio market because that is one of the most popularized forms of social media interactions today.
With your GistCoin, it is possible to tip or incentivize a content creator or influencer whose content you found valuable.
Who is it for?
As much as GistCoin is meant to be open for everyone, it mustn't be abused. Specific categories of social media users will benefit the most from its use.
These are the best persons to tap into the "GistCoin Economy" and get the most out of it:
Content Creators and Influencers
These are the major beneficiaries of all that GistCoin offers. As a content creator, an influencer, or someone who has a considerable level of followership, it is possible to use GistCoin to generate passive income.
How can you tap into this opportunity? It is very simple. The first thing you want to do is to become consistent with sharing audio content because that is the basis of the GistCoin project. The idea is that your followers or listeners can send you a tip with GistCoin to encourage you for the amazing content you share.
You can also activate the use of GistCoin for passive income by enabling its use for the purchase of your premium audio content or any other digital material you may have put up for sale.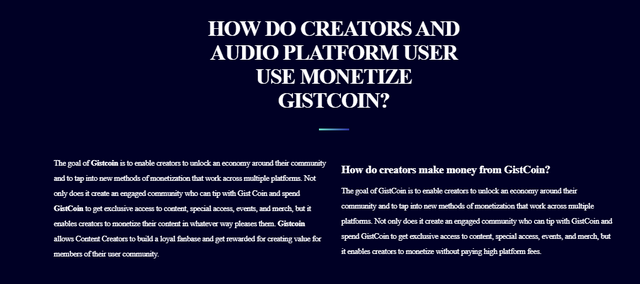 Image source [Image source}(https://gistcoin.io/)
GistCoin for Followers
Your followers are the second beneficiaries of all that GistCoin offers. In their case, they are directly empowered to use GistCoin as the primary payment method for most of the services you offer.
They can use the token to send you tips, buy your premium courses and enroll for mentorship if you offer any.
GistCoin for Everyone
Asides from content creators/influencers and the followers, the other parties to benefit from what GistCoin offers are the other users.
As a user of any social media platform where GistCoin is accepted, you can use the token to reward other users on a peer-to-peer basis.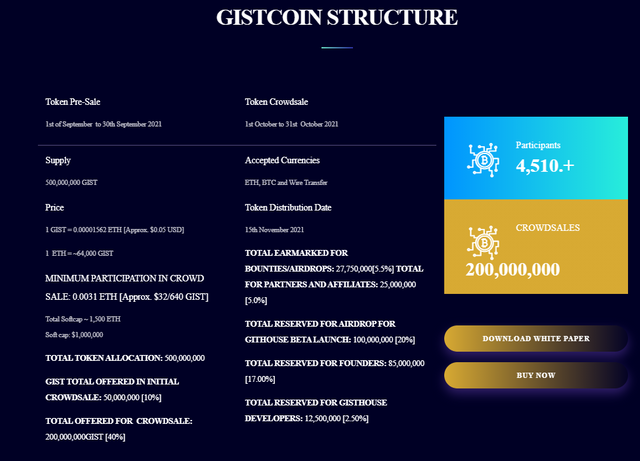 Globalizing GistCoin
The idea behind this project is awesome. Already, the GistCoin team is working towards finding a way around the integration of the token across a wide selection of social media platforms for easier implementation of all that it has to offer.
This is a sponsored article written for a bounty reward
Bounty0x username: Esinfe
Visit below links for more useful details about the project;