# The message of gita.
Hlw friends, how are you? I hope all of you are fine. So today i want to share with you "the message of gita" I hope you guys are like my work. So without delay let's get into the post.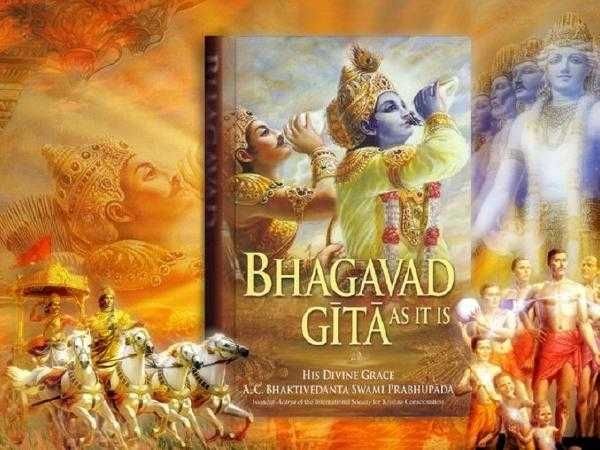 Source.... http://timesnownews.com
The strangest and the most unprecedented was the back ground when the spiritual wisdom of Gita revealed. It came out in the form of the dialogues transpired between Lord Krishna and Arjuna while they stood between the formation of battle ready opposing armies. The spiritual philosophy contained therein the essence of all the scriptures. It is not limited to spiritual theorization but analyses psychology and prescribes practical follow up. Thus, Gita diagnosis spiritual conflicts and advises treatment. It is not meant for a particularly religion or group but for the benefit of entire mankind.
Human beings is superior to all creatures by being being the source of thoughts, emotions and planned action. The intelligence he's it to cultivate all its dormant qualities. Gita knowledge is a ladder to attain those highest and meet creator.
Lord krishna has revealed the possibilities of various spiritual exercises including karma yoga. Karma is natural reaction of a man. Gita teaches us ways to escape those bindings and trappings. He propounds the divine theory of selfless deeds and not attachment to the rewards of deeds.
This karma theory is quoted world wide. He analysed the manifest and unmanifest forms of power supreme. Gita reveals the cosmic truth of God being present in all creatures in soul form uniting all living beings as life energy. This Union is further extended to non-livig matter as God being omnipresent. Through divine spectacle Krishna demonstrated to Arjun how God contains everything visible in the Cosmos and all the invisible forces. So, nothing matters in this world because only thing the matters is God.
(Line2, chapter - 7 Shimadh Bhagawat Gita)
After studying elementary knowledge with all its essence nothing remains to be learned.
Thanks for watching, If you like my poetry please give me your valuable upvote and precious comments.