So far 1 Challenger has accepted the @chromatic-dragon STEEM MONSTERS CHALLEGE for the GIVEAWAY of a @chromatic-dragon BETA edition LEVEL 1 Purple Dragon Splinter Card!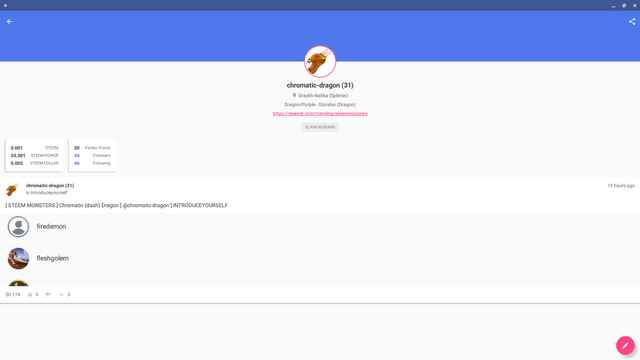 Here is yesterdays DAY 1 #introduceyourself post of @chromatic-dragon
https://steemit.com/introduceyourself/@chromatic-dragon/steem-monsters-chromatic-dash-dragon-chromaticdragon-introduceyourself-zswlrldw
It is NOT to late to participate!
Please be sure to Read @chromatic-dragon #INTRODUCEYOURSELF post and FOLLOW the RULES and RESTEEM this POST too!
(read carefully)
Today's Chromatic-Dragon Challenge is simple!
click on the #partiko-partners HASH TAG below to see of any UPDATES.
If you have NOT already RESTEEMED ALL of the #partiko-partners post, now is your chance to be eligible for the @chromatic-dragon Challenge Giveaway!
Pretty easy for DAY 2!!
You don't want to miss out on tommorows DAY 3 SATURDAY JANUARY 5, 2019 for 1 BONUS STEEM MONSTERS BOOSTER BETA PACK GIVEAWAY!!!
As they say the early bird gets the worm, but in this case it will be a @chromatic-dragon
Stay tuned and don't miss your chance to WIN a FREE Chromatic-Dragon Steem Monsters Beta Level 1 Card.
More to be announced soon, don't forget to follow @chromatic-dragon
Posted using Partiko Android