Introducing: Feed Your Minnows BOT - FREE UPVOTE GIVEAWAY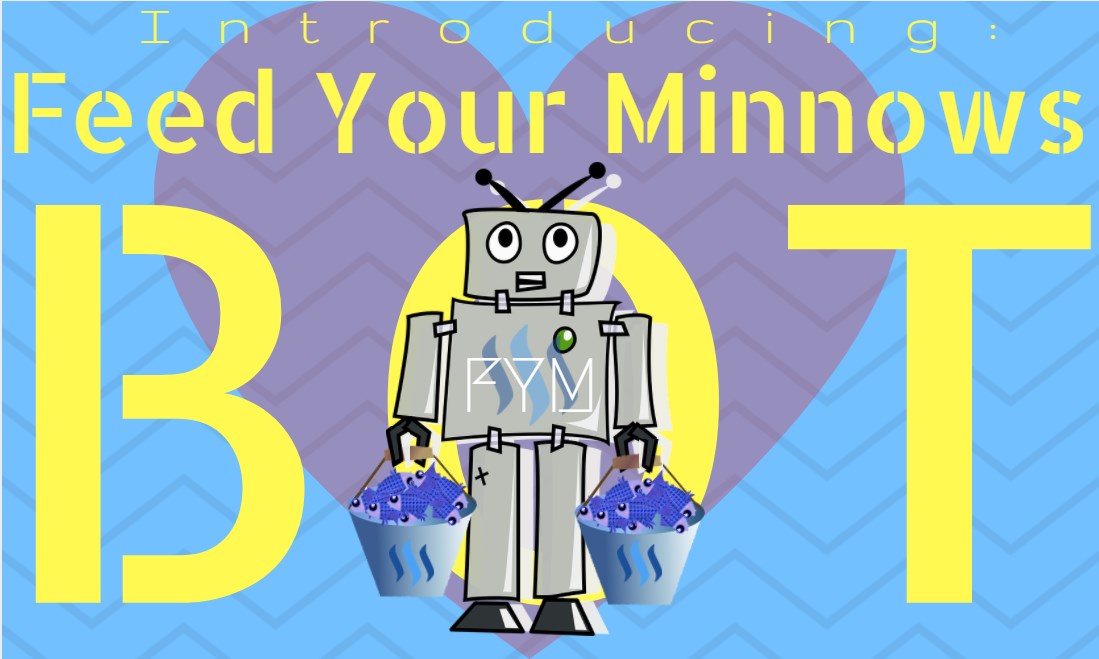 Feed Your Minnows is a great project that @oleg326756 came up with where he would feed his Minnows (his awesome followers). He would make a post once a week and all the SBD earned by the post will be paid out to the registered Minnows.
This inspired me to make a Feed Your Minnows of my own, with a little twist of course!

Introducing: Feed Your Minnows BOT
What does he do?
He upvotes all you awesome Minnows of course! Once you register as a Minnow who needs some feeding you will be able to receive upvotes from the BOT. He will only start upvoting next week once this post reaches payout. =)

How do you register to be fed?
1. Comment on this post and include the hashtag #feedme in your comment. This will ensure you are registered and ready to be upvoted!
2. Make sure you are a follower. Steemit is a place to make awesome friends so follow and chat a bit, more friend equals more upvotes! No follow, no upvote.
3. Upvote this post. in order for the bot to lease some SP we need to generate some SBD with this post so we can power up the bot and activate him!
It's that simple! When the post reached payout we will take all the registered members who upvoted, followed and registered with the #feedme hashtag in their comment. The bot will then feed them for one whole week! Each week we will have a new Feed Your Minnows Post so if you want to continue being fed make sure to comment and and upvote again to be registered. =)

How the bot operates:
It will upvote each registered Minnow only once every 24 hours, this will keep it fair and make sure some Minnows do now gobble up all the upvotes.
The bot is small for now but all the SBD earned by this post will be used to lease some SP for the bot, that way he will slowly grow and the feed for his Minnows will be more and more each week. =)
Just a recap: FOLLOW - UPVOTE - COMMENT with #feedmehashtag
---
Thanks again to @oleg326756 for coming up with the initial Feed Your Minnows idea! You are awesome mate!
---
Picture sources: http://www.freepik.com
Thank you for reading! Steem on Steemians!