Featured: 100 peso coin from Chile -Ten Condores
This Coin will cost you $530,000.00
That is, if you use Chilean currency.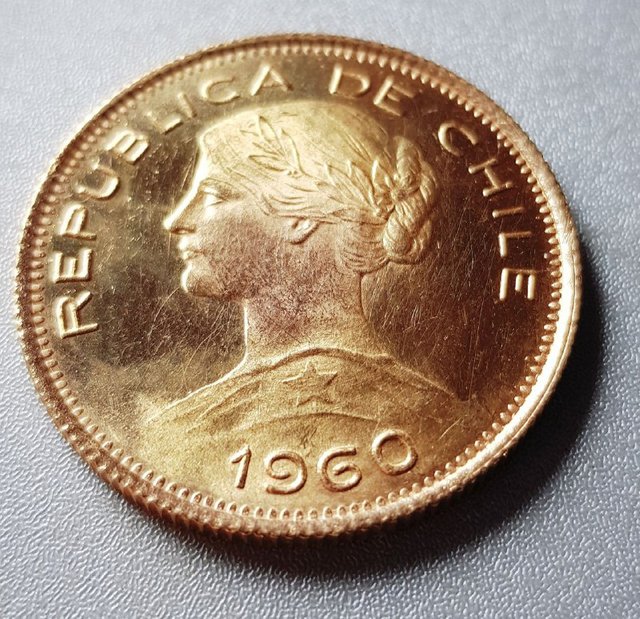 If you want to buy this coin in Chile, though it says "Cien Pesos" or "$100" on the coin itself, you would need $20,000 peso 'notes' - see below. You may want to keep grabbing those $20k slips of paper because it takes over 26 of those notes to buy one these gold coins.
That's right. $530,000 in Chilean paper to get a $100 peso coin from 1960
It is 90% pure and weighs .588 oz or 20.339 grams.
I paid $720.00 in real money U.S. debt notes when I bought this one.
Today it is worth $771.00 in paper dollars, $48 in real (silver) dollars.
You may say "Wow, gold has gone up." and you would be wrong. Gold has stayed the same but the value of the dollars that they print by the trillions has gone down.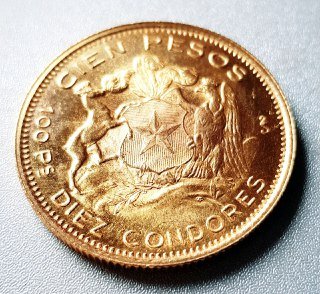 The back of the coin says "Ten Condores" but I have been looking and I only see one clear condor on the coin. Then there is what appears to be a dear with a crown. The only thing that could be sillier than what they put on coins is all the different colored dead men which adorn the paper money of the world's banks.
The face value displayed on the tails side of the coin is 100 pesos, which may get you a small piece of candy in Chile.
But the coin itself is worth over a half a million pesos in its home country right now. The gold price, whatever it was in 1960 has the same purchasing power now as it did then.
If a half an ounce of gold bought two smart phones back in 1960, then it still does today. I know. They didn't have smart phones back then but I don't live in Chile and can't just walk to the store and see what things are worth.
I can, however, look and see what the paper currency is worth via Chilean eBay.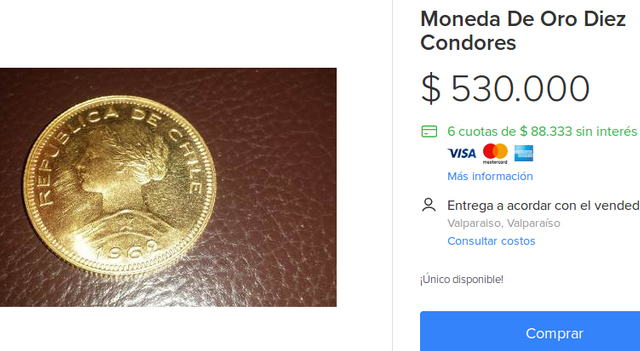 And the largest bill is currently twenty thousand, which is not even thirty US dollars.

Silly orange man from Chile. Your picture and those snozberries printed on fancy paper is not worth twenty thousand grains of sand, or even twenty thousand of anything else.
Our orange man beats your orange man and he is still alive for the time being.
---
stay with real money.
Cheers