Gold Technical Analysis - Altın Teknik Analiz (06-09-2017)
[EN]
Following the test of North Korea's hydrogen bomb, the gold reached 1340 resistance. The EMA30 keeps the support the bullish channel. With this week's rise, gold breached the upper band of the bullish channel that started on July 10th. We may expect more gains the upcoming period if the price will touch the main bullish channel's resistance.
After all, bullish scenario is valid but we keep in mind that breaking 1332 and holding below, it will force the price to decline to 1295.
This is an only informative post, not investment advice.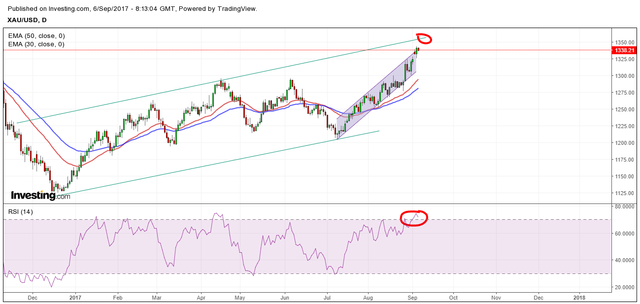 [TR]
Kuzey Kore'nin hidrojen bombası denemesinin ardından hafta başında sert yükselen altın 1340 direncine ulaştı. Teknik olarak altın günlük grafikte RSI aşırı alım bölgesine geçtiği için dikkatli olmakta fayda var. Ayrıca, 1 Eylül'de oluşan bayrak formasyon hedefi de görüldü. Buradan bir miktar geri çekilme olasılığı olsa da altın için 1364 hedefinin 4-6 hafta aralığında görülebileceği öngörümü koruyorum.
EMA30 yükselişe desteğini koruyor, düşüş anlarında hep güçlü tepkilerle altını yükselen kanal içine yeniden itti. Bu hafta ki yükselişle birlikte altın 10 Temmuz'da başlayan yükseliş kanalının üst bandını kırdı. Hedeflerimizle uyumlu olarak 1340 direncinin kırılması durumunda Aralık 2016'dan gelen ana yükseliş kanalının üst noktasına hareket etmesini bekleyebiliriz.
1332 altına inip orada baskılanması durumunda altın 1295 desteğine kadar geri çekilme de yaşayabilir. Aksi durumda boğa trendinin devam etmesini bekliyorum.
Yatırım tavsiyesi değildir.