Gold Technical Analysis - Altın Teknik Analiz (28.08.2017)
[EN]
In my previous post, I mentioned that expected trend for this week is strongly bullish. The price of the gold started at 1295 and closed 4H's graph above it (Now 1307). So we can easily say that bullish trend scenario will continue upcoming period.
If we count Elliot waves, W1(1205-1275), W2(1275-1251) and now we are on W3. I forecast that 3rd wave will end at 1364 level.
I said that I closed my long positions at 1291. After a short waiting, I opened long position at 1290 again. My targets are 1312, 1330 and 1364. If the price is holding above 1285 the bullish trend will continue.
This is an only informative post, not investment advice.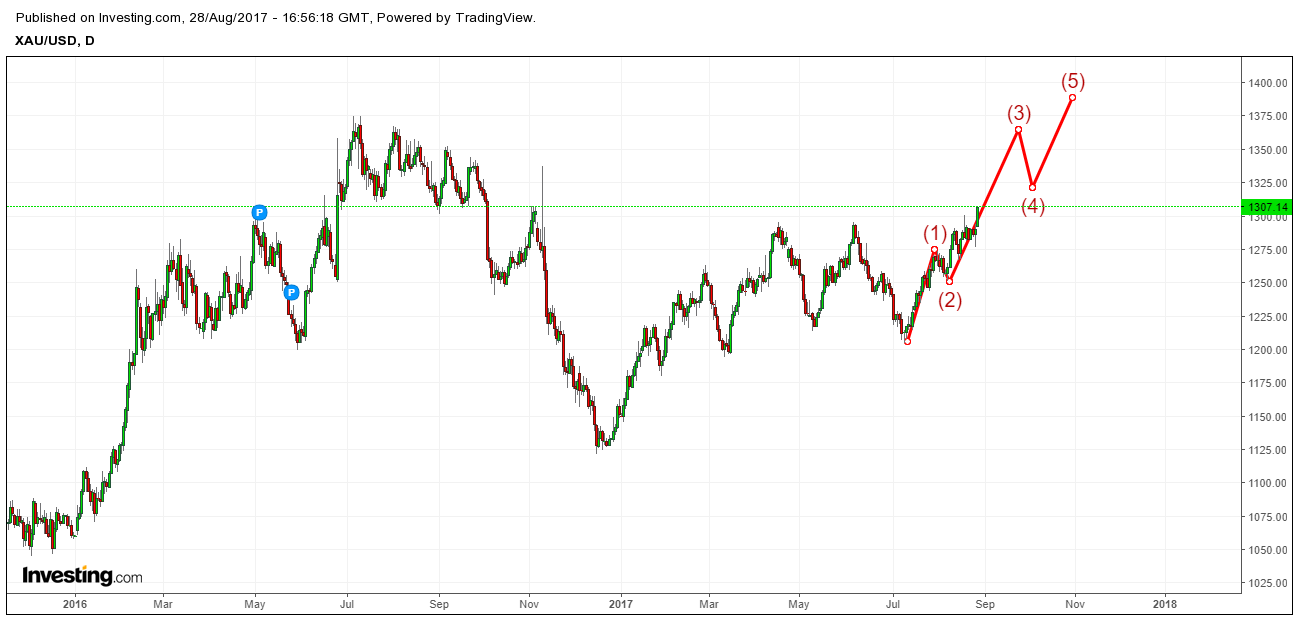 [TR]
Bir önceki yazımda bu hafta yükseliş beklediğimden bahsetmiştim. Altın güne 1295 seviyesinden başladı ve bölgede biraz oyalandıktan sonra akşam saatlerinde 1306 seviyesine hızlı bir yükseliş gerçekleştirdi. 1295 üstü günlük kapanış gerçekleşirse sonraki ilk hedefimiz 1312 olacağından bahsetmiştik. Bu hedefi bu hafta içinde aşabiliriz. Elliot dalgalarını sayarsak 1205'den başlayan 1. dalga 1275'de bitti. 2. dalga ise 1251'de bitti. Şuan 3.dalgadayız ve 1.dalganın 1,62 katı kadarlık bir yükseliş gerçekleşirse 3.dalganın 1364'te biteceğini öngörebiliriz. Bu hedefe önümüzdeki 4-6 haftada ulaşılması süpriz olmaz.
1291'de elimdeki long pozisyonları kapattığımı söylemiştim. Biraz beklemenin ardından boğa trendinin devamını görünce 1290'dan yeniden long pozisyona geçtim. Hedefleri 1312, 1330 ve 1364 olarak belirledim. Boğa trendi 1285 altında bir günlük kapanış olmadığı sürece devam edecektir.
Yatırım tavsiyesi değildir.