Gold Technical Analysis - Altın Teknik Analiz (30.08.2017)
[EN]
The price of gold keeping its stability at 1310 level that supports bullish scenario. RSI returned middle area and Stochastic produced a positive signal. All in all, bullish scenario is valid and we wait for the target 1364 that is the end point of the 3rd wave. Happy Victory Day for Turkish community.
Previous post: https://steemit.com/gold/@lcks/gold-technical-analysis-altin-teknik-analiz-28-08-2017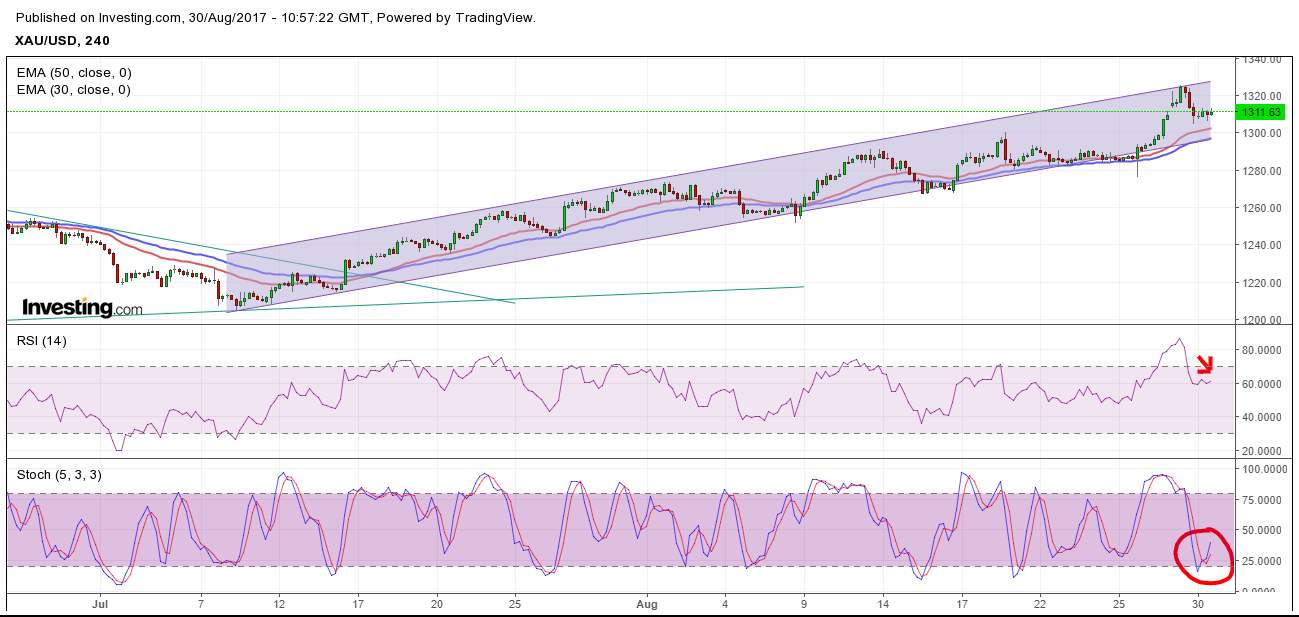 [TR]
Bugün 30 Ağustos Zafer Bayramı'nın 95. yıl dönümü. Halaskargazi Mustafa Kemal Atatürk'ün başkomutanlığında verilen mücadelenin zaferle taçlandığı bu kıymetli gününüzü kutlarım. Dolayısıyla bu gün Türkiye piyasaları kapalı. Ancak, altın dünya piyasalarında işlem görmeye devam ediyor. Bir önceki yazımızda altının süratle 1330 seviyesini aşabileceğinden bahsetmiştim. Dün altın 1325 direncini aşamadı ve kademeli olarak 1307 desteğine geri çekilmişti. Şu saatlerde tekrar toparlanarak 1313 seviyesinden işlem görüyor. Kısa sürede hızlı bir yükseliş gerçekleştirip tüm göstergelerde aşırı alım bölgesine geçmesi zaten bu düzeltmeyi gerekli kılıyordu. O nedenle boğa piyasası tahminimiz devam ediyor. Altın 1295 kritik seviyesinin altına sarkmadığı sürece de devam edecektir. Long poziyonlarımı 1364 hedefi için saklamaya devam edeceğim. Esen kalın.