Gold Technical Analysis-Bullish Trend Continues EN-TR
[EN]
Yesterday gold prices dropped from 1294 to 1276 in the seconds. However, within 30 minutes, it returned to 1290 level and closed at 1291. This conspicuous decline just before the speech of FED president Yellen is the result of many conspiracy theories, although it is thought to be the so-called "fat-finger". According to the famous gold investor Andrew Maguire, the US-backed gold cartel tried to manipulation. It seems there is something brewing. But of course we do not know the truth.
The price of gold has tried to break the support of the bullish channel yesterday, but after the suspicious fall, the price was supported by the EMA 21 and bullish trend reached the level of 1295 again. If the bullish trend scenario keeps for the upcoming period, next target is 1315 and then the main target is 1330.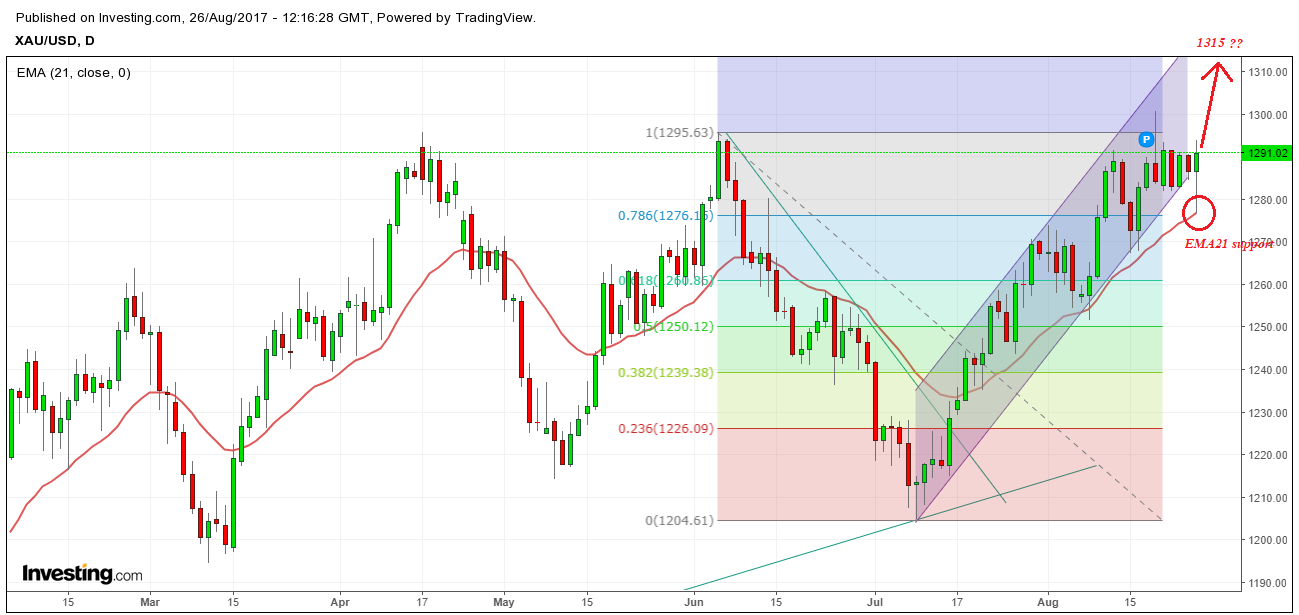 [TR]
1295 hedefinin geçilmesi fakat kalıcı olamaması nedeniyle altın 1280-1290 bandına sıkışmış görünüyor. Boğa trendinin devamı için 1295 üstü günlük kapanış bekliyoruz. Dün altın 1294 seviyesinden şüpheli bir şekilde saniyler içinde 1276 seviyesine düştü. Ancak 30 dk. içerisinde yeniden 1290 seviyesine geri geldi ve kapanışı 1291'den yaptı. FED başkanı Yellen'in konuşmasından hemen önce gerçekleşen bu şüpheli düşüşe, "tombul parmak" denilen olayın neden olduğu düşünülse de pek çok komplo teorisi de üretilmedi değil. Ünlü altın yatırımcısı Andrew Maguire arkasında amerikalı altın kartellerinin olduğu bir manipulasyon denemesinden bahsetti. Tabi bizim gerçekte neler döndüğünü bilmemiz pek mümkün görünmüyor.
Teknik analize geri dönersek altın 21 günlük hareketli ortalama olan 1276 seviyesinden aldığı güçlü destekle 1295'i tekrar denedi ancak başarılı olamadı. Ancak haftalık kapanışını yükseliş kanalı içerisinde yapması daha önce bahsettiğimiz 1315 ve 1330 hedeflerimiz için umudumuzu güçlendirdi. Dolar endeksinin de düşüşte olması önümüzdeki hafta altının 1300 seviyelerini tekrar deneyeceğini düşündürüyor.
-Bu arada bir hafta steemite giremedim ve pek çok şey değişmiş. Topluluğun bundan sonraki gelişimi için sorumluluk alan arkadaşlara kolay gelsin diyorum. Umarım her şey daha iyiye gider.