What is the 1934 U.S. $100,000 Gold Certificate?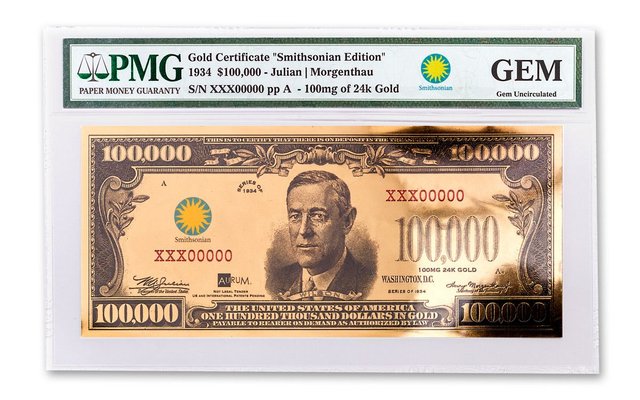 "Over the past year, we have received several calls about the United States $100,000 Gold Certificate (banknote) with the portrait of U.S. President Woodrow Wilson, asking us to estimate the value of the piece, hoping that it will be worth millions and they can sell it and solve all their financial problems.
Well, we've got bad news ...... if that piece is real, you can be ARRESTED for owning it!
According to the Bureau of Engraving and Printing under the U.S. Treasury, this was indeed printed in the 1930s and ONLY used for transactions between the Federal Reserve Banks and its branches, it is NOT meant for general circulation at all"
http://alphanumis.blogspot.com/2016/01/illegal-to-own-1934-us-100000-gold.html?m=1
"The Department of the Treasury (Treasury) has withheld from destruction a limited number of Gold Certificates, Series of 1934, for historical and archival purposes. To store these certificates, which consist of several certificates of each denomination ($100, $1,000, $10,000, and $100,000)"
"The 1934 Gold Series Certificates were issued only to FRBs and were not circulated among the general public. This series cannot be legally held by individuals"
https://tfm.fiscal.treasury.gov/v2/p6/c300.html
"The Gold Certificate Series of 1934 poses a slight puzzle since the United States was off the gold standard by 1934. The $100,000 note shown here was not intended for general circulation but was used as an accounting device between branches of the Federal Reserve. This $100,000 note was the highest denomination ever issued by the United States."
https://americanhistory.si.edu/collections/search/object/nmah_742353
"the largest denomination of currency ever printed by the Bureau of Engraving and Printing was the $100,000 Series 1934 Gold Certificate featuring the portrait of President Wilson. These notes were printed from December 18, 1934, through January 9, 1935, and were issued by the Treasurer of the United States to Federal Reserve Banks only against an equal amount of gold bullion held by the Treasury Department. The notes were used only for official transactions between Federal Reserve Banks and were not circulated among the general public."
https://www.newyorkfed.org/banking/FRBNY_archived_fraud_alerts.html
"The largest Federal Reserve note ever printed was $100,000 and was only used inside the banking system."
https://www.treasury.gov/about/organizational-structure/ig/Pages/Scams/Examples-of-Known-Phony-Securities.aspx