Peter Schiff Loves To Slam Bitcoin
Peter Schiff is beyond ridiculous in my opinion. The guy is so tunnel visioned that he misses what is taking place in the world.
Or perhaps he is so in tune with his money making system that he doesn't care about anything else.
Schiff is the epitome of a gold bug. He advocates for nothing else. Of course, the fact he makes a decent percentage selling gold on his websites could be a motivating factor.
His attacks on Bitcoin are based upon the fact that many are viewing it as an alternative to gold. This is especially true for Millennials.
The challenge he has is he is wrong, almost all of the time.
His calls for Gold at $5,000, so far, have not panned out. This is something I can remember him doing as far back as 2011.
A quick web search pulls up these results for Peter Schiff Gold $5,000.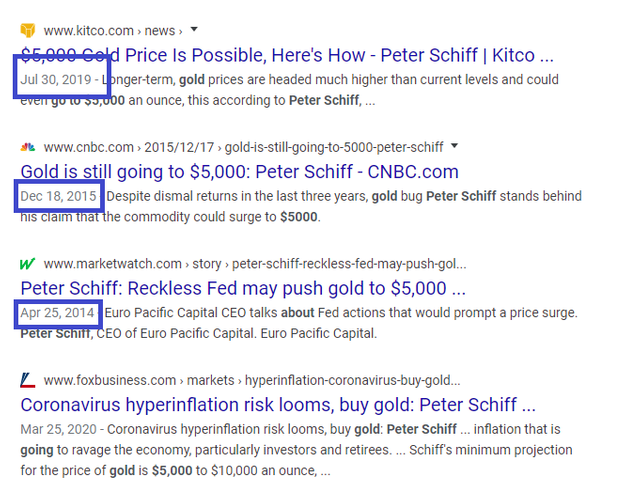 Notice the dates and how the mantra is always the same. Perhaps, someday, Schiff will be correct. However, what does it cost in the meantime.
Sure, in this recent crisis, gold served well as a hedge. It is up for the year when most of the planet fell off a cliff. That said, some might take the position that, given the apocalyptic circumstances that we face today, gold should be faring much better.
Schiff's stance against Bitcoin mirrors that of the likes of Warren Buffett. The idea is Bitcoin (and all cryptocurrency) has no intrinsic value. In other words, on its own, it is worthless. This is the case often made against fiat currencies like the USD.
Where I differ with this viewpoint is the fact that value is based upon whatever we ascribe it to. For thousands of years, we have valued gold. Will this be the case in the future? Most presume it will be but then we must remember that aluminum was at a premium hundreds of years ago.
Both gold and the Dow might get to 5,000. I have no way of knowing. However, it is vital to remember that just because something does not have intrinsic value, that does not make it worthless.
Ultimately, it all comes down to utility.