GRAFT: The importance of taking your business to the next level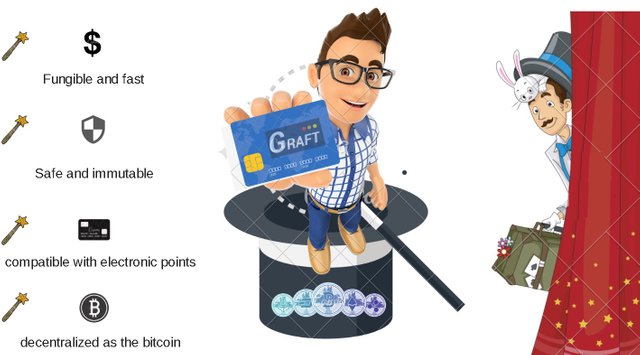 Currently retailers need to adapt to their customers in order to be competitive in the market, it is not enough to offer a good product or service, customers are more demanding each day and this from the merchant to offer innovations in their business to keep a happy clientele. true to your trade
Today in different parts of the world there are several problems when making a payment, many countries have problems with their local currency, others do not accept foreign currency, in some cases the fees for the use of a credit card is excessive, In short, paying for an item or service becomes tedious for people
That problem has existed for a long time, now another is born with the creation of cryptocurrencies, and is that many people generate significant income through this financial innovation, but when investing their cryptocurrencies in a product or service are limited by the form of payment, in many cases they must go to an online exchange that removes a percentage of their earnings just to bridge their virtual wallet and bank account
Did you know that 50% of regular shoppers would cancel their purchases if their preferred payment method was not available? There are more and more payment alternatives being introduced and an increasing demand to cater to these options—some of which are credit card alternatives. Many users like the option of having different methods of payment, which is the reason why this often leads to higher conversions and sales.Many people have biases towards one or another and you will be able to take into account their needs.
This also applies to virtual sales stores, read an article about it that offers many details about this topic in specific here
For this GRAFT was born
Global transfers of authorizations and funds in real time (GRAFT) are global, source of payment of decentralization based on blockchain and open source to which everyone can access, processing platform that anyone can use. Any buyer and merchant can use GRAFT in a completely decentralized and economical way
The GRAFT ecosystem is open, so anyone can participate by maintaining the GRAFT blockchain and implementing network services.GRAFT employs protocols and payment processing flows similar to how traditional electronic payment systems, such as credit, debit and prepaid cards: they are processed, they are already familiar and trustworthy
by millions of users and merchants around the world.
This approach allows easier and faster adoption of GRAFT as the main payment
platform, eliminating the need for centralized intermediaries (payment gateways and processors), currently required to facilitate transactions between buyers and merchants.
It's good, but it's slow !!
Since its inception, bitcoin has filled the need for virtual money around the world, its security and transparency has managed to gain the trust of millions of people, but nowadays a transaction on its platform is slow, really slow, and the costs for this still increasing, so to be used as a replacement for cash is impossible, you need the speed and security that a new system like GRAFT can offer, and people are used to pass your electronic card and in less than One minute to pay for your service or item, you can not change a fast system for a slow one
So the solution lies in engaging the best of these two existing systems, to have as a result, one more effective and that possesses the benefits of the other two, it is easy to see in the future what the platform offers to the market, the world recognizes that the cryptocurrency is the future of the global economy, this is just one more step in that direction, thus consolidating this idea by turning it into reality closer and closer
Many are already in the wave
While waiting for the bubble that surrounds the cryptocurrencies to explode,(for me already this exploded) from Microsoft to Fotocasa, passing through KFC or Subway, there are already several big names that have decided to accept bitcoin as a means of payment for their products.
Subway, the popular fast-food chain, specialized in making sandwiches, recently announced that it would accept bitcoin as a valid currency for the purchase of its products on an international scale. Of course, has not yet pronounced on the rest of cryptocurrencies, such as Ethereum or Tether.
Without having the technology of GRAFT many companies see the potential of the cryptocurrency, and as I said before, offering different methods of payment is the life of the trade, then it is a matter of time for you to go migrating to a multiple system, integrated for the current and the new already existing in the virtual world, all the way is marked and the first to enter always earn more, large corporations form groups of work to always be at the forefront, and it is not a simple coincidence that we see giants of the industry taking the road to cryptocurrency
Four GRAFT qualities that ensure success



NO BUYER LIKES TO PAY MORE, so the use of the platform and its payment tools are free for your client, only a small percentage is paid by the trade, a percentage that is lower than what most of today's the credit card platforms, so be sure there is no overcharge and your customer remains happy
GRAFT COINS ARE ACCEPTED, with the implementation of technology in daily sales point, people will gain access to an existing global network, so their cryptocurrencies become money practically in cash, giving the customer the mobility he needs and granting to the business a powerful tool to increase your sales
DELIVERY BETWEEN PORTFOLIOS OF THE PLATFORM ARE FREE, so the use of these carry a zero collection, encouraging the use of the same by the users of the platform
EASY TO RECHARGE I EXCHANGE ASSETS, so users can make payments in any accepted currency, quickly and safely, this generates the fluidity of the ecosystem and ensures rapid adaptation of people
Scalability
The scalability of a given payment network is the ability to process a large number of transactions simultaneously without degradation of performance. Scalability of the payment network is usually measured in tps (transactions per second). For example, Visa claims its authorization network is capable of processing 56,000 tps, while the Bitcoin
network is restricted to a sustained rate of only 7 tps.
Some of the measures that the GRAFT network uses to achieve higher scalability are decreasing the block creation interval to two minutes and removing the size limit of the block so that transactions blocks are created more often and each block can accommodate more transactions.Such measures are not unique and are similarly implemented by other cryptocurrencies and cryptographic tokens.
GRAFT, however, is maintained by always-on high performance supernodes that validate and authorize transactions in real time. Therefore, each supernode not only has a most recent copy of the full blockchain but also keeps a list of all pending authorization requests and completed transactions until they are added to the blockchain. Such architecture allows for the absorbing of large spikes of associated requests (for example, seasonal, events driven, and other changes in buyers and merchants activities).
With this innovative method, the platform seeks to create a solution to the scalability problems of the bitcoin and ethereum ecosystem, a problem that monopolizes world attention due to the complication it brings to the network and the projects born in these, acting as a brake on the time to produce improvements and expansions of different branches of the industry
expand your knowledge entered into GRAFT WHITE PAPER
The importance of taking your business to the next level
Currently, having a banking terminal has become a necessity for all businesses in the world, due to the large number of cardholders that exist. It is estimated that in Latin America more than 80% of the economically active population has one or more credit or debit cards
Adapting to changes has become necessary for all companies to grow. In the markets and industries there is a growing number of offers which makes competition more difficult. Companies must have the capacity to adapt to technological, economic and social changes. In this way they will have a greater chance of overcoming their competitors, differentiating themselves and becoming benchmarks in their industry.
Technology has provided businesses with tools so that they can grow and increase their sales. However, many entrepreneurs have not yet joined in implementing this type of tools. In a world where there are technological innovations every day it is important to know how to adapt business to These, incorporate technology such as control software, computer equipment and a POS terminal or point of sale is key to grow.
On the other hand, the cryptocurrency advances in the market, but there is a wall that slows down its growth permanently, it is the impossibility of not being able to make micro payments and many people need to make use of them in their daily life, I want to pay for a coffee with my virtual wallet and I can not? If it is the economy of the future, we must move forward and derive these barriers that hinder the total progress of the blockchain
To my point of view, it is a natural step that is taking place with GRAFT, it is the step to follow and it is good that it is already among us !!
I invite you to watch his introductory video