Cascadia Shakes USGS Shows Full Power
Several powerful earthquakes striking off of Vancouver Island in the headlines.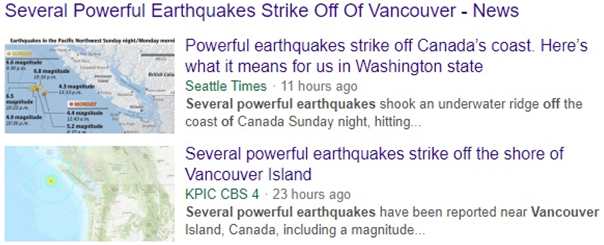 USGS, I cannot believe they did not downgrade these quakes 6.6, 6.8, 6.5 considered very unusual all to occur in the same time, just a few hours apart.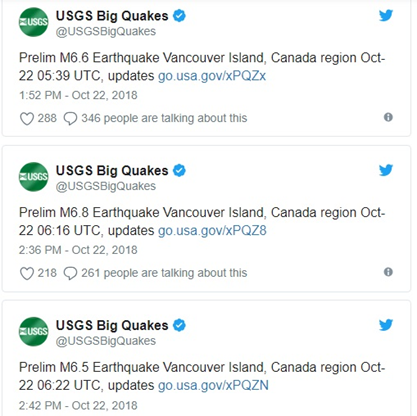 Location here on the map, I went to IRIS instead of using USGS, everything's link below in the description box.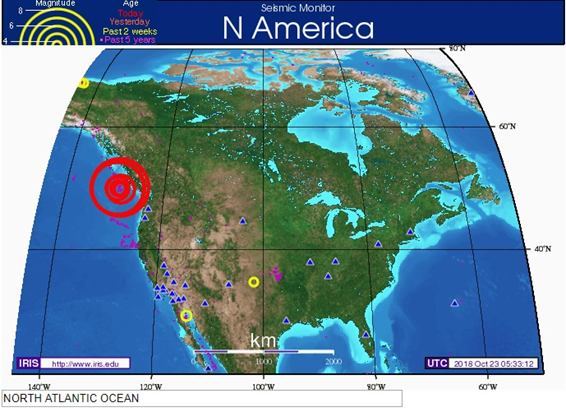 Seattle Times had to pick it up and this is the graphic that they included. Remember during every Grand Solar Minimum the Cascadia Range awakens, there are usually three to four volcanoes erupting at any one time at the depths of GSM cooling on our planet.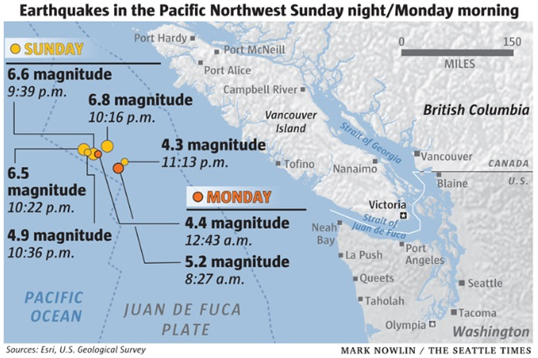 We're heading into that for the next 15 to 20 years, the Eddy Grand Solar Minimums with us, and it's just unbelievable that they can't put two and two together that the volcanic uptick is due to solar activity.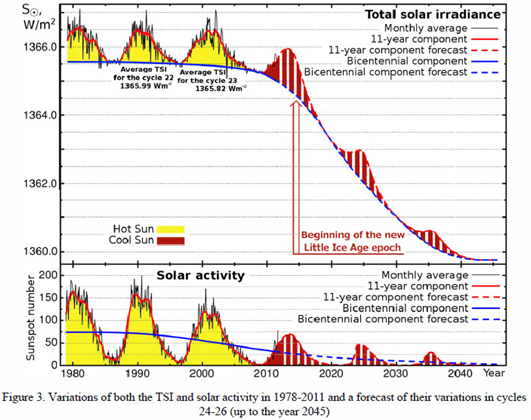 A lot of earthquakes being shown there, look at all that purple, an enormous amount of quakes in a single area.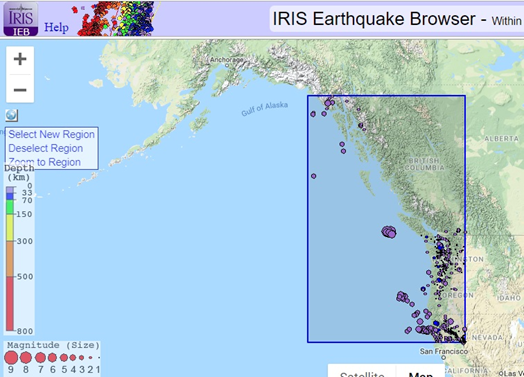 The red obviously stands out as the largest quakes where 5.2 is still pretty large quake makes the 7.2 look small in comparison.
At the same time of course, they had all the seismologists quoted "guaranteeing nothing's wrong", there's going to be no tsunami, there's going to be no volcanic eruptions don't worry about it, quoted the earthquakes did not put any additional stress on the Cascadia Subduction Zone with the big earthquake.

Also, National Resource Canada seismologists saying "Of course they will become smaller as time goes on and they will become less frequent, keep going to work, keep paying your taxes. It's all good, nothing to worry about, don't even have a plan because nothing's going to happen."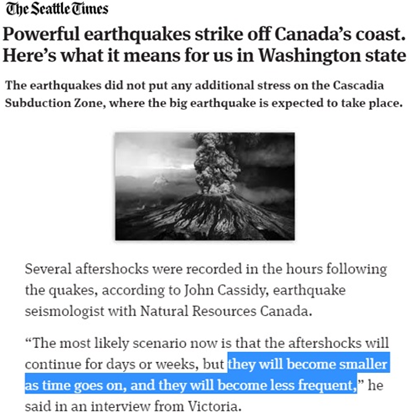 I'm the complete opposite, we're heading into a Grand Solar Minimum, here's your Cascadia earthquake timeline. You notice the largest earthquakes of 9.0 happen during Grand Solar Minimums. I encourage you to look out and see with the timeline of the Grand Solar Minimums, exceptionally low solar activity is a trigger for large eruptions, pinpoint that yourself.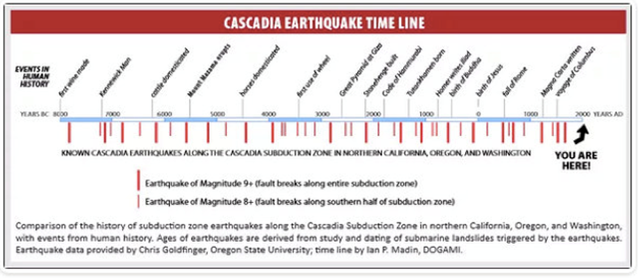 Over to Taiwan 6.0 rocking off the coast at the exact same time, as the Cascadia quakes Taiwan Weather Bureau pointing into 6.0 a little bit off shore.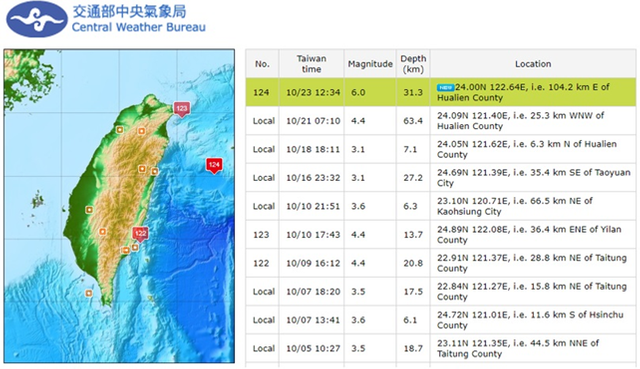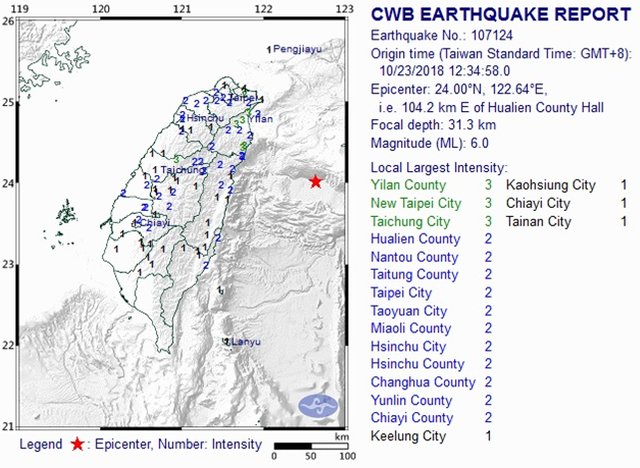 Downgraded by the Western agencies, I wonder why? Too many 6.0 happening in the same day or week maybe signaling an uptrend.

Thanks for reading, hope you got something out of the article. For more in-depth analysis on the intensifying Eddy Grand Solar Minimum and how it will affect our lives as food production decreases as we enter Global Cooling check out the tri-weekly podcast Mini Ice Age Conversations.
ADAPT 2030 My Patriot Supply Links: Take the fear out of difficult situations
2-Week Food Supply: (1,500+ calories/day with 92 servings) www.preparewithadapt2030.com Hearty Soups Kit with 104 servings
ADAPT 2030 Amazon Grand Solar Minimum Store
https://www.amazon.com/shop/adapt2030
*** ADAPT 2030 True Leaf Market Link ***
http://www.pjtra.com/t/SkNITkxPS0xDR0...
Mini Ice Age Conversations Podcast
MIAC #124 Great Social Media Purge to Control the Narrative
http://adapt2030.libsyn.com/miac-124-...
Grand Solar Minimum Books of the Day
The Coming of the Dryas: Amidst the Warming A Cold Weather Clock Ticks Away in the Northern Seas https://amzn.to/2CmO7ij
Abundant Harvests — Food Security Book
https://payhip.com/b/XMVw/af5b46ed1be...
ADAPT 2030 Got Mini Ice Age Merch
https://teespring.com/stores/adapt-2030
*** Today's Story Links ***
Cascadia Range Awakens on the Grand Solar Minimum Timeline Taiwan Quake
https://www.cwb.gov.tw/V7e/forecast/t...
http://ds.iris.edu/seismon/eventlist/...
IRIS Earthquake monitor USA quakes
http://ds.iris.edu/seismon/eventlist/...
http://ds.iris.edu/ieb/index.html?for...
Several earthquakes strike off Vancouver Island, with no reports of damage
https://www.cbc.ca/news/canada/britis...
Powerful earthquakes strike off Canada's coast. Here's what it means for us in Washington state https://www.seattletimes.com/seattle-...
Blizzard snowfall totals Oct 31, 2018 Halloween
https://www.tropicaltidbits.com/analy...
https://pbs.twimg.com/media/DqEQMSIX0...
Hurricane Willa track Ryan Maue
https://pbs.twimg.com/media/DqI_irTUU...
https://www.tropicaltidbits.com/analy...
https://www.tropicaltidbits.com/storm...
https://abc7chicago.com/weather/hurri...
MIAC #126 Formation of the Equatorial Vortex a New Heat Pattern Emerges on Earth http://adapt2030.libsyn.com/miac-126-...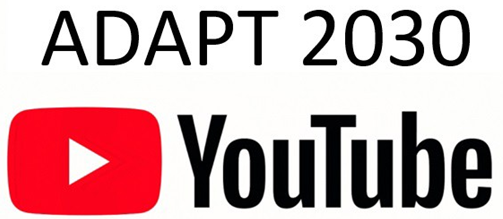 ADAPT 2030 Mini Ice Age 2015–2035 Series on YouTube
*** ADAPT 2030 Social Media Links ***
1.) PATREON www.patreon.com/adapt2030
2.) BITCHUTE https://www.bitchute.com/hashtag/adapt2030/
3.) STEEM https://steemit.com/@adapt2030
4.) *** ADAPT 2030 True Leaf Market Link ***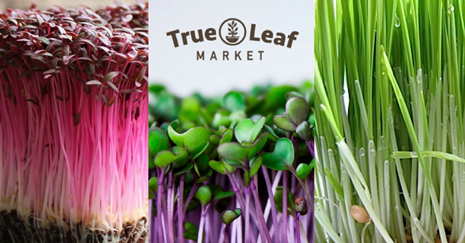 *** ADAPT 2030 True Leaf Market Link ***
5.) Mini Ice Age Conversations Podcast
Libsyn: http://adapt2030.libsyn.com/
iTunes: https://itunes.apple.com/us/podcast/adapt-2030-mini-ice-age-conversations/id1200142326
6.) FB https://www.facebook.com/Miniiceage
7.) TWITTER https://twitter.com/adapt2030
8.) YOUTUBE www.youtube.com/user/MyanmarLiving

*** Stories also on Medium ***
9.) MEDIUM https://medium.com/@globalcooling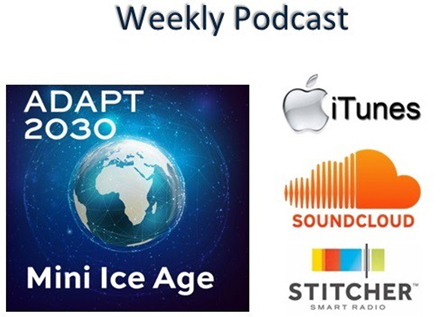 Mini Ice Age Conversations Podcast is available on iTunes, Soundcloud, Stitcher Radio and Libsyn