GRAFT: Global Decentralized Payment Processing Network
Currently retailers need to adapt to their customers in order to be competitive in the market, it is not enough to offer a good product or service, customers are more demanding each day and this from the merchant to offer innovations in their business to keep a happy clientele. true to your trade
Today in different parts of the world there are several problems when making a payment, many countries have problems with their local currency, others do not accept foreign currency, in some cases the fees for the use of a credit card is excessive, In short, paying for an item or service becomes tedious for people
That problem has existed for a long time, now another is born with the creation of cryptocurrencies, and is that many people generate significant income through this financial innovation, but when investing their cryptocurrencies in a product or service are limited by the form of payment, in many cases they must go to an online exchange that removes a percentage of their earnings just to bridge their virtual wallet and bank account


For this GRAFT was born
Global transfers of authorizations and funds in real time (GRAFT) are global, source of payment of decentralization based on blockchain and open source to which everyone can access, processing platform that anyone can use. Any buyer and merchant can use GRAFT in a completely decentralized and economical way
The GRAFT ecosystem is open, so anyone can participate by maintaining the GRAFT blockchain and implementing network services.GRAFT employs protocols and payment processing flows similar to how traditional electronic payment systems, such as credit, debit and prepaid cards: they are processed, they are already familiar and trustworthy
by millions of users and merchants around the world.
This approach allows easier and faster adoption of GRAFT as the main payment
platform, eliminating the need for centralized intermediaries (payment gateways and processors), currently required to facilitate transactions between buyers and merchants.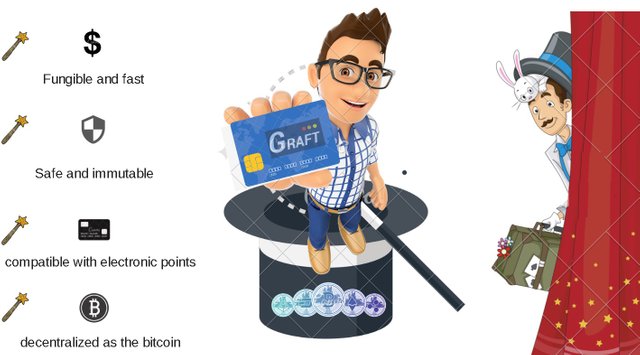 enlarge link
In this article we will design a logo for the platform, based on the great task it fulfills, by combining the advantages of electronic sales points with blockchain technology, converting the main cryptocurrencies into cash practically in cash.
For that we place as a main image a magician, character that is characterized by making amazing transformations, as well as GRAFT is working with our cryptocurrencies
It puts the main advantages of the platform aside, to make understand the benefits of the system, with the same theme of an act of magic
The main existing cryptocurrencies are placed in the hat and a character with a GRAFT electronic card ready to use
It is done in different colors for different use of the same image, also a link will be left for downloading on a web site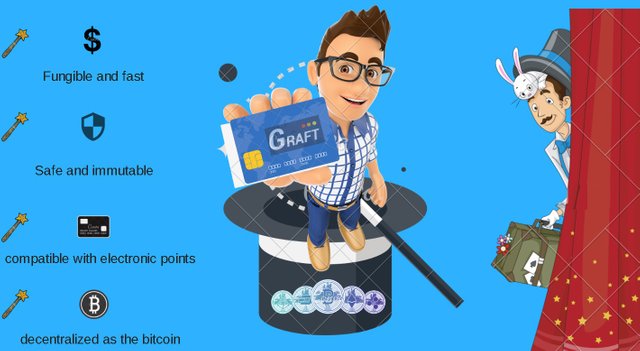 enlarge link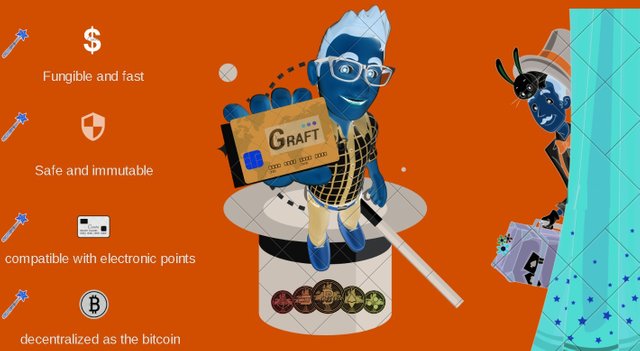 enlarge link
---
---
This article is done by @loganjose for the design contest conducted by @mediaworks which is sponsored by GRAFT
You can see more interesting works and read about the contest here
link of my shared graph in instagram
graftgraphic2018