260 STEEM ~ Graphics Design Contest: GRAFT
Welcome to the Sponsored @MediaWorks Graphics Contest! Status: CLOSED.
Start Time: ~11 PM ET, Saturday
End Time: ~11 PM ET, Wednesday
Instagram Bonus: Check the conditions below!
GRAFT is sponsoring a graphics design contest here on Steemit!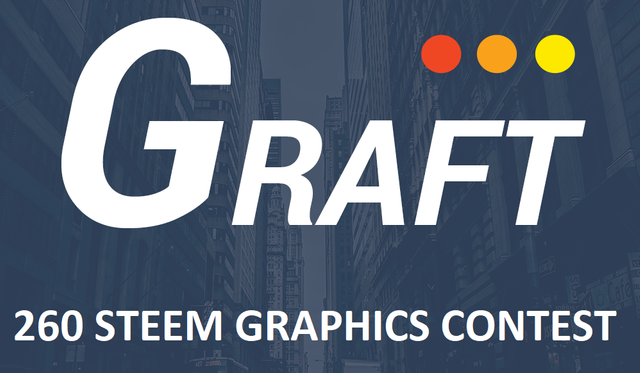 Prizes: 185 STEEM + 50 Bonuses (1.5 STEEM) + Instagram Bonus (0.5 STEEM)

1st Place: 24 STEEM
2nd Place: 19 STEEM
3rd Place: 16 STEEM
4th Place: 14 STEEM
5th Place: 12 STEEM
6th Place: 11 STEEM
7th Place: 10 STEEM
8th Place: 9 STEEM
9th Place: 8 STEEM
10th Place:7 STEEM
11th - 15th: 6 STEEM
16th - 20th: 5 STEEM
21st - 70th: 1.5 STEEM Bonus

Deadline: 96 Hours
GRAFT is set to completely change the way cryptocurrencies are used.
GRAFT has designed and launched a platform capable of instant transactions. They have integrated their software with payment terminals that merchants already use for easy mass adoption.
GRAFT's Available Services
The list of available products covers all aspects of payment processing.
Whether it is a large retailer or a small business, everybody can integrate GRAFT and start accepting cryptocurrencies in their business!
In order to truly integrate cryptocurrencies into the modern economy, the acceptance of cryptocurrency payment must come in a form that existing businesses are already familiar with. The integration also has to be easy, and free.
GRAFT has been able to integrate on both Verifone and Ingenico payment terminals. That means existing store-owners can install a free application onto their terminal and start accepting payment in crypto!
These two videos are examples of existing payment terminal integration with GRAFT:
Verifone


Ingenico

GRAFT Integration and Fees
Credit cards typically charge merchants large fees for every transaction a customer makes. This makes them costly, and that cost is carried over to the customer.
GRAFT does not charge the customer, as the fees are paid for by the merchant. These fees are a fraction of what average credit companies charge.
GRAFT Real Time Authorizations
Payment services only work when they are convenient and fast.
A problem plaguing the modern era of cryptocurrency payment is delays, conversion issues and lack of readily available integration.
GRAFT solves this utilizing their new RTA(Real Time Authorizations) technology.
RTA allows GRAFT to be able to process transactions, as well as exchange between various cryptos and FIAT in real time.
This means that if you only have BTC, and the vendor only accepts FIAT, GRAFT can accept BTC payment while providing the merchant a payout in FIAT instantly. No exchanges, no procedures. Just simple and fast!
Future with GRAFT: A Use Case
Stefan runs a medium sized computer store. Their business is fairly consistent, and most of their clients come from office buildings close by, as well as the nearby neighborhoods. They have recently started accepting Bitcoin for online purchases. This has provided them with extra revenue, giving the business a bump in sales!
Stefan decided he was going to start accepting Bitcoin in store. This way he can advertise that they accept bitcoin, and engage a new demographic. The only problem is, he did not know what to do about confirmation times. Does he just take the risk upon himself, and let customers take their purchases without awaiting confirmation? Does he need a waiting room for people waiting for their transactions?
As Stefan was about to give up home, he heard about GRAFT! He already had payment terminals in store, so he went ahead and loaded up the GRAFT software.
Now his store is easily able to accept any form of payment, debit/credit/FIAT/crypto. Since the fees are lower for crypto, he is also able to offer a small discount to people making purchases via cryptocurrencies. All this while having the freedom to choose what payment he receives, as GRAFT handles all the exchanging and processing of the payment!
Check out this video for more information!
More Information & Resources: Graphic Information
Make a graphic that is relevant to GRAFT. These will be images that may be used in their articles, or just to show their followers! Feel free to stick to the color schema of their logo, or create something totally unique. It can be anything! It can be a graphic that helps users understand RTA. It can be an image that shows a merchant using GRAFT to accept payment. It can be a comic depicting a customer interaction with a GRAFT integrated store. Flyers, comics, infogrpahics, as long as it is appropriate and relevant, anything goes. It can be humorous or technical. The most important thing is that your image is creative and original!
Instagram Bonus
For the Instagram bonus:
Share your graphic on Instagram (If you made multiple, pick a favourite!)
Add the link to your Instagram post at the bottom of your contest entry Steemit post!
We are hoping that this bonus will encourage attention, and also help bring more users to Steemit from other social media platforms!
The bonus is 0.5 Steem for every article shared on Instagram that meets the contest conditions!
Please follow the rules below.
Contest Rules & Submission Information

Create a post with the graphic.
In the post provide a short description of what GRAFT does and why you chose the design (mandatory and must be original).
Leave a link to GRAFT.
At the end of your article, add the word "graftgraphic2018".
Link your post in a reply here.
You will get a reply from @mediabot on your post to confirm that your submission was entered into the contest!


If you don't get the reply, don't worry. The most important thing is to leave a link to your post as a reply here. Feel free to let us know if your article did not receive a @mediabot confirmation, and we will look into it!
More Information & Resources:
Disclaimer: @MediaWorks makes no claims as to the legitimacy or operating procedures of contest topics. @MediaWorks does not offer any sort of investment advice. Please note, in the case that you receive a prize, your images may be used by the contest topic company.
Good luck to all the contestants!