My new BOINC/Gridcoin machine! Proof-of-Work free, computational science only
So, crypto prices are down for quite some time now and many crypto-communities here on Steemit have quietened down... but #Gridcoin is active as usual! No surprise here, since Gridcoin community is probably the most dedicated BOINC community out there and BOINC had millions of users long before Bitcoin even existed. Regardless of currently prevailing crypto-trends, the world of computational science continues to stir the curiosity and attract hundreds of thousands of users who want to run various scientific computations on their PCs. I am proud to be one of those users and just recently, I have built a new, powerful PC which will be used for non-stop 24/7/365 BOINC crunching and various scientific projects.
CPU: Intel Skylake-X i9-7900X
MB: ASUS Rampage VI Extreme
GPU: Nvidia Titan V
RAM: Corsair Dominator Platinum DDR4 32GB (4x8GB)
Case: Lian Li PC-A76X
PSU: Seasonic PRIME Ultra 1000 W Titanium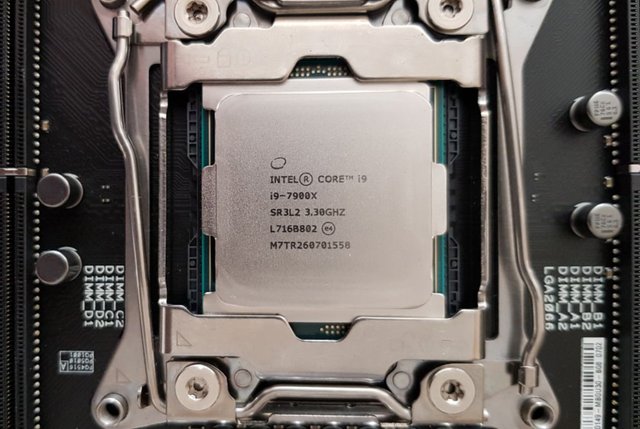 The naked beauty of Skylake-X i9-7900X processor. There are 10 independent CPU cores underneath, enabling 20 simultaneous BOINC CPU tasks. Delivered from Intel without a stock heatsink - perfect for hard-core enthusiasts (stock coolers are never good enough for them!)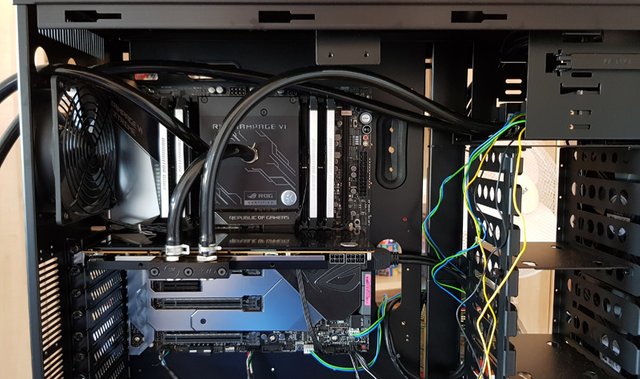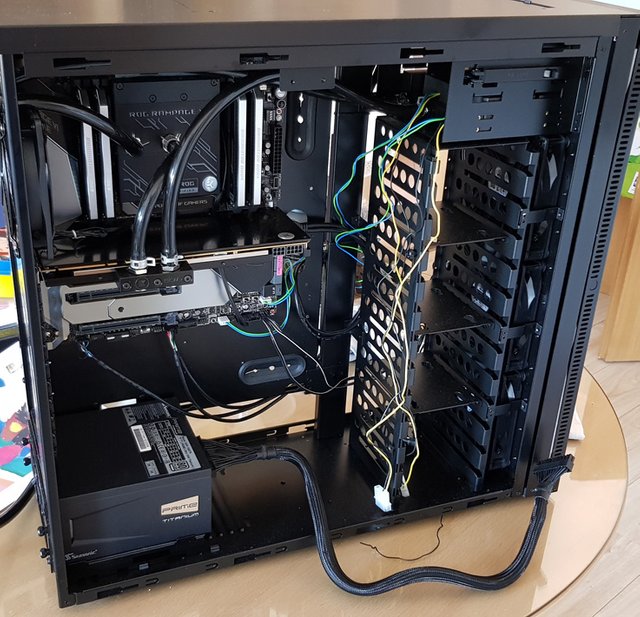 Lian Li PC-A76X case offers plenty of space for your main rig. And of course, no ambitious BOINC rig intended for 24/7 operation is air-cooled. So yes, those strange, black, clamped tubes are for water and they are connected to those expensive looking black rectangles - waterblocks.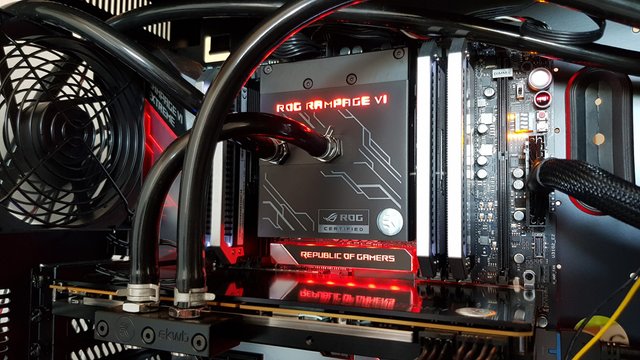 The shiny beauty of EK-FB ASUS ROG R6E RGB Monoblock (Acetal+Nickel). This single, monolithic waterblock cools both the CPU and the power regulation (MOSFET) module on the ASUS Rampage VI motherboard. Can be configured to glow in any color you like. Bright white vertical strips on the sides are sticks of Corsair RAM, reflecting the camera flash. Also, notice the shiny reflection on the GPU backplate :)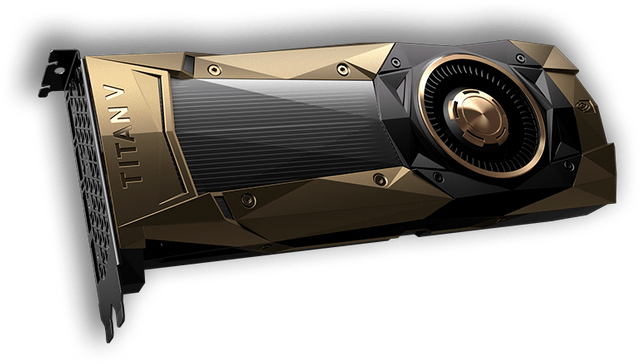 On the other hand, Nvidia Titan V comes with a beautiful, goldish, stock air-cooler. Unfortunately, I had to remove it to install the EK-FC Titan V waterblock. This is a VERY expensive (it costs more than all the other stuff here together) and powerful GPU, so it certainly deserves the best cooling there is.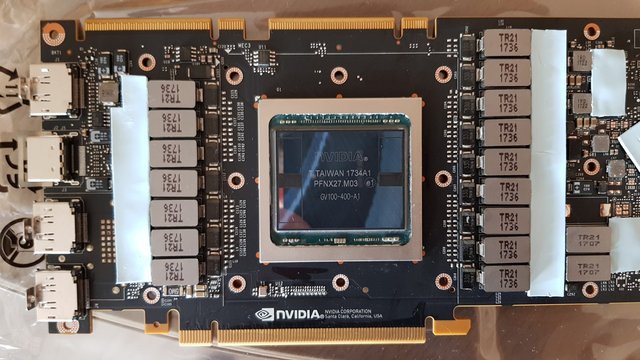 And there it is - the naked beauty of Titan V, with stock cooler removed. Notice how large that freaking GPU chip is. Those white, rubbery strips to the left and right are thermal pads, intended to ensure the best possible heat transfer from the graphic card to the waterblock. Thermal paste is required for the GPU itself - it was applied later on, so that you can enjoy those reflections on the spotlessly polished GPU surface :)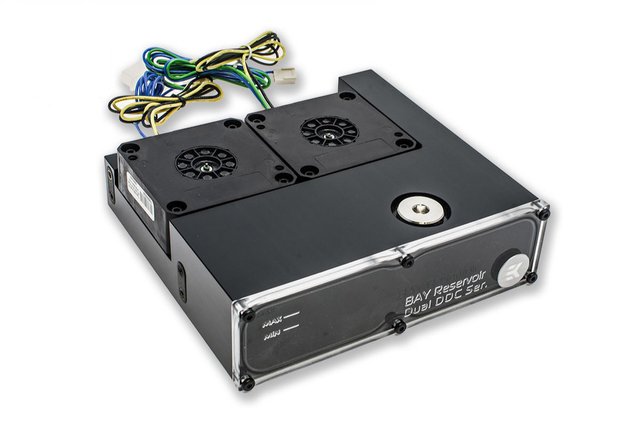 Of course, all those shiny waterblocks would be useless without a watercooling pump and a reservoir. For this rig, I am using EK-SBAY Dual DDC 3.2 PWM Serial. It's a reservoir built around two DDC pumps and the whole unit can fit into a single 5.25 bay. Very practical, but can store only about 1 decilitre of water (should be enough for most builds).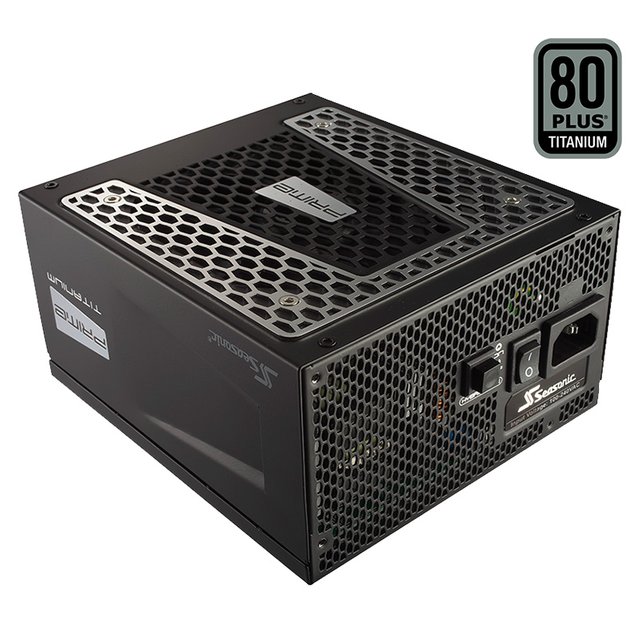 And at last, powering the whole rig: Seasonic PRIME Ultra 1000 W Titanium. Titanium line of power supplies is Seasonic's latest and greatest, offering incredible 94% efficiency at 50% load (considerably outperforming both Gold and Platinum standards). Of course, 1000 watts is an overkill for a single-GPU configuration, but one has to plan for future upgrades too.
That wraps up this little hardware photo-review! In next articles, I will analyze the BOINC performance of this new machine, in various interesting BOINC projects.


Gridcoin
is an open source
cryptocurrency
(Ticker: GRC) which securely rewards volunteer computing performed upon the
BOINC platform
in a decentralized manner on top of
proof of stake
.

BOINC
(Berkeley Open Infrastructure for Network Computing) is a distributed Internet platform launched beginning of 2002 and rewards participants with credits for performed work. BOINC is an application available for multiple Operating Systems and utilises the unused CPU and GPU cycles on computers to perform scientific work.