( Prizes > $460 SBD ) The Hallosteem Contest 2017 #2
Steemians ❤️,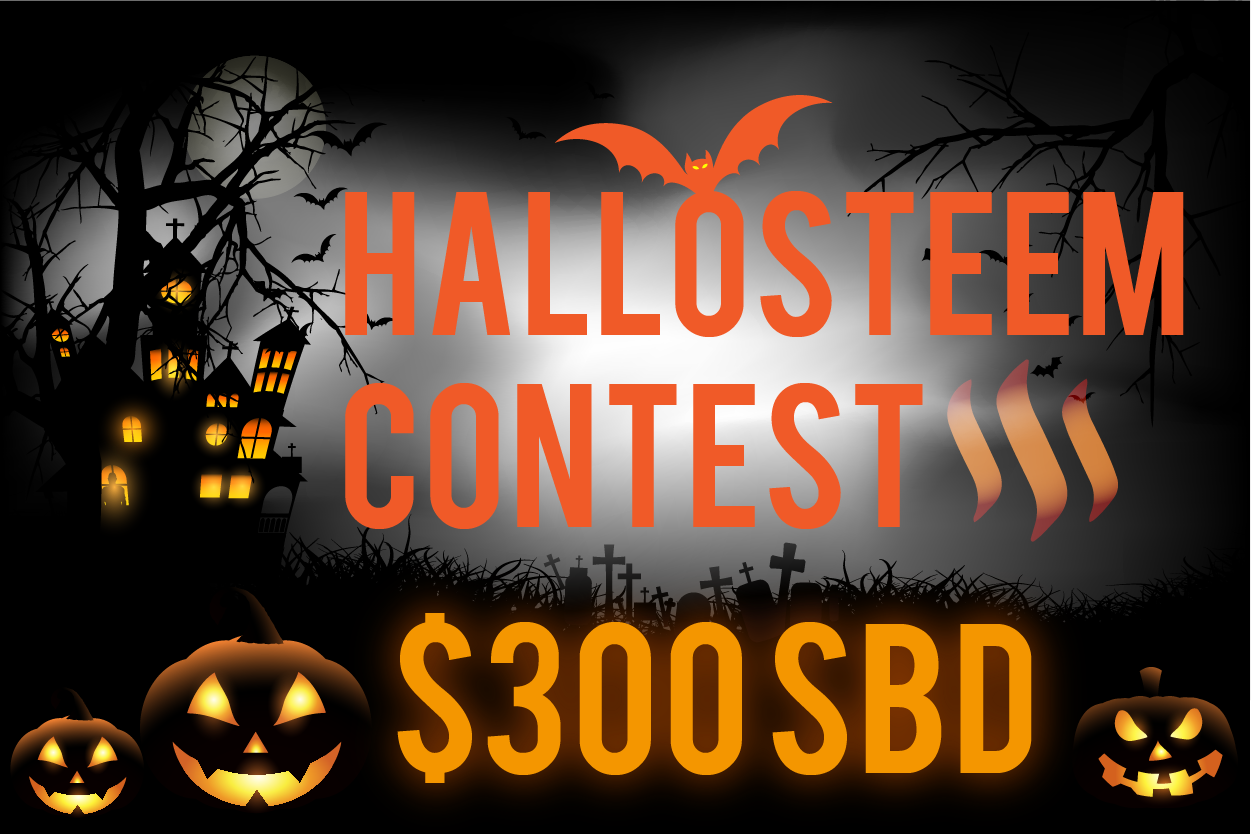 The contests start!!! You may dress up and write your posts!
Thank you for participating and supporting Hallosteem Contest!
We would like to thank you all of the sponsors which had continuously increasing our prize pool!
🎃The Hallosteem Contest 2017 🎃
"The Hallosteem Contest 2017" will be hold in 3 sections.
Please click in the link to read about each of the contest in detail!
👑 Hallosteem Makeup Contest
hosted by @nicolemoker

💃🏻 Hallosteem Costume Contest
hosted by @krischy

📷 Hallosteem Photography Contest
hosted by @aaronli

🎁 Hallosteem Lucky Draw
All participates in Hallosteem Contest will automatically enter Lucky Draw.
🌎We are welcome to all participates from all over the world. 🌎
---

💰Prize Pool 💰
Sponsors welcomed.
Thank you for your interested in supporting all steemians in participating this contest! Your support will be the motivation on Steemit's community development and bloom in creativity.
All sponsors are welcome to leave the message here too.
🎉 Prize Pool ( Updated on 18/10/17) = $ 460.31 SBD
🌈If you would like to support this contest, please transfer to @nicolemoker . Please state which contest you are supporting and leave your message too, for those without notes will subsumed under lucky draw.🌈
1. Hallosteem Makeup Contest
2. Hallosteem Costume Contest
| Sponsor | SBD | Message |
| --- | --- | --- |
| @krischy | $100 | |
| @sportsteem | $31 | Hallosteem17 SPORTS! Costume Contest - Grand Champion - 31SBD |
| @sportsteem | $13 | Hallosteem17 SPORTS! Costume Contest - 2nd Place - 13SBD |
| @sportsteem | $10 | Hallosteem17 SPORTS! Costume Contest - 3rd Place - 10SBD |
| @guyverckw | $20 | 贊助 Steemit社區萬聖節Hellosteem 服裝大賽 |
3. Hallosteem Photography Contest
4. Hallosteem Lucky Draw
---

💰獎池 💰
歡迎贊助。
感謝您支持所有steemian參加本次比賽!
您的支持將是Steemit社區發展和創造力綻放的動力。
歡迎所有贊助者在此留言。
🎉 獎池 ( 18/10/17 更新) = $ 460.31 SBD
🌈如果你想支持這個比賽,請轉賬到 @nicolemoker。 請說明您所支持的比賽並留下您的留言,沒註明的會歸入抽獎。🌈
---
1. Hallosteem化妝比賽
2. Hallosteem服裝比賽
| Sponsor | SBD | Message |
| --- | --- | --- |
| @krischy | $100 | |
| @sportsteem | $31 | Hallosteem17 SPORTS! Costume Contest - Grand Champion - 31SBD |
| @sportsteem | $13 | Hallosteem17 SPORTS! Costume Contest - 2nd Place - 13SBD |
| @sportsteem | $10 | Hallosteem17 SPORTS! Costume Contest - 3rd Place - 10SBD |
| @guyverckw | $20 | 贊助 Steemit社區萬聖節Hellosteem 服裝大賽 |
3. Hallosteem攝影比賽
4. Hallosteem 抽獎
---


Still hesitate to join? You have 2 weeks to prepare and win $460!
還要猶豫加入嗎? 你有2個星期的時間去贏$ 460!

** 小提示給香港和CN用戶:我們將會舉辦Hallosteem Gathering ,您可以在聚會當天展示你的成品和心機!日期為10月28日,歡迎你們加入!