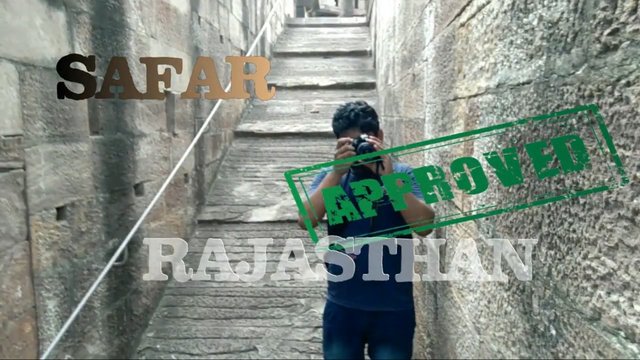 Udaipur, our first destination of 5 days trip, greeted us with cool breeze and soft sunshine. While acknowledging the genial atmosphere we realized a major task lying ahead of us. Search a decent Hotel.. After dilly dallying 3 hotels we finally found a hotel at the banks of pristine lake Pichola. Located in the middle of city, it offered a heavenly view from balcony. We divided the sightseeing in two parts, to be covered in 1 day each. After taking a customary break, we set off for Lake Pichola. We ran past Jagdish Temple on the way in a jiffy. The Lake offered eclectic array of entertainment options like Camel Ride, Horse ride, etc. People fondly call it "Chaupati", a place where you can just lay back & allow the tranquility to sink in. Mansapurna Karni Ropeway which stretched around 300m to Karni Mata Temple and back and costing meager 90 rupees. On the way to Temple we extended our gaze to Jag Mandir and Lake Palace both adorning the Lake Pichola. After capturing such moments through Camera Lens we returned to Chaupati.
It was 6pm and we decided to go to Bagore ki Haveli which screened Folk shows at 6:30. Unfortunately we missed it by 10 minutes and then we relished the evening outside on the lake. It was then a couple approached us to click a pic and honestly their pic was the best of my collection. At 8:30 we had dinner in the hotel with the splendid view of lake accentuated with shining lights all over.
16th Aug. We checked out from the hotel to cover the entire city on Auto. We skipped Wax museum as such museums lack novelty. Then visit to Sajjangarh/Monsoon Palace was full of drama. We shelled out 60 each for admittance plus the taxi service which cost 90 each. But then a spoilsport (read: 'Guard') beckoned me huskily and asked to deposit 600 for Camera. WTF! This is how you treat Tourists. Aargh. Luckily, we ran into a couple and furnished our tickets to them and we came outside. The Auto Driver said that it's time for "Sahelion ki Badi". Within few minutes, we reached there. A well-built, sprawling Garden mounting Fountains in the middle making it ideal for family picnics.
Next, we arrived at Shilpgram. Folk dances and traditional performances were endearing to watch at Entry Fees of Rs50. "Moti Magri (Pearl Hill)" a memorial of Maharana Pratap featured 3 bulwark forts. At last, we made it to City Palace where we were supposed to enjoy rest of the day. We reveled in in City Palace for around 2 hours. Overall, decent place but Entry fees Rs. 300 seemed bit high. Later, we had to rush towards Mount Abu as paucity of time loomed large.
"Mount Abu Safar" is vividly described in our next Blog.